14 April, 2017
No Comment
Are you tired of coupon code abuse? Wake up and see your promotion code on every coupon sharing site? Or are you looking for a more targeted campaign to create different promotion plans for different customer lists? Our Free Gifts has got medicine for those pains.
Free Gifts allows you to generate unique links for any campaigns operated by the app. Only customers who click on that link are able to take advantage of the promotion campaign. The application for that link is potential. We can list some as the followings.
Create a real incentive to encourage customers to join your email list. Normally if you send them the promotion code, it is likely that you'll see your code later on in other coupon sharing sites, which is a real danger. The overuse of the coupons may bite into your budget. Besides, the incentive is not that valuable if your visitors can easily search for it online.
Fuel a real loyalty and/or targeted campaign. You can create a real treat to your valuable customers and set up multiple other campaigns to for other groups of customer just by delivering different groups different links.
Let's start off by creating an email campaign for your subscribers only! There are only 2 steps away.
Prepare the campaign in Free Gifts backend
Go to backend, Gifts on Cart and set others condition. After setting other condition of your choice, you can generate the promotion link, just simply put your promotion campaign name (or whatever you like to Promotion code box). The app will automatically create a link for you.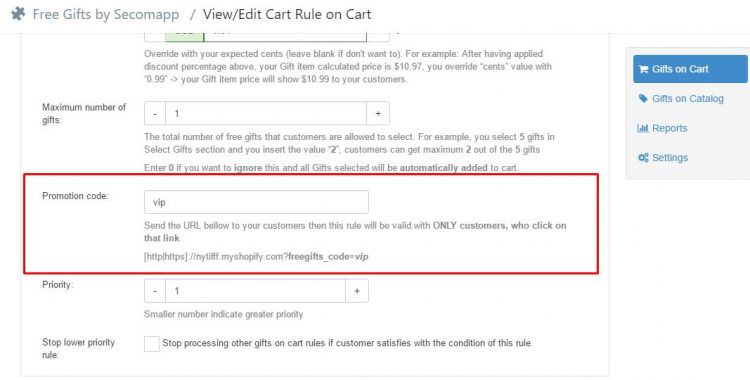 Start emailing
Now, do you have your customer list in hand?
You can start emailing your subscriber with the content like: "This is for you: Buy a T-shirt and get another one free. Promotion is activated only by clicking on this link."
If you want your email look a more professional. There is nothing holding you back from creating such an attractive email like this one from eDream. Its title is "Subscribers only: Save up to £50!" Just link the button Book now with the one you taken from step 1.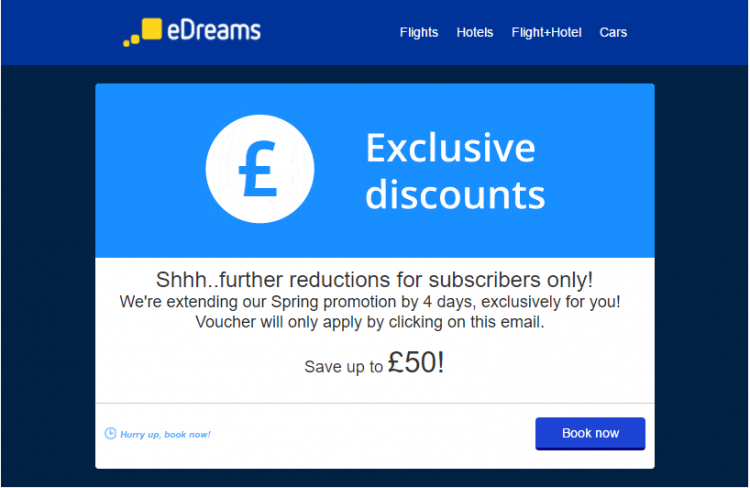 Have you got any ideas to play around with this interesting feature of Free Gifts. Start your campaign NOW.
---