14 September, 2018
No Comment
You might already know that giving offers is a powerful marketing strategy, especially on the holiday season.
In these days, your customers have a chance to save their cash, while you have another chance to earn more, as long as the discount still allows you a profit margin.
The more they save, the more you earn right?
Below are some tips to make you optimize this process by tweaking your offers copywriting.
1. Create a sense of urgency
You may say that: "Sense of urgency? If I had a nickel for every time I heard about it, I'd be rich."
Actually, this is not a new tip, but the way people do it is changing. If you keep doing something like "Get it now" or "Hurry Up", maybe it's time to update and replace them with some alternatives.
Why? Those old terms lack details with date and time, due to which, your customers won't act as fast as you want, they think they could come back later and then…BOOM…they forget you and your deal.
Therefore, let's do something more persuasive with something like Ends 20-Nov, Disappear tomorrow, Today only, Last day, etc. These phrases can boost the urgency level of your offer and push your visitor act without hesitation.
This strategy works great with popups, banners, and labels. See how a store practices it with a countdown timer popup created by Promotion Popup app.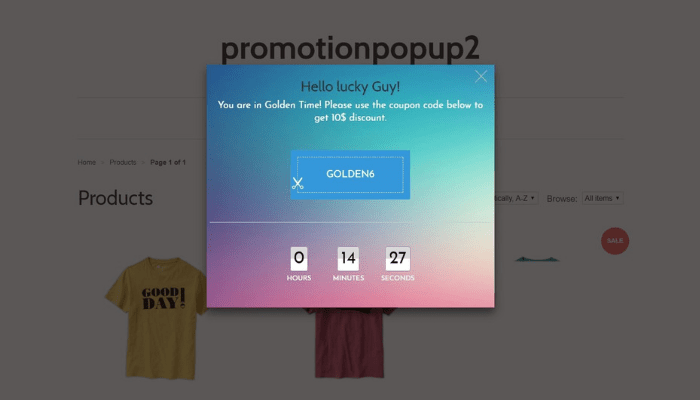 2. Focus on Benefits and Results
Ask yourself what your audience will get by acting on your offer, and then tell them what it is:
Get 30% Off Now
Claim your coupon
Sign Up for Savings
Start now. Get results.
Know her secrets
See how your body changes
…
See how it work with a homepage banner: Order now, receive before Christmas.
Thinking of receiving the items before Xmas can encourage customers to take action right away;)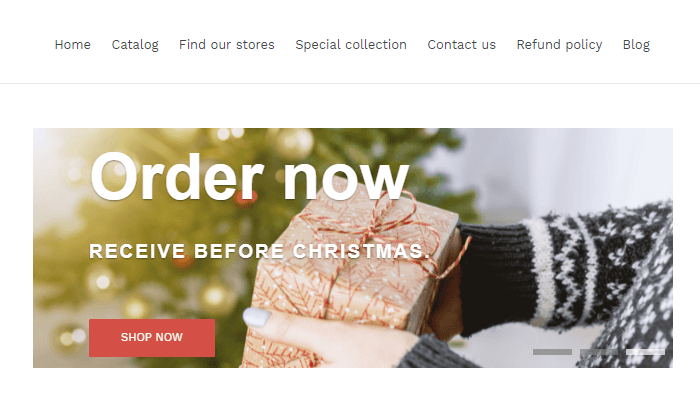 3. KISS=Keep it short and simple.
You might have a lot of ideas to put into your offer message, but keep in mind that your customers don't have enough time to be impressed by all of them. Too many things can become nothing in customers' mind.
So you should KISS, Keep it short and simple.
Create a simple offer, and then design them as most simply as you can.
How could improve your offers copywriting:
Limited words number.
Use the font, color, image to draw customers attention to the main things.
Replace the long content with some text like "Learn more", "See details",…hyperlinked.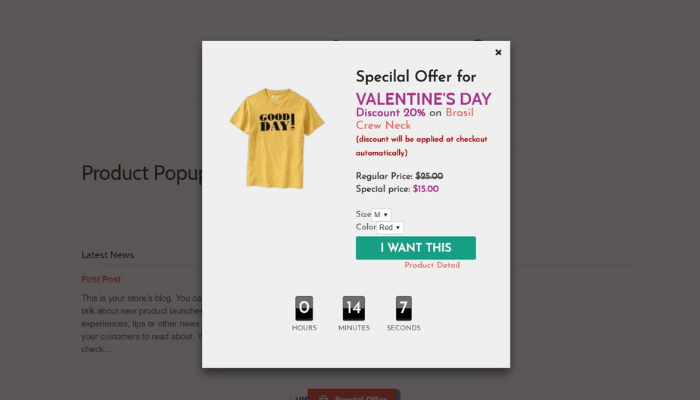 4. Make it special
People are curious and appealed by special things. When creating offer message, let's ask yourself: "How this offer is special?"
Smartly choosing offer words can totally change your results. Here're some words that your customers can't ignore:
Once-in-a-lifetime deal
Best price ever
Exclusive limited-edition gift
…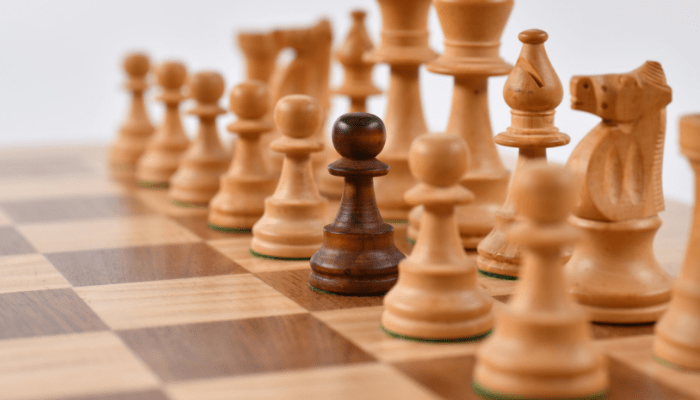 5. Customer actions based – Another way to be personalized.
Offering based on customers' actions is a dynamic offer, which can be more effective in converting customer compared to a static one.
The key here is just choosing the right trigger to let an offer appear in front of your customers.
Lacking ideas and technical ability to do this, check out our Promotion Popup app.
You can use it for the target customer, increasing the effectiveness of your promotion campaign. It empowers you to show a popup for the specific customer on your email list, customers with a specific product, a specific number of products or specific actions like the tendency of leaving the page.
Anyway, don't forget to be creative 😉 … I mean combining multiples offer strategy here.
See example below: Convert and then up-sell for a customer with an exit intend.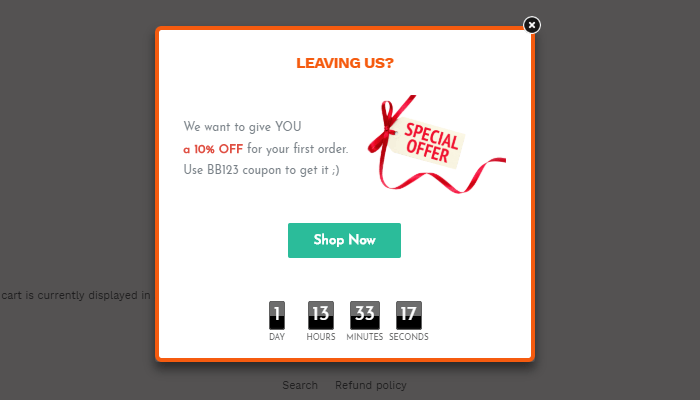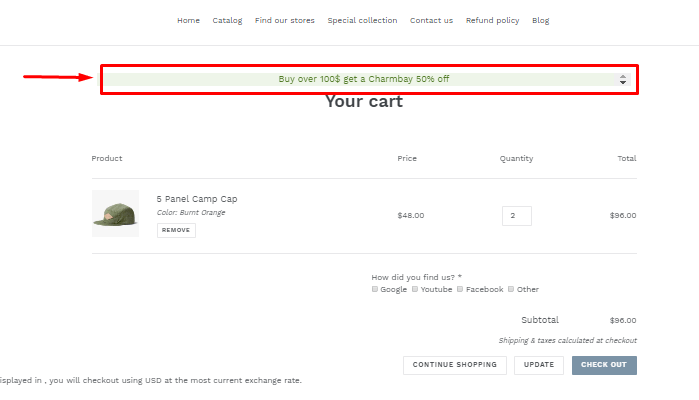 6. Make use of your homepage, quick view popup, and cart page
Featuring the promotion collection and its sale time on your homepage can be more natural and effective than using an email list. Furthermore, you can even create a sense of urgency on the cart page, or even on your Quick View popup 😉
Let's see: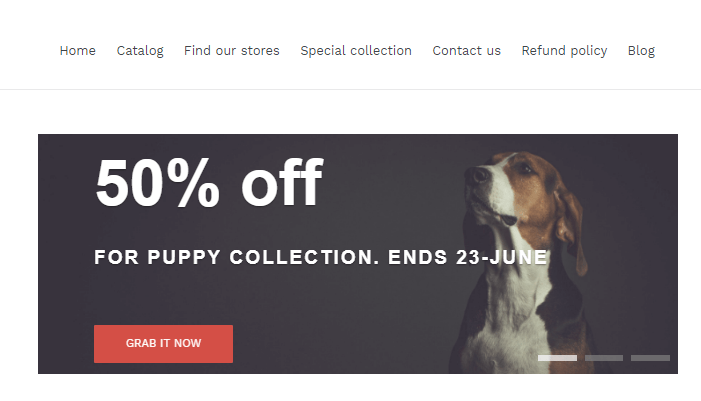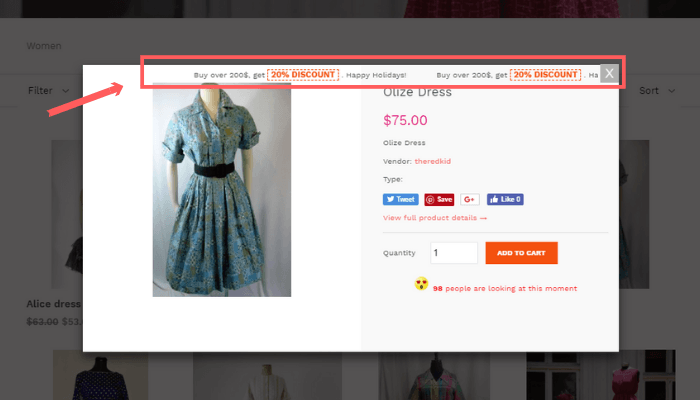 7. Test your content
A small change in your offer copywriting can make a big difference, sometimes even bigger than how the offer rule or the discount amount is.
Moving the position of CTA, changing some text font, or use another word,…all can result in your CTR and conversion rate.
That's why don't stop at just only 1 or 2 first content versions.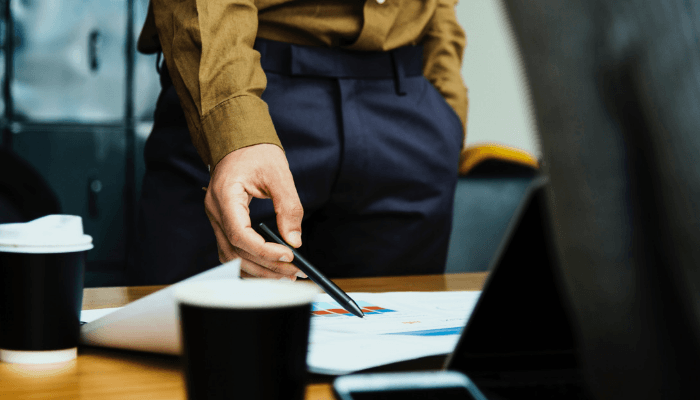 Let's test regularly, you can't imagine how your customers will react to it and how your sales can change.
---