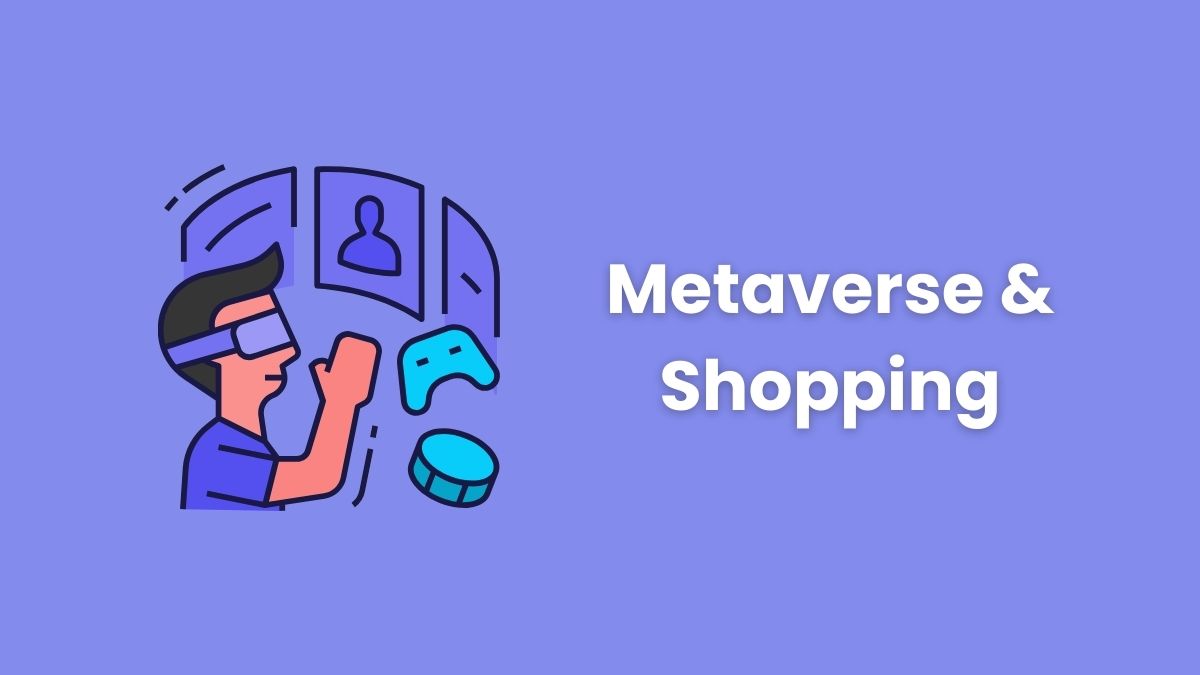 17 October, 2023
No Comment

Today's digital age is seeing incredible growth, and right at the forefront of this change is a groundbreaking concept, the metaverse. As of 2022, there were more than 4.5 billion active social media users worldwide.
Although the metaverse and social media might sound similar, here is a fascinating fact. The metaverse is not just another chapter in social interaction but something more intense and game-changing.
Soon, the metaverse will spread into the shopping industry and promise to take us along the journey to make our shopping experiences much better and more accurate than they are now.
But what is the metaverse exactly? Do you want to know how the metaverse can change our shopping experiences? Or what does the metaverse shopping future hold? If so, let's read.
What is the Metaverse, and How Does It Work?
There is a significant difference between traditional shopping and online shopping. What sets the bar between the two is how you analyse the product before finalising the purchase.
While conventional shopping helps you test the product physically, online shopping only limits you to pictures and short video clips. That is today's shopping culture. But what if the product you purchased online arrives damaged?
It is a hectic process later, from getting return approvals to replacing the product with a new one. This is when the metaverse comes into play, bridging this difference where you can feel the virtual items as real-world objects.
Building a virtual collaborative space by connecting physical and digital reality gives the definition of the metaverse. It is more like a community where people can interact, socialise, work, play, and shop in a digital environment. For tips on enhancing your online presence and growing on Search Engine Results Pages (SERPs), check out this SEO guide.
Unlike the traditional internet, which is flat and two-dimensional, the metaverse is three-dimensional, immersive, and ongoing.
The metaverse is not only limited to purchasing things but is as vast as it goes. However, the core principles of the metaverse remain untouched, no matter what the task is.
A series of technologies were combined to make this evolving technology more accurate and adaptable, including:
Virtual Reality (VR)
Virtual reality, popularly called VR, is a spectacle-type handset that will help you see and feel things as real as they look in the real world through computer-generated environments.
This technology enables you to enter the metaverse, interacting with anything you want as if it were physically present around you. You can do it for cartoons, movie stars, movie sets, and more.
Augmented Reality (AR)
One can identify the machine-generated images and graphics. To blend the virtual environment created by VR with real-world objects to make the creations look original, you need augmented reality.
AR overlays digital information in the real world, allowing you to see and interact with digital objects in your physical surroundings as perfectly as they can.
Together, VR and AR take the metaverse a step further. While VR creates a machine-generated (AI) environment, VR takes up the responsibility to merge it with real-world objects to boost emotions in users.
Blockchain Technology
Any new technology is vulnerable to security threats initially. The metaverse uses blockchain technology to deal with that. Blockchain technology is a foundational layer in the metaverse that provides a path for secure transactions, digital ownership, identity verification, and more.
These capabilities build trust with users, improve security, and maintain transparency in a virtual environment. As the metaverse grows, integrating with blockchain technology becomes necessary for new possibilities and innovations.
Artificial Intelligence (AI)
For any non-living object to behave more like a human and give you the best experiences, it needs AI to think and communicate effectively. Apart from that, every digital world is built on artificial intelligence.
AI creates realistic simulations, manages interactions, and improves your overall experience. It can generate lifelike avatars, enable natural conversations, and even adapt to the metaverse environment based on your actions.
With these trending technologies working together, the metaverse creates a parallel universe where you can interact, collaborate, and engage in various activities, including shopping.
Metaverse Shopping: What Possibilities Does It Hold for the Future?
Metaverse is one of the long-awaited technologies in the shopping industry. Here are a few things that the metaverse shopping future brings to the table:
Endless Virtual Storefronts
In the metaverse, physical limitations no longer apply. It means retailers can create endless virtual storefronts and offer vast products without worrying about the physical space. You can explore these virtual stores, finding products from anywhere in one convenient digital location.
Personalized Shopping Experiences
AI algorithms in the metaverse can analyze your preferences, behaviours, and purchase histories to provide you with highly personalised shopping recommendations. Imagine a virtual assistant who knows your style, size, and preferences, helping you discover new products tailored just for you.
Social Shopping
Shopping can become a social experience in the metaverse. You can shop with friends and family, even if they are on the other side of the world. Virtual shopping trips can become interactive, allowing you to try on clothes, share opinions, and make purchase decisions together.
Digital Fashion and Avatar Customization
One of the most exciting aspects of metaverse shopping is digital fashion and avatar customization. You can purchase digital accessories to dress up your avatars and see their unique style. If you like it, you buy it. This feature improves the metaverse shopping experience.
Experiential Shopping
Metaverse shopping is not limited to browsing and buying products. Retailers can create immersive, gamified experiences that allow you to explore things closely. Trying out a virtual reality headset before purchasing or test-driving a virtual car can work out.
How is the Metaverse Reimagining the Shopping Experience?
Shopping today is very limited in every aspect, particularly online shopping. Buying anything means needing more time. The metaverse promises some of the best features that never existed before to make your shopping easier and quicker, including:
3D Shopping Environments
In the metaverse, shopping is a fully immersive experience. You can explore 3D virtual shopping malls, streets, and boutiques by walking through the aisles, picking up items, and even trying them virtually. It adds engagement and excitement that traditional online shopping can't match.
Virtual Fitting Rooms
Gone are the days of trying on clothes in congested fitting rooms with poor lighting. In the metaverse, virtual fitting rooms allow you to see how clothing fits and looks on your avatars in real time. It is a convenient way to ensure that the clothes you are buying will suit you perfectly.
Interactive Product Demonstrations
Retailers can use the metaverse to showcase their products like never before. Imagine exploring a virtual car showroom where you can open doors, sit inside, and even take it for a virtual test drive. This level of interaction provides a deeper understanding of the product and improves the buying chances.
Social Commerce
In the metaverse, shopping becomes a social activity. You and your friends can meet in virtual spaces, share shopping experiences, and make purchasing decisions together. Brands can also host virtual events and pop-up shops, encouraging a sense of community and engagement among their customers.
Shopping Metaverse Initiatives
Several companies and platforms are already taking growth steps in the metaverse shopping future. Let's take a look at a few notable ones.
Decentraland is a blockchain-based virtual world. In Decentraland, you can buy, sell, and develop real estate by creating a decentralised and user-owned virtual universe. Each parcel of land is a digital asset secured on the blockchain. You can build, monetize, and socialise in this 3D metaverse. The platform also hosts events, art galleries, games, and virtual businesses, cultivating a passionate community.
It showcases how blockchain technology can allow users to create, interact, and trade in a virtual space, erasing the lines between the physical and digital worlds.
The Sandbox is another blockchain-based metaverse where you can create, own, and monetize your gaming experiences. It has attracted large brands and artists, allowing them to sell digital assets and merchandise within the virtual world.
Meta, formerly known as Facebook, has made significant investments in developing the metaverse. They are working on creating a seamless metaverse experience that contains social interactions, entertainment, and, of course, shopping.
NFT Marketplaces
Non-fungible tokens (NFTs) are getting more popular in the metaverse. These unique digital assets can represent ownership of virtual goods, including digital fashion, artwork, and collectibles.
NFT marketplaces like OpenSea and Rarible provide platforms for creators and brands to sell their digital creations.
Conclusion
The metaverse is not just a trendy term. It is a game-changer, unleashing future shopping aspects. Think of this: an attractive 3D space, customised recommendations and experiences, and social connections that make your shopping an adventure. It is a thrilling and one-of-a-kind way to find and buy products.
As technology keeps pushing boundaries and companies dive into developing the metaverse shopping future and improving the metaverse shopping experience, we are in for a shopping revolution like never before.
Entering the metaverse is like shopping with no limits. The future of shopping is on its way at lightning speed, and it is all about stepping into a virtual world with shopping opportunities you never dreamed possible.
About the Author: Yogesh Bhagwani
I am a highly skilled link building specialist with 3 years of experience in the industry. I have a proven track record of increasing website traffic and search engine rankings by developing and executing effective link building campaigns.
Email: yogesh@saasate.in