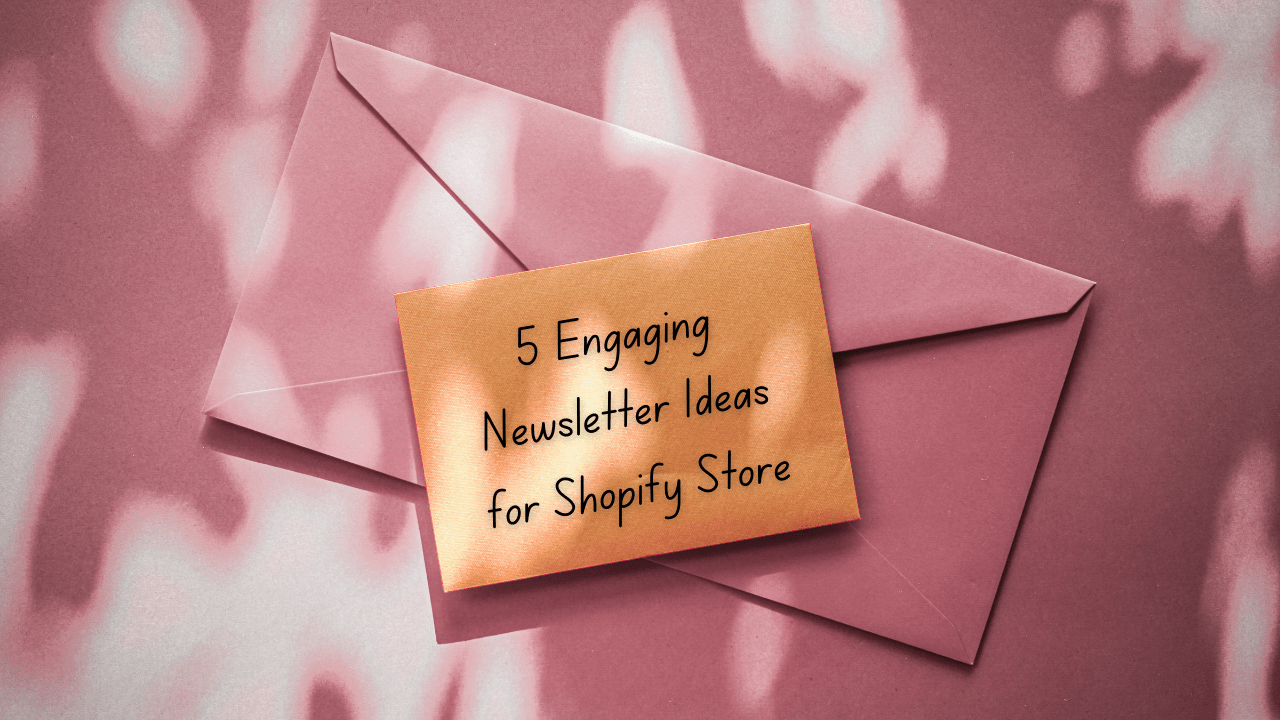 5 Engaging Newsletter Ideas for Shopify Store
Looking for more content ideas for your eCommerce newsletter?
We've been there. Coming up with fresh content to engage potential customers could be tricky. But email campaigns are a powerful tool to drive traffic and conversions, so we need all those newsletters to be at the top of the email marketing game.
That's why I created this guide. Below, you'll find five engaging newsletter content ideas to engage your email subscribers and keep them returning to your store.
1. Announce New Season Styles
Have new arrivals at your store?
If yes, great, it's a great opportunity to present them and get some conversions going. One way to engage customers here would be to put a spotlight on a category of new products in the newsletter.
That's exactly what NET-A-PORTER does. This online retailer combines new products from specific brands into one email. It's a great way to introduce the manufacturer and encourage product exploration.
In this email message below, customers can find bags from Bottega Veneta, an Italian fashion house. There are 12 products for many styles and preferences, so a customer interested in shopping for a bag should be interested in checking these out.
Author's screenshot
Tips to create a similar newsletter:
Find products. Combine between 5 and 15 new products from the same brand, category, rating, or another common feature.
Use a lot of white space. The email's design should have plenty of white space to make the products stand out (the email from NET-A-PORTER above is a great example of such a design).
Ensure easy product exploration. Email subscribers should be able to click every product in this newsletter and go to its page on your Shopify store.
Add links to other menu categories. These links can help to drive more traffic to your store by giving more options for product exploration.
Provide a compelling reason to engage. Describe how customers can benefit from these products (refresh the wardrobe, be stylish, etc.)
Having such a newsletter can help spread the word about new products and have more customers explore them. Creating a similar email would be pretty easy with Shopify email marketing apps—just make sure to keep the number of products between 5 and 15 to avoid "overstuffing" the message.
2. Share Influencer-Endorsed Products
Email marketing newsletter and influencer marketing might not be the first combination that brands use to engage customers, but there are great opportunities there. But if you're selling any products that celebrities or influencers endorse, then consider this idea.
Let's see how others do it first.
Sodashi, a skincare brand, was mentioned in a Women's Health article by no other than Michelle Pfeiffer. While it's unclear if the mention was in any way incentivized by the brand (there's a good chance it wasn't), the iconic actress said that the brand's products were natural, which was the reason she decided to try them.
And guess what—Sodashi made an amazing newsletter example, boasting the fact that no other than Michelle Pfeiffer mentioned how great its products were.
Author's screenshot
As you can see from the image, the brand did more than boasting. They also proposed several specific ways to care for skin, Michelle Pfeiffer style. This was a great idea to showcase more products and draw more attention.
Here are several takeaways from this eCommerce newsletter example:
Start with a question. Questions are a common technique to engage customers because they spark interest and make them think about possible answers.
Add a quote. Citing the words of an influencer or a celebrity increases trust and provides endorsement for products and brands.
Link to content with the brand's mention. This is the way for the brand to eliminate any doubts and provide more details about what the influencer actually said and why.
Add sections with more products. The email from Sodashi contains several content sections with different products to consider—such a structure can engage customers looking for specific skincare products.
Have multiple CTA buttons. Each section in the email above has a CTA button to make product exploration easier for customers.
This newsletter example presents just one way of using influencers or celebrities in Shopify email marketing. Your Shopify store can try other ways—adding a video with an influencer, for example. But the point stays the same: take advantage of the influencer's reach and create a relevant offer to increase Shopify sales.
3. Showcase Customer Favorites
Almost 90% of online shoppers trust recommendations of other customers as much as they trust advice from family and friends. This means that your Shopify store can benefit from sharing products that customers buy the most.
Sharing customer favorites is something that many eCommerce brands do.
Here's an example:
Crown & Caliber, a watches store, shared this email with products that got the most page views on their website. Added with a subject line Trending 📈, it could encourage customers to shop by citing the fact that people deemed a selection of products as interesting.
Author's screenshot
Creating the same newsletter with trending or most popular products is a good idea to drive traffic to your Shopify store. And you can do it in many ways: instead of page views, you can use customer reviews, social media shares, number of orders, or other indicators.
And here are some tips to make such a newsletter:
Provide your reasoning for choosing the products. Be sure to add a short explanation of why you've chosen the products in the newsletter (the most reviewed, shared, popular, mentioned on social media, etc.)
Mention the benefits of checking out the products. In an email example from Crown & Caliber, the brand says that the letter is for those who'd like to "keep up with which models are trending in the horology world."
Share no more than ten products in the email. This number is perfect to keep the newsletter easy to avoid making it a bit overcrowded.
Add an incentive to convert. In this newsletter example above, Crown & Caliber offers financing to customers: this is a good idea considering that quality watches can cost up to tens of thousands of dollars. You can consider providing a discount, free shipping, or another incentive
Have multiple CTA buttons. The email from Crown & Caliber contains two main CTAs as well as CTAs for each product. This is a good email design idea that allows you to go to the brand's website from any point in the message.
Also, note how watches stand out thanks to the great use of white space. It's a must-do email design idea since many of the brand's products are quite colorful.
4. Use a Customer Review for a Specific Product
We talked about using customer reviews in email newsletters already, and here's one more awesome way to benefit from them. You can choose one review for a specific product where the customer mentions some details that others can relate to.
The point here is to have other potential customers read the email and see that someone has solved a similar problem with a specific product. This information can increase trust and convince them to buy the same product.
This is what Beardbrand does in their amazing email newsletters.
In this newsletter example, the brand shares a review of a happy customer who found a product to be super useful. It's an amazing review with details about his experience, which is something other bearded men can relate to as well.
Author's screenshot
As you can see, creating such an engaging email newsletter for your Shopify store would be quite simple. All you need to do is a nice review from a happy customer, really.
Here are tips to create such a newsletter:
Add a detailed customer review. The more detailed a customer review is, the better. The point is to have some product-related information mentioned, so you could relate the review to the rest of the email's content
Begin the email with a relatable problem. The example above mentions that there's no lack of beard products—which is something that has many men struggling to pick the best options for them. This would be a good idea to grab the attention of email subscribers right from the beginning
Describe the reviewed product and its benefits. Give a quick description of the product and how it can help customers. This way, you can provide additional context and expand upon the customer's review.
Add a product visual and a CTA. The visual with the promoted product should end the email. It would be a good place to have the customer click and go check it out by themselves.
Provide additional related links. The email from Beardbrand has a link to a blog article that describes the ways and benefits of using the promoted product.
If you follow these tips, then you can create a similar email newsletter. Use a Shopify app for gathering reviews and get customer reviews on a regular basis to make such a newsletter a regular one, too.
5. Share Tips on Choosing Products
This technique puts a creative spin on traditional clothing product newsletters. Instead of making a list of products and inviting newsletter subscribers to check them out, give tips on creating entire looks.
This way, you can raise awareness of more products, encourage product exploration, and inspire customers to create looks for specific occasions.
Here's an example:
Adored Village, a women's clothing boutique, shares tips on creating looks by combining dresses with accessories. This newsletter gives a feeling of being in a store, choosing dresses, and thinking about combinations and looks.
Note the section with styling tips at the bottom of the newsletter. It gives customers dressing tips for different occasions. Links to the mentioned products help to find them quickly and imagine how a combination can look like.
Author's screenshot
This email newsletter is great, but there's one way you can make it better. Have an actual styling expert come up with the tips, and feature their photo and name. Having an expert's name would increase customer trust.
Let's summarize why this example of an email newsletter works:
Choice of products for different occasions. The email makes it very clear that subscribers can find perfect dresses "from slow mornings at the farmers' market to your friend's summer wedding."
Styling notes. These are great for giving customers ideas about how to create looks by adding accessories and shoes.
Multiple links to product pages. The email has links to all products it mentions, which is a must for easy product exploration.
Note how stylish and classy the newsletter is, too. The design is consistent with the company's branding guidelines, which reminds us about the importance of keeping things consistent design-wise in email marketing.
Email Newsletter Ideas for Shopify Stores: The Bottom Line
Successful e-commerce brands are using these five email marketing ideas to engage customers with newsletters. Consider using some of these, too—each tip in this article is customer-oriented, so it gives you a good chance to increase email subscriber engagement.