Shopify apps or Shopify plugins serve as tools that have been designed to assist retailers that are in the e-commerce business with Shopify. You can find thousands of Shopify apps that can help you increase conversion, streamline your different processes, and automate mundane tasks apart from doing a plethora of other things. However, we will be focusing on the best Shopify apps to increase sales in 2023. 
These are the apps that help you bring more customers to your e-commerce store, offer them a better customer experience, and ensure that they are satisfied with your store. Furthermore, they also help you reconnect with your customers and transform them into recurring customers. The apps have been selected based on their rating and ease of use. Check out the list of 31 Shopify apps that can help you boost your sales below, and do let us know what you think of it!
1. Growave
Developer website: Growave
Key features: 
Loyalty programs, VIP tiers, and rewards to boost repeat purchases
Implement wishlists and trigger emails to boost sales: on sale, back in stock
Acquire more customers organically through referral program
The app is easily managed from a single dashboard, no coding is needed
Multi-language for cross-border selling
24/7 world-class email and phone support
Real-time analytics
Growave is your all-in-one marketing solution for Shopify, combining loyalty, referrals, rewards, gift cards, VIP tiers, reviews, and wishlists in a single app. It is build exclusively for Shopify, and all the features work seamlessly together to effectively grow your business. Elevate your online store with Growave and boost sales effortlessly.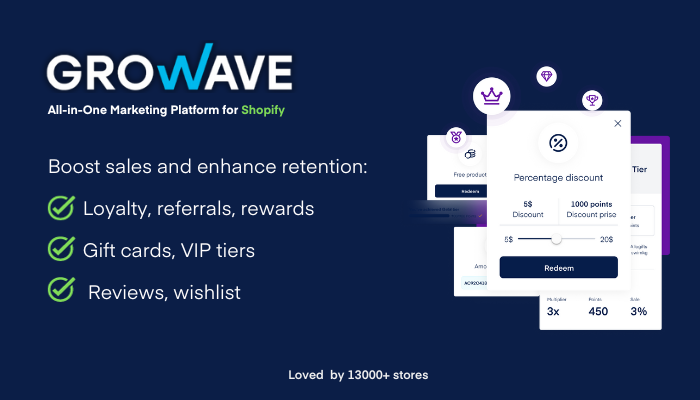 Price: From $49 per month; free plan available.
2. DelightChat
Developer website: delightchat.io
Key Features:
– Omnichannel helpdesk for Shopify stores
– Reply to your common queries in 2-clicks
– Automate "order status" tickets 
– Reply to your customers across email, Facebook comments, Messenger, Instagram DMs (coming soon), IG comments, and live chat (coming soon)
DelightChat is a customer service helpdesk for Shopify stores that are willing to streamline their support operations. With DelightChat, you can reply to customers across all channels, view order data from Shopify at a glance, collaborate with your team on customer issues, automate "where's my order" queries, and reply to repetitive queries in two clicks – all from a single screen (i.e., never change the browser tab).
Using DelightChat. you can resolve your customer's problems via email, Facebook comments, Messenger, IG comments and DMs, and live chat. Last but not the least, you can see how your team's performing simply by looking at analytics to figure out first response time, top support channels by queries, etc. Want to know more about how it all works? Check out this case study from Nestasia on how 2Xed their support efficiency in no time.
Price: DelightChat is free to use for 14 days. 
3. PickyStory
Developer website: PickyStory
Key features:
Proven deal strategies to grow your sales and revenue
Create and display deals on any page in your store
Inventory auto-sync at SKU level for all deals
Fully customizable and works with any theme
Upselling and cross-selling are vitally important to the success of your Shopify store. PickyStory makes it easy to generate more revenue from every store visit by offering highly customizable, irresistible deals that can be displayed on any page in your store. Sell products together with bundles (auto or manual) on your product pages, create a gallery of shoppable looks, use kits for tiered pricing offers, let customers create their own product bundle, aggregate multiple products and sell as one, and more: PickyStory has a deal to suit your every need.
As well as offering upselling deals with proven results, PickyStory comes with several other valuable benefits. PickyStory auto-syncs your inventory at the SKU level, making it easier than ever to keep track of your stock. PickyStory's deals are all created with clicks (no coding skills required) and fully customizable to integrate seamlessly into your store.
Price: From $19.50/month; 14-day free trial available
4. Senderium
Developer website: Senderium
Key features: 
Bulk SMS
SMS scheduling
SMS automations
MMS messaging
Link shorteners
Analytics tool
Senderium is a Shopify app focused on text message marketing. Text message marketing can help you re-engage your existing customers and inform them about different sales, promotions, and new products while giving them a call to action, thus helping you boost your sales. 
With Senderium, you can send customized bulk text messages to different segments of your customers. Besides, you can schedule SMS marketing campaigns in advance, use automation to increase customer engagement, create a pop-up and slide bar menu to grow your subscriber list, and track the results of your efforts.
Price: Free with paid membership available.
5. HelpCenter App
Developer website: HelpCenter
Key features: 
FAQ builder
HelpDesk ticketing system
Live chat for customer support
HelpCenter app can help you streamline your customer service. It offers you FAQ builder, help desk ticketing, and live chat for your customer support. You can create a branded FAQ page using it. You can also use it to increase the efficiency of your customer service department. HelpDesk ticketing system collects all your communications from different channels in a single location, ensuring easy access whenever you need. Tickets can also be prioritized to ensure that each query is being properly handled. 
Furthermore, it also offers a live chat that can fill in the gap when your customer support isn't available or busy dealing with other customers. 
Price: Free with paid plans starting from $4/month.
Developer website: BeProfit
Key features:
Discover your REAL profit
Track ALL your expenses in one dashboard
Create custom reports
Leverage marketing performance insights
Analyze LTV by cohorts
Enjoy excellent customer service
BeProfit, Shopify's Staff Pick for July 2021, is a profit calculator app built to give sellers a clear picture of their lifetime profits and expenses in one intuitive dashboard. The app simplifies complex data and turns it into friendly charts and graphs that actually make it easier to understand your numbers and keep track of your bottom line.
In addition to its profit tracking capabilities, BeProfit features a marketing dashboard that gives you valuable insights on your paid advertising campaigns, ad sets and ads, all to help you increase your ROAS and to optimize your profit. 
Price: Starting at $20/month, 7-day free trial. Free plan available.
Developer website: Socialhead
Key features:
Discount based on cart amount
Run quantity discount (quantity breaks)
Bulk discount multiple products at once with automatic rollback
Create flash sale landing pages featuring irresistible discounts
Create coming soon pages to collect email subscribers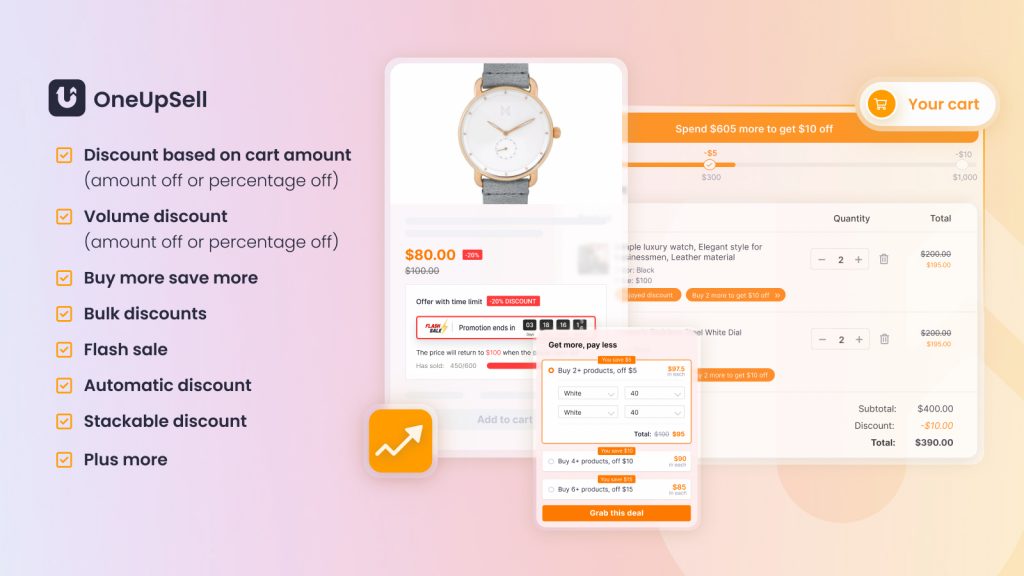 If you've been searching for an app that helps run various promo campaigns, OneUpSell can be a real game-changer. 
From volume discounts & quantity discounts to flash sales & bulk price editor, this app is literally an all-in-one sale-boosting solution you need to improve conversion and average order value. 
Plus, what makes OneUpSell one of the best Shopify apps out there is its modern templates with clean design. To run any campaign, all you need to do is just select products and pick a template to customize to your brand theme. 
Price: Starting at $9.95/month, 7-day free trial. Free plan available
Developer Website: BSS Commerce 
Key feature: 
Get new customers by subscribing newsletter to access the page
Hide products from the catalog and price for specific customers/ customers tags
Reveal secrets link to access page for special customers
Access a comprehensive wholesale lock manager solution
Manage unwanted products and keep certain products hidden from non-targeted customers.
Enter accessibility rules for particular pages, password-protected pages, and so on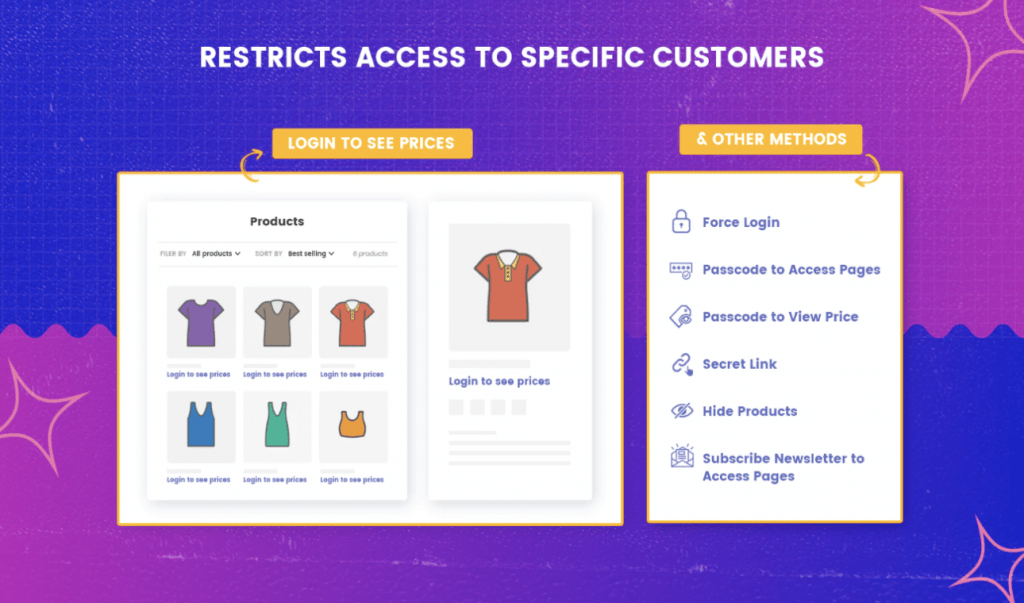 B2B Login/ Lock & Hide Price, a comprehensive solution app that offers a feature-rich Shopify B2B login experience. This app allows you to restrict guest access easily, control product & price display and set up a secret link/ private note.
As an inclusive wholesale lock manager solution, B2B Login & Hide Price comprehend many other locking features. In addition to hiding prices from your website, you can also easily lock down portions of your website. If your clients already have the history log in to your website, you can utilize a redirect to greet them.       
Price: Starting at $5/month. 14-day FREE Trials for Premium Plan. Free plan available.
Developer website: RevenueHunt
Key Features:
Recommend a complete skincare routine, not just individual products
Customizable quiz design to match your brand (templates available)
Add products to cart directly from the Results Page
Send result to customers via email or add them directly to Shopify Customers List
All features are available on the Free Plan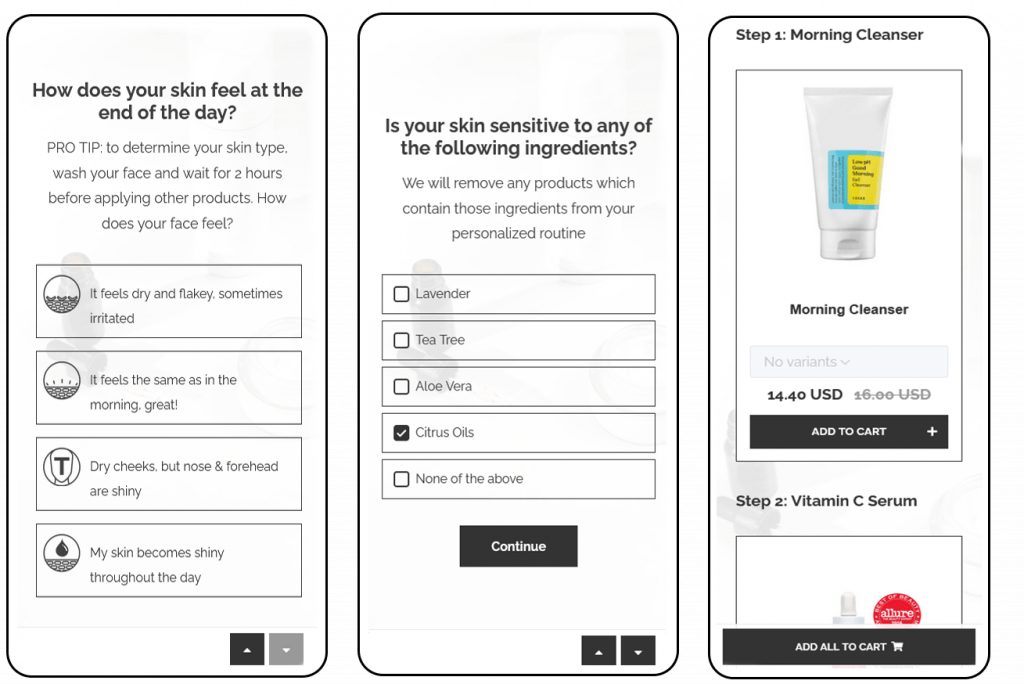 Shop Quiz app is a must-have for any ecommerce brand. The app syncs your catalog and allows you to recommend the right products to your customers via a quiz. The best part: you don't have to worry about the recommendations! Their voting algorithm does the job for you. 
The app has ready-to-use quiz templates for any online brand: from skincare, hair care to cosmetics, and offers many customization options. Their voting algorithm takes care of the recommendations for you. Customers can add their results directly to the cart or receive a personalized email straight to their inbox. 
Quizzes easily increase your brand's sales conversion rate, while keeping the customer support efforts and returns to a minimum. For increased sales you can send the quiz results directly to the customer's email address or connect the quiz with any CRM service like Klaviyo or your Shopify Customers list.
Price: Free plan for life for up to 100 quiz responses/month
Developer website: Wholesale Helper
Key Features:
Run a combined B2B and B2C store on one Shopify store.
Offer wholesale discounts,  individual variant pricing and percentage discounts.
Offer volume discounts and quantity breaks to your customers.
Set wholesale shipping rate based on min order amount, weight or quantity.
Add wholesale account creation using the Wholesale Signup Form feature.
Offer net payment terms for your wholesale orders (Net 15/30/60/90).
and more…
Wholesale Pricing Discount app for Shopify lets you set up a B2B wholesale store on your current Shopify store and help you create and display different kinds of discounts and offers for your customers. This app also offers you the flexibility to run a customized B2B store into your current theme or you can also create a separate section where all your wholesale prices are displayed and you just link that section to your navigation menu and make it accessible for your specific customers.
With the Wholesale Pricing Discount app you can choose not to upgrade to the Shopify Plus plan to be able to access B2B Ecommerce platform features, this app has it all.
Price: From $19.99 per month; 21-day free trial available
Developer website: fordeer.io
Key features: 
Use easily and flexibly with Shopify Admin API's compatibility;
Print and download an order or orders in bulk at once for easier sharing;
Personalize invoice templates and branding with logos, featured colors, and fonts;
Create automated emails with attached PDF files of invoices, orders, and packing slips;
Automatically detect and send invoices based on the customer's primary language;
Make sure of being tax-compliant and customizable;
Support multiple languages and currencies;
Provide friendly and effective customer support service.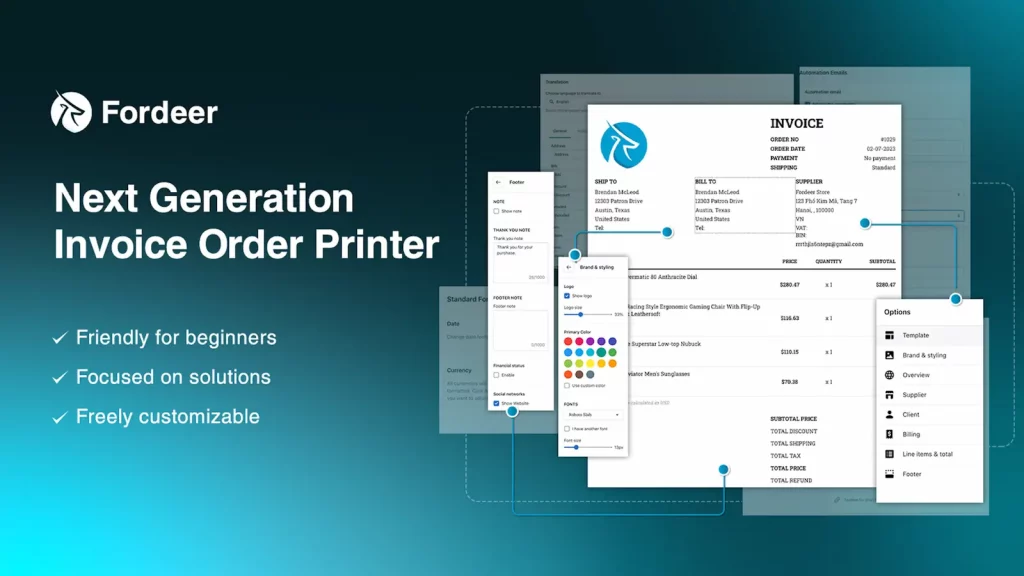 Fordeer: Invoice Order Printer is a professional alternative to Shopify Order Printer. With this app, you can maximize your Shopify stores by getting paid faster and easier. You are able to set up email automation that is triggered easily by specific events with just a few simple clicks. All PDF invoice attachments will be automatically detected and sent to your customers based on their primary language.
It is possible to completely customize your templates in the app, which include invoices, packing slips, orders, and refunds. Additionally, you can perform a variety of tasks in bulk, such as printing or downloading numerous documents simultaneously. During your experience, if you encounter any problems, do not hesitate to contact them. Fordeer is always willing to support users 24/7.
Price: Free plan available; 14-day free trial with pricing plan from $12.99 per month and Free 300 orders, 300 draft orders/month.
Developer website: WizzCommerce
Key features: 
Auto-add gift or manual add-on popup for Free Gift promotions.
Volume Discount feature that encourages customers to buy more to get more.
Flash Sale option with a countdown timer to create a sense of urgency.
Buy X Get Y functionality with the ability to set up multiple levels and offer lists.
Additional features like scheduled sales and discount code combinations.

BOGO+ is a powerful boost sale app that turns your visitors into customers and helps you win the conversion rate game effortlessly. With a variety of promotion types, including BOGO, Buy X Get Y, Flash Sale, Free Gift with Purchase, and Volume Discount, this app provides a range of options to attract and engage customers. The customizable widgets, such as countdown timers, offer tables, header banners, and product badges, make your promotions even more enticing. Launching multiple promotion campaigns is a breeze with its user-friendly interface.
Price: 7-day free trial. Start from $9.85.
13. Sixads Paid Advertising
Developer website: sixads.net
Key features: 
Fast and simple ad set-up
Segment targeting 
Customized style and placements
Analytics 

Sixads helps you run high-performing ads on Google, Instagram, and Facebook. It is being used by more than 60,000 happy e-commerce store owners. You can optimize these ads so that they target most likely-to-convert audiences. This leads to a higher number of visitors to your e-commerce store, thus increasing your sales and profits. It's very easy to set up and doesn't require any previous experience. 
You simply have to select the products that you want to advertise and enjoy the outcomes. You can also choose automated ad management. You will be able to exchange traffic with other Shopify store owners as well. It can also help you evaluate your business by a growth expert, thus enhancing your ROI. 
Price: Free to install.
14. Trackr
Developer website: ParcelTrackr
Key features: 
900+ carriers globally
Branded tracking page on your store
Real-time order tracking
Email notifications
Tracking info translation to English, French, Spanish, or Italian
Trackr offers you access to more than 900 carriers worldwide and can enhance your shipping and order tracking processes. It allows you to create a branded tracking page on your store that customers can use to quickly find out about their current order status.
The app updates the data on order delivery in real-time, thus providing your customers with accurate information. You can also send customized email notifications that you can perfectly adjust to your overall brand style.
Price: From $4 per month. 
15. Growave
Developer website: https://growave.io/
Key features
– Loyalty and referral programs
– Photo reviews with review request emails
– Wishlist with back-in-stock reminders
– Social login
– Instagram feed
Growave is an all-in-one marketing platform exclusively for Shopify merchants. It helps to extend marketing with photo reviews, wishlists, referral marketing, loyalty program, Instagram feed, social login, and UGC. Being one of the top apps for running a loyalty program, Growave helps to increase repeat purchase rate and improve overall customer retention. The biggest benefit Growave Wishlist has is to reduce the cart abandonment rate with a series of automated wishlist reminders.
Photo reviews provide social proof on your store with custom questions options to provide insides about your products to your potential customers. Also, no more burden to register users and get their emails, since Growave's social login helps to authorize users on your website in one click via Google, Facebook, Amazon, etc.
Price: Starts at $19/month
Developer website: Recom.ai
Key Features:
AI-powered feature for instant product recommendations
Automated upselling and cross-selling offers
Flexible rules with various display conditions
A rich collection of ready-made, customizable widgets
Possibility to show upsells and cross-sells on any store page
Handy display formats: sliders, static blocks, popups
Comprehensive analytics dashboard
The Recom.ai app for Shopify is a time-proven plugin for effective upselling and cross-selling campaigns with an average rating of 5.0 and 300+ positive reviews. The app lets you effortlessly increase your conversions and boost your average order value in no time. 
Equipped with an innovative AI technology, Recom.ai automatically generates instant product recommendations with its new Scout feature. It displays a widget with products visually similar to those customers are viewing. Shoppers 'like' or 'dislike' items right in the widget, and Scout instantly adjusts product selection to customer preferences.
Apart from that, it lets you launch and fine-tune multiple cross-selling and upselling campaigns in a couple of clicks and display them on any store page, be it product, collection, cart, checkout, or Thank you page. 
Due to its customizable predesigned widgets, based on products frequently bought together, similar look, top sellers, new arrivals, more expensive items, "you may also like", trending now, last viewed, and many others, you can adjust offers to any marketing needs. Therefore, the app will come in handy to any online merchant who wants to grow revenues and provide customers with a seamless shopping experience.
 Price: $19/month plus 2.9% of sales generated with the app 
Developer website: Secomapp
Key features: 
Flash SEO
Auto SEO optimization
Image Alt text update
Offers beginner and advanced level approaches
Campaigning and advertising are incredible ways of increasing your sales; however, they depend on your content. The process is rarely properly optimized for search engines, though. These particular apps help you check your SEO ranking of content, fix it, and optimize it even further, thus helping you attain better rankings. Better SEO rankings can translate into more sales. 
The app notifies you when your image alt-tags aren't labeled properly. You can use this tool to assess your website's speed, optimize your on-site blogs, cater to broken links, and much more. You can start with the free version of this app if you're on a budget and then upgrade to the paid version once your sales improve. 
Price: Free with paid plan starting from $29.99/month.
18. Shopify Quick View App
Developer website: Secomapp
Key features: 
Easy to install and run
Quick preview of products
Easily customizable
Good for those with lots of products 
Can be integrated with Google Analytics
This app enables your customers to find out more details about products that they like and add them to the cart with a single click. This helps customers save time since no extra loading because of navigating across different pages on your site is involved. Furthermore, it greatly enhances the customer experience.  
The app is easy to use and can be integrated with your Shopify store hassle-free. It also enables you to set up a promotional bar, guarantee label, and sale icon along with the total saved option. 
Price: Free with paid plans starting from $3.99/month.
Developer website: Shopney
Key features:
Create free and unlimited push notifications
Easy to create flash sales and countdown timer
Provide inventory-specific themes
Optimize checkout process
End-to-end support
Mobile App Builder ‑ Shopney is committed to being your trustworthy companion during your business journey on Shopify. This app helps you enhance sales with eye-catching push notifications to promote new products and campaigns. Within some clicks, you can create app-exclusive discounts, countdown timer, flash sales, and so on. Also, Shopney works well in optimizing the "Make-or-Break" process, checkout steps, to skyrocket your sales.
Shopney promises to make you satisfied to the fullest with dedicated support at any time. It's easy-to-use when requiring no coding skills, and can be integrated easily with other trending apps on Shopify like Google Analytics or Judge.me.
Price: From $99/month per month.
20. SendCloud – Shipping & Returns
Developer website: sendcloud.com
Key features: 
Wide variety of shipping options
Automated shipping labels
Customized tracking emails
Self-service returns portal
Sendcloud also focuses on processing and sending orders. It can be easily integrated with your Shopify store and offers different carriers such as DHL, PostNL, DPD, UPS, and Red Je Pakketje. The app can automatically print pick lists, shipping labels, and packing slips. Furthermore, it can also automatically send out track & trace notifications while following your branding and also caters to returns hassle-free. 
Price: Free with paid membership options starting from $45/month.
21. Sales Notification
Developer website: makeprosimp.com
Key features: 
Sales notification
Cart notification
Online visitors notification
Customizable messages
Responsive design
Are you looking for Shopify apps to increase conversion? Sales Notification can help you achieve that by offering you customized notifications. It encourages your visitors to visit your online stores, thus increasing the probability of them making purchases via notifications. 
The app also offers a feature known as Sales Pop that enables your visitors to see what others are buying. This particular feature enables you to build the trust of your customers. People are much more likely to purchase products when they see proof of recent purchases. You can also use Sales Notification to send out urgent cart notifications to buyers and also to send customized offers based on their search. 
Price: Free with paid plan available – $4.99/month. 
22. Facebook Chat – Live Chat
Developer website: omegatheme.com
Key features: 
Chat history
Live chat
Customer portal
Facebook chat
Using this app, you can connect your e-commerce stores with their Facebook profiles to ensure better communication with customers. When it comes to Shopify apps to increase conversion, this is a great choice. Why? It helps your customers feel safe and secure while building their trust in you. As per Edelman Trust Barometer, 67% of customers will stop buying a product, even if it's good if they don't trust the seller/company behind it. 
Price: Free with paid plans available – from $4.99/month.
23. DSers – AliExpress Dropshipping
Developer website: dsers.com
Key features: 
Order placement speed
Supplier optimization
Inventory and price auto updates
Real-time order tracking
Multiple store management
Find and import products from various AliExpress suppliers to your store. Connect multiple different suppliers to one products and customize them as you please. DSers will help you to manage all your stores and products in one place. Dozens of features are available for free to help you grow you eCommerce business. 

As AliExpress dropshipping partner, you will be able to place 100s of orders from your store to AliExpress in a few seconds to save time and automate your business.
Furthermore, with the Supplier Optimizer, you can find new and better, more reliable suppliers with lower prices to increase your product margins and profits with ease.
Price: Forever Free plan & paid plans starting from $1.99/month.
24. Keep Cart
Developer website: marsello.com
Key features: 
Remembers carts on different devices
Very simple to use
This is a convenient, one-time installation and fully automatic app that has been designed to help Shopify store owners boost their sales. It allows your customers to add items to their cart and makes them available when they log in from another device as well. 
Customers love the ease offered by online shopping. That's why having to add items in carts multiple times or having to do it over different devices can be frustrating. According to Accenture, 47% of frustrated buyers will avoid doing business with the same retailer. Because of the convenience that this app has to offer, it enjoys a position in the list of best Shopify apps to increase sales in 2021. 
Price: Free.
25. Omnisend Email Marketing
Developer website: omnisend.com
Key features: 
E-commerce automations
Newsletters and targeted campaigns
User segmentation
Combine email and SMS
This is an improved version of the regular email marketing plugins for Shopify. You can use it to create robust automation workflows that can be incorporated and sent using different channels such as SMS, Facebook, WhatsApp, push notifications, emails, and more. 
The also offers smart segmentation features that enable you to target a particular group of customers. The segmentation is done based on your customer's data and their shopping behavior. This is one of the best Shopify plugins if you're focused on enhancing your email marketing.
Price: Free to install, paid plans start from $16/month.
26. Loox Product Reviews
Developer website: loox.app
Key features: 
Product reviews with pictures
Referrals & rewards system
Email campaigns
Available in multiple languages
Customization & branding
Loox app displays reviewed items on your e-commerce store, thus helping your online buyers make their decision. As per VENDASTA, 92% of consumers check out online reviews, and 63% of them have a higher probability of making purchases from e-commerce stores that feature user reviews. 
This app can help you collect feedback by sending out emails. You can also offer discounts or coupons to those who submit reviews with pictures. It also showcases the pictures submitted by your customers. Besides, it integrates reviews in Google search results, thus helping you in increasing traffic. 
Price: From $9.99 per month. 
27. Smile: Rewards & Loyalty
Developer website: smile.io
Key features: 
Offers reward points
Offers loyalty points
Customizable pop-up rewards panel
Easy to set-up and use
A tested and proven way of growing your business is to have customers return to your e-commerce store to make recurring purchases. That's the core idea using which this app was designed. Customers tend to enjoy and stay loyal to brands that offer them loyalty rewards and personalized services. The app can help you attract new customers while retaining your loyal customers using points and referrals. 
Customers earn rewards for registering their accounts with you, refer others to the store when they share your products on social media platforms, and do other tasks. They can enjoy incentives and loyalty rewards when they market your brand. 
Price: Free with paid plans starting from $49/month.
28. TRUST
Developer website: trust.varinode.com
Key features: 
Offers PCI compliance seal
Offers SSL seal
Offers secure architecture seal & more
This app can cater to the insecurity that customers feel when they are visiting your store for the first time. If you want to boost your sales, you have to focus on building your customers' trust. In fact, 92% of online shoppers only purchase from the e-commerce store that they trust or buy products that have customer reviews. 
This app helps your customers feel safe while they visit your store. It helps you brand your store, contact us page, and products using seals. The app also offers seals for PCI Compliance, SSL, Secure Architecture, and guarantees for refund. You can choose between different seals to win your customers' trust and your new visitors. 
Price: Free with paid plans starting from $23.98/month.
29. Kit
Developer website: apps.shopify.com/kit
Key features: 
Automated ads
Instagram audience
Facebook updates
Personalized emails
Once your customer base starts growing, it becomes increasingly difficult for a small or medium business enterprise to keep up with its customers' demands and marketing campaigns. That's where the need for automated apps comes up. The Kit is an automated marketing Shopify app that can help you increase conversion. 
The app can remind you when you need to post ads on Facebook. Furthermore, it can seamlessly integrate with other retargeting Shopify apps that have been designed for other social media platforms. 
Price: Free to install but running ads will cost you.
30. Instafeed
Developer website: minttstudio.com
Key features: 
Offers social proof
Image and video support
Fully responsive
Fully customizable
Multiple Instagram feeds
Did you know that an incredible way of keeping the content of your online store fresh is by relying on your Instagram? This particular app enables you to share your Instagram feed with your e-commerce store and does so while ensuring that it matches your website's design. 
As per Socialbakers, Instagram enjoys four times the buyer-seller interaction when compared with Facebook. By incorporating this tool into your e-commerce store, you will be able to update your website with images and videos directly from your Instagram feed, thus facilitating conversion. 
Price: Free with paid plans starting from $3.99/month.
31. Reviewbit WhatsApp Reviews
Developer website: reviewbit
Key Features:
With automated review requests via WhatsApp, you may ask your customers for reviews with photos/videos.
Create strong ties with your customers and give them an exceptional experience.
With beautiful review galleries that feature your satisfied customers, you can convert visitors into buyers.
With discount offers, you may entice pleased consumers to buy from you again.
To quicken the review creation process, send review requests to prior customers up to three months ago.
Revewbit's review widget integrates with all major Shopify review apps, including Loox, Judge.me, Stamped, and others.
Customers will be able to receive review requests in their own language.
Compared to other review collection platforms like email, Reviewbit assures a conversion rate of review collection above 30%.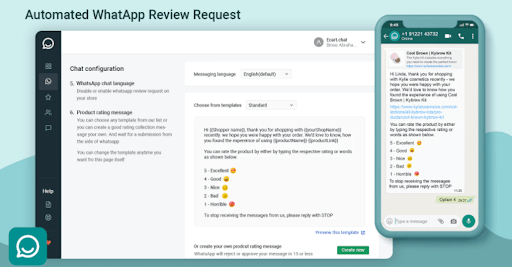 Reviewbit helps eCommerce brands provide post-purchase consumer engagements using social messaging platforms like WhatsApp. Using instant messaging systems to send an automated review request, allows businesses to collect feedback from each order. Helps businesses provide immediate customer care for negative reviews and upsell their products to satisfied or loyal customers, as well as increase sales through upselling and cross-sell products by sending offers and promo coupons while gathering feedback using chat platforms. This app assists merchants in retaining current consumers as well as converting new customers into loyal customers.
Price:
Free-to-install and also a basic free Plan is provided.
From $19.99/month billed if you want to upgrade plans.
32. Multi Carrier Shipping Label: The best Shopify shipping app
Developer website: PluginHive
If you are in search of a complete shipping solution for your Shopify store that will integrate with multiple carriers and completely automate the order fulfillment process, get yourself the Shopify Multi-Carrier Shipping Label App.
Key features: 
Domestic and International Shipping Rates
Choose among top carrier services like FedEx, USPS, UPS, DHL, Canada Post, Parcelforce, and many more.
Live Shipping Rates from Multiple Carriers
Generate and Download Shipping Labels in Bulk
Live tracking notifications to your customers via email
Generate Return labels
The Multi Carrier Shipping Label app acts as a complete shipping solution for your Shopify store with Real-Time shipping rates from multiple carriers like FedEx, USPS, UPS, DHL, Parcelforce, Canada Post, and many more. With the app, you need not worry about the number of orders you get. You can select all orders and generate labels for all of them with a single click.
Along with this, the app also helps you to automate the tracking process. The app updates the data on order delivery in real-time, thus providing your customers with accurate tracking details via email. The app also allows you to monitor all your orders from a single tracking dashboard.
Price: From $9/month.
Factors To Consider When Integrating Shopify Apps
This completes our list of best Shopify apps to increase sales in 2022. However, once you start looking into these apps, you will realize that hundreds of similar apps are available. So, how do you select the best Shopify plugins or Shopify apps to increase conversion? More importantly, how do you ensure that the added apps don't end up being counterproductive to your business? Don't worry, we've got you covered – check out the following tips!
Shopify Apps Compatibility
Some of the Shopify apps work incredibly well when they are being used as standalone products. However, they might not perform that well once paired with different apps. You will have to carry out some research in terms of ensuring that the Shopify apps you're installing are compatible with one another. You can also run a closed-loop test to ensure that everything works properly. 
Here's another factor that you have to pay attention to – sometimes the apps might be compatible with one another but can greatly affect your website speed. When you install multiple apps on your Shopify store, your website speed may get affected, and it could take a little longer to load. However, not installing apps on account of speed may lead to a lousy interface that is much more harmful to your business. You will have to find the right balance between these two. 
Shopify Apps User Experience
Customer experience or user experience is the most important factor to consider when you're integrating Shopify apps in your store. These Shopify apps have been designed to increase your conversion by bringing more customers. But before you try adding all of these apps to your Shopify store, take a minute to consider how this affects your user experience. You don't want to bombard visitors with a plethora of pop-ups or ads on every single webpage, right? You want to provide them with a seamless and memorable customer experience. 
Increasing Your Sales In 2023
As the world recovers from the COVID-19, it is witnessing a paradigm wherein most of the sales are happening in the online world. In order to take full advantage of this, you have to offer a seamless customer experience to your consumers and ensure that your business is surpassing their expectations. The best way of doing that is by incorporating relevant Shopify apps into your e-commerce store. These apps can not only help you offer a better customer experience but can also help you re-engage your customers, attract new visitors, and help you automate your different processes. These apps are a must-have for your Shopify store if you want to increase your sales in 2022!