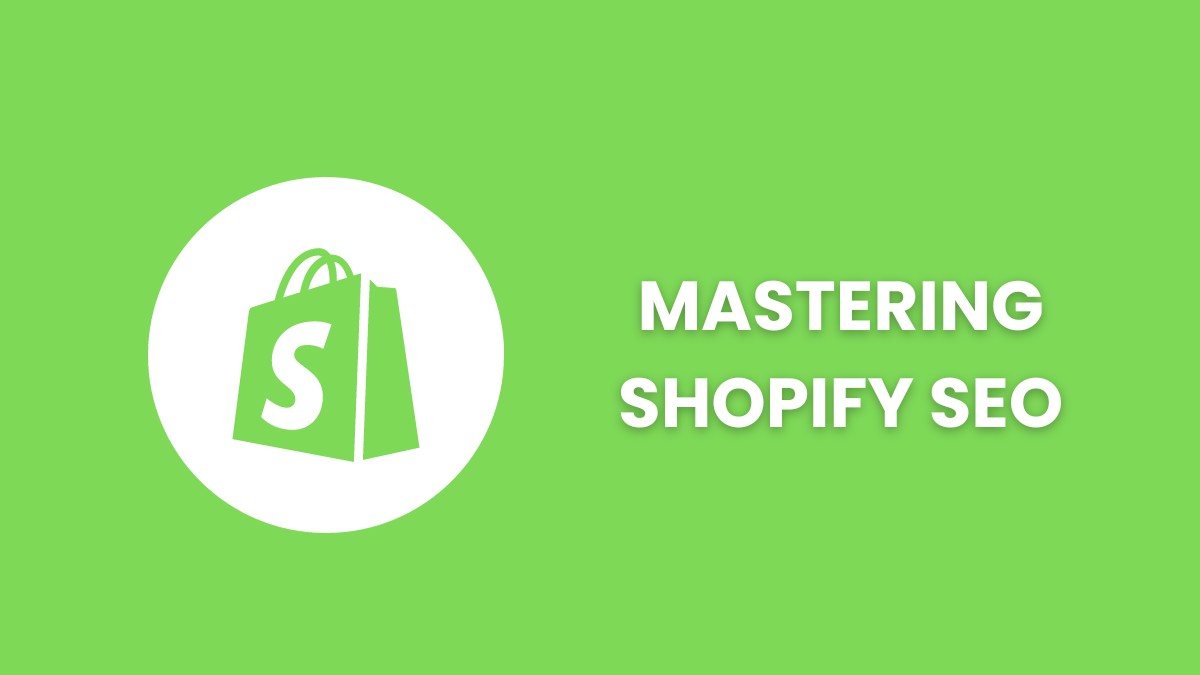 31 August, 2023
No Comment

This manual gives you a thorough look at how to use Shopify's SEO to your advantage. Online retailers can successfully boost their chances of getting found by employing Shopify search engine optimization (SEO). To achieve organic growth and reach potential clients, Shopify SEO is crucial. This manual provides users with an introduction to the tactics and recommended procedures for enhancing a Shopify store's visibility in search engine results. Shopify businesses can achieve long-term success and huge increases in organic traffic by implementing these strategies.
Understanding the Basics of Shopify SEO
In addition to helping you swiftly grow your customer base, SEO can boost overall sales for your Shopify store. To rank as highly as possible for relevant keywords and phrases in search engine results, your online content must be SEO-optimized. Understanding SEO's fundamentals and how it affects your store's performance is crucial before beginning any Strategic SEO Campaigns in New Jersey. Understanding the different search engine algorithms, content optimization, and link-building techniques are all part of this. To keep search engines from penalizing your store, it's also critical to grasp ethical SEO strategies.
Keyword Research & Tracking
Researching and keeping an eye on keywords is one of the keys to success with Shopify SEO. The most pertinent keywords for your goods and services are found and selected, and their performance on search engine results pages is monitored during this process. To do this, a number of tools, including Google Keyword Planner, can be utilized. Then, while monitoring the effectiveness of your selected keywords, you can adjust your SEO strategy.
On-Page SEO Optimization
On-page SEO refers to the process of optimizing the content of your Shopify store for the keywords and phrases you've chosen. This calls for updating your store's titles, headings, product descriptions, and other content elements. Ensuring that your content is as relevant to your target audience as is practical will be made easier as a result.
Internal Link Structuring
Another essential component of optimizing your Shopify store for SEO is the structure of internal links. This entails establishing distinct paths for consumer navigation within the store and utilizing internal links to lead visitors to the sites you want them to view. Customers will have an easier time finding the things they want as a result, which will lengthen their visit to your website.
Mobile Optimization
SEO is evolving to include mobile optimization more and more. It's critical to ensure that your store is mobile-friendly because Google now considers the user's device type when ranking websites. This involves making sure the site is simple to use and loads quickly on both sorts of devices, as well as making sure the content is optimized for use on both desktop and mobile devices.
Structured Data Markup
Structured data markup can be used to enhance Shopify SEO in addition to more conventional SEO optimization methods. Adding further details to the content of your store, such as product prices, availability, and ratings, is possible with structured data markup. This facilitates search engines' comprehension and indexing of your store's content, which may result in better search engine rankings.
Image & Video Optimization
The optimization of images and videos is very crucial for Shopify SEO. Making sure that images and videos are optimized for SEO is crucial because they are significant components that aid in educating clients about your goods and services. This entails enhancing them using pertinent meta tags, shrinking them for quicker loading, and utilizing premium photos and videos. All of them will make it more likely that your pictures and videos will rank higher in search results.
Utilizing Off-Page Strategies
Building Quality Backlinks
One of the most effective off-page strategies to optimize your Shopify SEO efforts is building quality backlinks. Essentially, a backlink is a link from an external website back to your Shopify business. Quality backlinks come from trusted websites with high authority, such as official research papers, press releases, and industry-specific third-party blogs. The most effective backlinks will come from websites relevant to your niche. For example, if you're selling a new, innovative HR software, you'll want to engage with industry-specific websites and webmasters to link back to your business. Of course, you'll also want to avoid anything that can be flagged as blackhat SEO—such as link farms and link buying.
Leveraging Social Media Platforms
An excellent strategy to promote your Shopify company and gain followers is by using social media sites. It can assist you in increasing website engagement as well as help you obtain more high-quality backlinks. Remember that increasing engagement is just as crucial to Shopify SEO as increasing backlinks. Therefore, be sure to interact with your current and potential clients on all of the major social media platforms, including Facebook, Instagram, Twitter, LinkedIn, and YouTube. For greater involvement, don't forget to incorporate the appropriate Social Meta Tags into your website.
Nurturing Customer Reviews
Customer endorsements are a great way to increase traffic to your Shopify website and the success of your SEO campaigns. Encourage customers to leave evaluations on review sites like Google and Yelp to instantly get more credibility and authority with potential customers. A further way to build credibility and trust with your target audience is to engage with them and respond to their reviews on these platforms. So make sure to encourage customer feedback and use it to your advantage.
Maximizing Multi-Channel Marketing
You can really maximize all aspects of your Shopify SEO efforts by implementing multi-channel marketing strategies. Utilizing numerous marketing channels simultaneously, including traditional media channels, digital marketing channels, and social media platforms, is known as multi-channel marketing. To build comprehensive marketing campaigns that effectively reach your target audience, you might, for instance, combine search engine marketing, email campaigns, paid ad campaigns, and content marketing.
Enhancing Local SEO
You should ensure that your website is optimized for local search engine optimization (SEO) if your Shopify shop caters to local customers. This entails making certain that your company is included in significant local business directories with appropriate contact information. Additionally, be sure to use local keywords in your content, titles, and meta tags. The reviews that customers have made for your company should also be taken into consideration as they may have an impact on your business' local search engine rankings. Finally, to further boost your local ranks, make sure you're utilizing other local SEO strategies like optimizing photos and videos for local search and utilizing structured data standards.
Analyzing Your SEO Performance
Gauging Traffic & Rankings
In terms of SEO performance, traffic, and rankings are two crucial success indicators. The number of distinct visitors to your store over a specific time period can be used to estimate traffic. In the meantime, you can determine rankings by examining where your store pages appear on search engine results pages (SERPs). Monitoring average session duration and pages each visit is helpful in addition to monitoring overall traffic and SERP ranks. This data can show you whether visitors are arriving at your website and staying a while, or whether they are simply leaving your pages quickly.
Measuring Conversions:
You must start by calculating the volume of traffic your store receives before assessing the proportion of that traffic that actually turns into paying consumers. You may maintain track of this information by simply tallying conversions, purchases, and user registrations on your store. To get a more comprehensive understanding of how well your store is doing, you can also look at the conversion rates of each page independently. You can then ascertain whether and why certain pages are performing better than their rivals.
Tracking the Source of Traffic:
Knowing where your store's customers are coming from will help you prioritize your SEO efforts and decide which channels need the most attention. You might be able to track the source of traffic to your store page by page depending on the analytics platform you're utilizing. You can also utilize particular tools to gauge how much of the organic traffic to your store originates from various search engines, such as Google and Bing.
Analyzing Organic Search Results:
Analyzing your store's organic search results should be done at the same time as analyzing the traffic metrics stated in the preceding section. This can be accomplished by using tools like Google Search Console to track which pages are most frequently found in organic search engine results pages (SERPs) and the keywords that direct users to those pages. To find additional keyword opportunities and pinpoint areas where your On-page SEO: A comprehensive guide from Incrementors needs work, you may also utilize a tool like SEMrush.
Strategies to Enhance Shopify SEO
Generating Quality Content
One of the best strategies to boost your Shopify SEO is by producing high-quality content. Writing strong text is only one aspect of quality content; it also needs to showcase the advantages of your goods and services while providing specifics about what they have to offer that a potential buyer would not find elsewhere. High-quality visuals like images, films, and infographics can be used to create an engaging experience and boost SEO and engagement. Additionally, if done naturally and sparingly, incorporating pertinent keyword phrases and themes connected to your Shopify SEO might aid in boosting organic traffic.
Improving Page Load Speed
The speed at which a page loads is crucial for enhancing Shopify SEO because search engines prefer quick-loading websites to those that take longer. If visitors stay on your website longer, search engines will value it more and rank it higher on the SERP. The quicker your website loads, the quicker people can traverse it. Ensure that all images and videos are compressed, all scripts are minified, the size of the HTML text is decreased, and caching is turned on to maximize website loading time. Look at features like lazy loading pictures, which only load content when users get to specific areas of the website.
Ensuring Site Security
A secure website is also necessary for Shopify SEO since search engine crawlers can tell whether a website gives its visitors a secure browsing environment. Because HTTPS encryption helps to secure the security of accounts and sensitive information, you should utilize SSL certificates to protect client data. Additionally, to stay abreast of potential risks, think about routinely checking your website with automated technologies.
Utilizing Shopify Apps & Plugins
You may use Shopify's extensive selection of apps and plugins to improve the SEO of your website. Along with providing tools to track website visits and user engagement metrics, they can aid in enhancing page load speed, which benefits SEO. A number of Shopify plugins, like those for meta tags, sitemaps, and hreflang tags, can also assist you in enhancing the technical SEO of your website. To keep on top of the curve in terms of enhancing your website's exposure and performance in search engines, you should use these plugins in conjunction with continuing SEO operations.
Conclusion
Overall, Mastering Shopify SEO: A Comprehensive Guide for E-Commerce Success offers retailers and business owners a thorough resource for enhancing and optimizing their online stores. This book offers useful guidance and tactics for boosting visibility across all of the major search engines and increasing traffic. This manual covers every facet of SEO optimization, from comprehending SEO fundamentals to investigating Advanced SEO techniques. In the end, this book's insights give readers the assurance they need to advance their online shop and maintain their competitiveness in the e-commerce market.