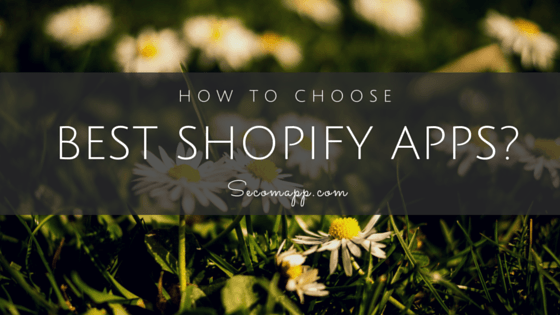 Becoming a Shopify store owner, you certainly want to optimize your store for better efficency and success. Now, Shopify app store provides so many both awesome and poor apps so how can you be concious enough to choose suitable ones?
Of course, a thorough analysis is neccessary before approving charge of any app. However, you get confused of features, reviews, etc and you don't know where to start. We have some ideas.
Now, get it started!
Set up your goals
Before starting to find third party Shopify apps, ask yourself "why do you need additional apps instead of using core features of Shopify?" You know that Shopify provides fundemental platform for any ecommerce doing business comfortably, and adding too many apps and new features is not neccessary. It puts press on your themes and requires some work to integrate new apps with your current theme and older apps installed in your site. Last but not least, additional apps can slow down the page loading of your site, which leads to unexpected negative traffic result.
Hence, in order to avoid installing too many app, make your goal clear before starting with additional apps. It can be divided into some metrics as follows:
– Marketing – Increases on site eccommerce conversion rate, average order rate, or drives more top line revenue in some way direct or indirect.  Some examples:
Goals for total revenue or revenue growth.
New customers vs. returning customers.
 Average order size.
 Shopping cart abandonment rate.
Upsells and side-sells.
– Support and Tools – Helps make better decisions that in turn directly help drive more revenue or cut costs (customer service hours, etc.). Some examples:
Number of complaints or returns.
 Average resolution time for any issues.
Number of positive reviews.
Reducing the amount of time spent on admin activities.
Streamlining and automating processes.
Features
After you make decision on specific goals, now you search for apps that have features meet your requirement. It's better to find one that has all the features you need, rather than one that has a lot of features, but is missing some that you need. You don't want to run two or more apps for the same set of tasks. Besides, with multiple features, the app might cost much more than the simpler one, which suits your case.
This step may takes you a lot of time and your list may be long. So come to the next step to shorten your list.
Support
Software in general or Shopify app is a kind of product that need technical support for lifetime. It is not like buying a new clothes. With Shopify apps, support is one of the biggest aspects to consider before choosing an app. Because there is no security that the app will works properly in your website right away. Even now it can work well but when you change your theme or install another app, it could arise unexpected errors. You will need the creators' help.
Be sure to check out the customer reviews for each app, including any that discuss support responsiveness. In addition to reviews, experiencing the trial is highly recommended. Nearly all apps offer trial version. Give them the first homework to check whether they are good or bad.
In case, you even doesn't have time to try out every potential app, you can test their support with pre-sale questions. You will see how they react with customers' inquiries.
Conclusion
We recommend starting with apps to increase sales, improve traffic. Important thing is that you know your specific goals then make a strategic choice of apps. Suitable number of apps to install at a time is just one or two.
We hope to receive your own sharing about app selection.
---