9 August, 2021
No Comment
When your company depends upon the web traffic and conversions on your site, getting to the top of SERPs can feel like the be-all-end-all necessity for business growth. To track and boost their search engine optimization (SEO), eCommerce retailers must know the key performance indicators (KPIs) that are most important for their businesses.
But this is often easier said than done. Some KPIs are more obvious than others, and tracking them in a meaningful way can often feel like a burden. We'll take a look at some of the most important SEO metrics for eCommerce businesses and how you can start measuring your own to optimize your site. 
How to track your SEO KPIs
Let's start with a quick overview of the easiest way to measure website KPIs in general. Good eCommerce platforms should offer some SEO basics to get you started. But for more nuanced insights, you will likely want to consult Google Analytics.
The basic tier of this tool is free, and Google also offers a free course to get you started in using it. Google Analytics is the most popular way to track real-time user and website performance metrics. Once you set up an account, you can connect your website by its URL.
There are real-time metrics visible to show who is on your site at the moment, and you can also generate reports on traffic sources, conversions, different content performance, site performance (including on mobile), etc. If there's a specific metric you're looking for, you can search in the search bar.
You can also pair Google Analytics with another free offering, Search Console, a collection of tools to help identify traffic opportunities, optimize mobile usability, and generate search maps to get crawled by Google. It can send alerts if Google finds any issues that might impact your rankings, and it shows you what other sites are linking to yours.
Once you develop your SEO strategies a bit, you can diversify your KPIs to include more nuanced customer experience metrics. When you do this, you may want to look beyond Google Analytics and consider hiring an agency or investing in paid solutions to make the most of your marketing and optimization. But the KPIs we'll discuss here can all be monitored with free tools alone.
Important ecommerce SEO metrics
Before we dive into the metrics you should be measuring, a note on terminology. Unless otherwise specified, it's best to first look at organic versions of these metrics to get a true picture of what does and doesn't get users to your site.
In SEO-speak, organic means free traffic – that is, not traffic generated by pay-per-click marketing you pay for in Google Ads or the like. If you're just starting in optimizing your SEO, the organic metrics are how you want to monitor your success, at least for now. Paid SEO strategies can come later.
With that, let's look at some of the top metrics to monitor. This is by no means an exhaustive list, but it will get you started on the right foot.
Conversion rate
A high conversion rate is a big indicator of on-page SEO success, such as creating effective content, designing for a positive user experience, etc. This refers to the number of users who visit your site divided by the number who do something while they're there. This is something you measure will depend on your goals as a business.
If you have a podcast, a conversion might be a one-time listener who converts by choosing to subscribe. For an eCommerce store, this is likely a visitor who makes a purchase. Whatever your particular needs as a company, conversion rate is a must-track metric to help optimize your site.
Once you see this rate, you can start to dig in deeper and explore what exactly is boosting (or hurting) conversions. Effective web copy, strong customer reviews to boost trust, or a seamless checkout experience are all things that might impact your conversion rate.
Once you have numbers like conversion rate, it makes it easier to calculate your Return on Investment. In short, ROI measures the total revenue you gain divided by the investment you put in. But, like conversion rate, this may be a little different for everyone.
To monitor your revenue, make sure you invest in accounting solutions that come with crucial features like automated tracking to make it easier to monitor your metrics and customizable branded templates to give your eCommerce shop that extra edge. Also, don't forget to consider human hours – any work you or your employees do, even if it isn't paid hourly, is an investment in your business.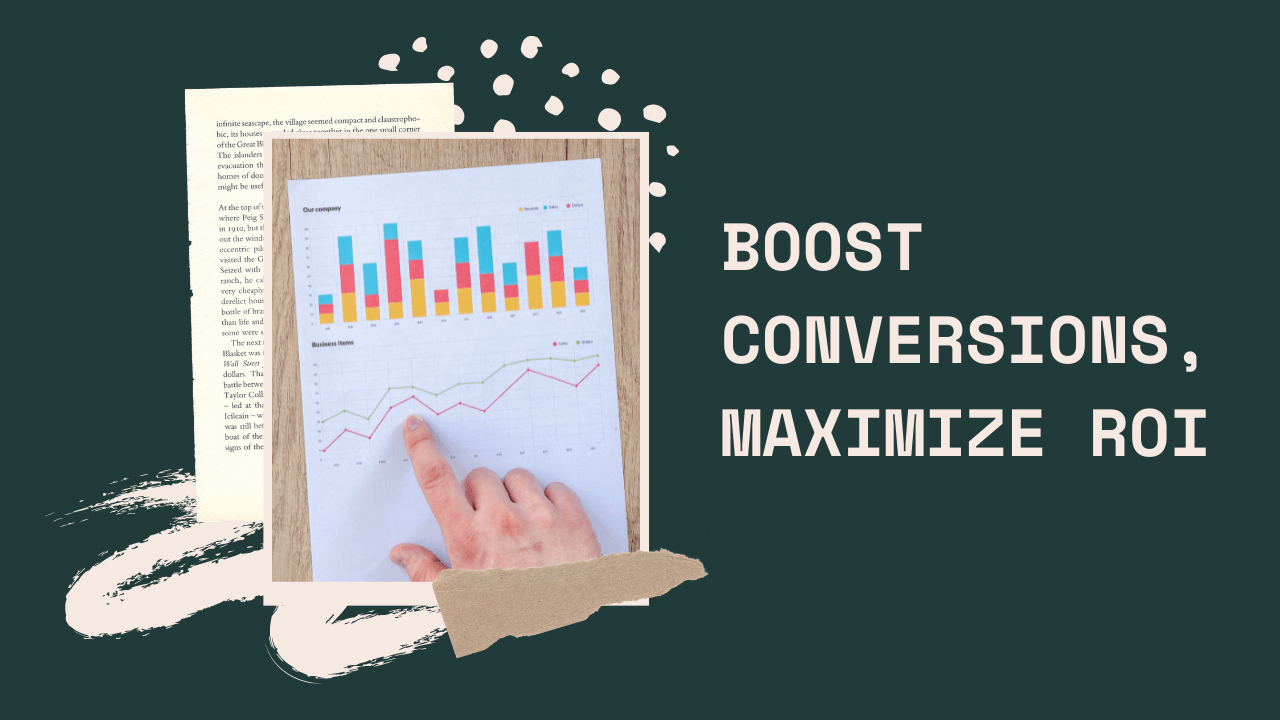 Bounce rate
Related to conversion rate – in fact, it's an approximate opposite – is bounce rate. This refers to the number of visitors who click on your site then leave without doing anything (no link clicking, purchases, nothing). Bounce rate impacts your Google rankings and offers important information about customer conversions.
A good bounce rate for eCommerce stores is between 40 to 55%. This helps determine if your content is engaging and whether search queries that lead to your site are relevant to your offerings. Use this metric in combination with the conversion rate for a richer understanding of your on-page SEO.
Keyword rankings
Target keywords ranking performance is a good way to check that your site is appearing on searches for the things you want to be known for. Similarly, there may be search terms for which you don't want to appear in the results. Knowing how you perform for different keywords can help in structuring your website and optimizing your content,
You should also start with a benchmark before you begin any marketing or SEO campaigns so you have a baseline to work from. And once you start to make changes to your content and site structure, you might want to invest in a keyword tool to assist in optimizing your keyword monitoring so you know you're getting the most relevant results.
In addition to tracking your own keyword performance, you should also look at what your competitors are working with. In a crowded eCommerce market, it helps to know what is working for others. You can then integrate these words into your own strategy to make sure you're not being outshined in niche markets.
Page load speed
Page load speed is arguably the most important technical metric worth mentioning. It's a competitive online market, and if your site times out or takes more than a couple of seconds to load fully, it will definitely have negative impacts on conversion rate, etc.
According to web developer Gary Stevens of Hosting Canada, site speed is one of the most critical factors impacting SEO. Stevens' team analyzed metrics in the web hosting Canada and US to compare website load times and reported interesting results:
"We're used to as fast as possible loading speeds, and most people aren't going to wait longer than a couple of seconds," says Stevens. "The top recorded load times we found were just 226ms, whereas the slowest were over 2,850ms." You need to make sure your eCommerce site is one of the fastest ones, or you'll be losing prospective customers to the competition.
Conclusion
When building your eCommerce business, increasing web traffic helps increase customer conversions, and gaining happy customers is what you're really after. Success may look a bit different for everybody, but it's important to know when you're achieving it. Quantifying and monitoring these key SEO metrics will help you grow your online business and measure that growth.
READ MORE: KPI for SEO| 9 Must-Have Metrics in Your SEO Analysis