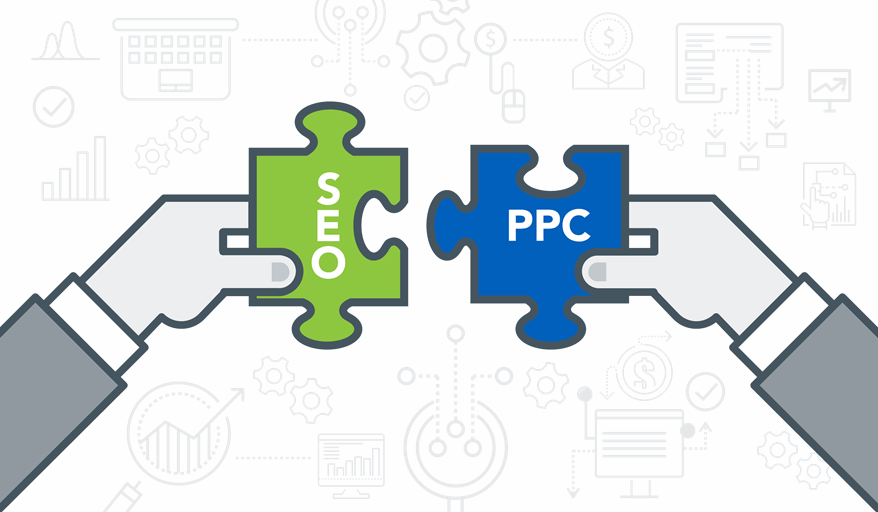 SEO and PPC. Name a better duo. Both search engine optimization (SEO) and pay-per-click (PPC) should have a place in your marketing toolbox because when combined together, they are the perfect pair capable of driving traffic to your website and generating leads. Contrary to popular belief, PPC and SEO aren't arch-rivals, and when used simultaneously, you better believe they will provide not just results, but an abundance of crucial data to analyze and monetize. 
While both strategies leverage the power of search engines to attract website traffic, utilizing both PPC and SEO together will bring about immediate results as well as lasting site visitors and brand awareness. This article will detail each tactic and how to optimize them, as well as why your business should be taking advantage of both PPC and SEO.
When & Why Leverage SEO?
When potential customers search for products online, you want yours to be the first one they find. SEO is the process of making your site more visible in search engine results pages (SERPs). It's essential to have the best SEO strategy in place in order to get ahead of your competitors. Hence, there are several benefits of leveraging SEO for your business.
Brand visibility
By optimizing your SEO for keyword searches you'll be able to increase your brand's visibility. Appearing at the top of the search engine results pages is a great way to create awareness for your business. Highly visible content will appear at the top of organic search results and less visible content will feature on page two and beyond of search results, and we all know — the best place to hide a dead body is on page 2 of Google search results. Searchers are highly likely to recall the brands they see in search results, meaning even if people don't click on your website, sighting your brand in the results alone can positively impact your visibility and brand awareness. It does pay to rank as high as possible though, with people showing higher recall for brands appearing at the top of results.
Credibility
Ranking highly on the SERPs also gives your business a great deal of credibility. Google is the first port of call for most consumers, and appearing at the top of the list (without a paid ad) will do wonders for your reputation —  because if google ranks your brand first, your content must be pretty great and reliable, right? Customers associate this with being a trustworthy, popular brand and increase the degree to which you are seen as authentic, consequently resulting in creating more organic leads.
Cost
SEO is cheaper than other forms of marketing and advertising and for long-term results, turns out to cost less in comparison to PPC. The good thing about SEO, is you can spend as little or as much as your budget allows, and if you have the relevant skills, you can do it all yourself. Depending on your budget, resources and situation, you may choose to outsource this to an SEO services provider where it could cost you anywhere from a couple of hundred a month, to well in the thousands. If you are OK with hanging in there for the long haul to see cumulative results at lower costs, then SEO is a cost-effective way to deliver traffic to your website.
Staying power
By generating organic leads, without relying solely on ads, you'll be able to sustain your reputation and brand awareness. Search engine algorithms are constantly evolving, however, so it's important to stay up to date. If you have established an effective SEO campaign, the organic traffic you have developed is likely to continue if your marketing budget is cut, unlike PPC where organic traffic stops as soon as you stop paying.
The purpose of SEO is to direct more leads to your website. This means making your site more user-friendly and well-organized so leads will stay there, as well as come back in the future. The organic leads will keep coming in if you learn how to draw customers to your webpage, but more importantly, you need to keep them there. Well-designed landing pages and online forms that are easy to navigate is essential to convert your visitors — there's no point in ranking if you fail to convert.
Paperform is a great alternative to Typeform which allows you to create beautiful forms and pages that represent your brand, and can even analyze and collect essential visitor behavior to increase conversions.
Pros & Cons Of PPC?
Pay-per-click ads, aka PPC, is also an effective way to market your business online. They work slightly differently to SEO, although finding the right combo is the best way to turn clicks into sales online. Here are some pros and cons of PPC.
Pros
Paid ads give your business an advantage on different levels. You can reach out to your target audience and benefit in a number of ways.
Targeted ad campaigns
PPC ad campaigns allow you to target specific websites and audiences to drive maximum success. Having access to user data means you have the ability to plan a PPC strategy in order to target a certain niche, specific locations, and choose when to advertise to make your campaign more effective. With PPC's highly specific targeting abilities, you can reach the right people, at the right time, with the right ad while having full control. For example, a big advantage for businesses such as eCommerce is seasonal targeting where you can automate ads to increase during periods of higher demand, such as the holidays.
Analytics
It's easy to evaluate the results of your PPC campaigns using analytical tools. You can measure your ROI and the effectiveness of your ads which allows you to improve your strategy for the future.
Can generate traffic quickly
As mentioned, SEO takes some patience to see the results of your campaigns. With PPC, you can see results almost instantly once your ad goes live. Due to the traffic being targeted towards a specific market, you can expect that your visitors will be more inclined and motivated to buy as your offer is a highly relevant solution to what they are searching for.
Cons
Whereas a paid ad can give your business an edge, there are a couple of drawbacks to opting only for PPC ads.
Short-term solution
The main problem with PPC is that your ads can only generate leads while your campaign is still running. It's a quick, but temporary alternative. Once your budget runs out, you'll need to incorporate SEO for longevity. That's why for best results, complementing your SEO strategy with targeted PPC ads while ranking for those same keywords provides multiple access routes while driving brand awareness and establishing authority. 
Consumers prefer organic
It isn't always the case but often consumers would rather click on an organically searched link rather than a paid ad. These are associated with having more credibility. The key is to find the right balance, knowing where, when, and who to target, and optimizing SEO.
How To Find The Right Mix?
It's not necessary to choose between SEO and PPC, but rather about finding the right mix for your business. Here are some tips on how to leverage both of them together.
Test at every stage
PPC brings potential customers to your site, but an effective SEO strategy is necessary for turning those clicks into conversions. When analyzing your PPC campaign, it's important to test different ad copies and see which are the most effective. Once you've got a better idea about which keywords generate more clicks, you can then optimize these in your web content and SEO tactics to ensure long-term results.
Optimize keywords
Always keep in mind that your keywords are a big part of what links all these things together. The keywords that work for your PPC will often work best for your SEO strategy and by analysing the results of your paid ads in terms of what ad copy creates the most conversions, you'll be able to inform your organic content strategy. Check out what your competitors are ranking for that you aren't, giving you valuable insights on how they are getting search traffic and what opportunities you are missing out on. You can do this by using a keyword tool, while also using it to find out what keywords have been more effective in driving traffic to your website and adapting your campaign accordingly.
Consistency
Consistency is very important in providing a positive user experience across all channels. PPC and SEO target your audience at different stages, so it's important to always keep your branding consistent between them. Customer data such as conversion rates and traffic leads collected from your SEO campaign can help you to improve your PPC strategy, and vice versa.
Make smarter decisions
A huge benefit of using PPC and SEO together is that they both provide crucial data from which you can base business decisions. Through analysing metrics for both campaigns including conversion rate, click through rate and impression share you can see which keywords and ad copy are most likely to lead to a conversion and generate sales. This data acts as a plethora of information that you can use to make smarter decisions about your marketing efforts, budgeting and any changes that may be needed to your website. While this data is available when using either PPC or SEO individually, using them simultaneously effectively doubles the amount of information accessible to you. As the saying goes, knowledge is power.
Wrapping up
Finding the perfect combination of SEO and PPC is key to driving maximum traffic to your site and boosting sales. By understanding where it is appropriate to use SEO and PPC to achieve specific outcomes, you'll be able to leverage both strategies to achieve your goals in both the short term and long term.
---
Tegan Tedd is a content marketer at Paperform. She loves writing about marketing, technology, and workplace productivity.
---
Now you can start with SEO optimization by installing SEO BOOSTER to your Shopify store. It is not so hard to perfect SEO score by yourself but it will cost you lots of time and effort. Now with SEO Booster, you will be informed and guided how to optimize your site within a few steps. Especially, the app can auto-fix all your title and description, image alt and broken links.
---