31 March, 2016
No Comment
"Which platform would be the most suitable for ecommerce?" seems to be an always-in-mind question for all business owners. And as the answer varies, sometimes we should do tests so as to choose the one that brings the most impressive outcome to our business.
Let's check out the pros and cons in an transformation from Magento to Shopify – the 2 most popular platforms for ecommerce, based on the case study of Right Channel Radios.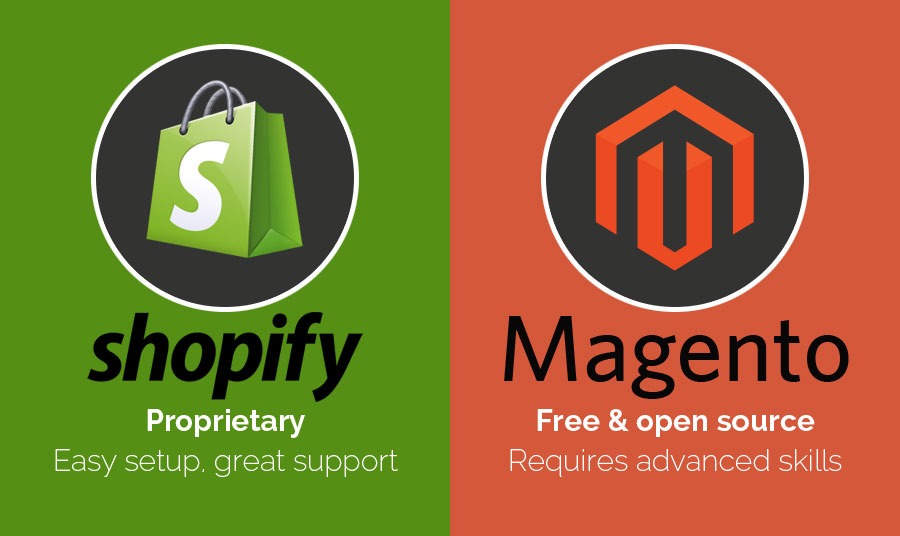 Pros
No more tech worries
While user should know at least a little about UNIX or template structure to get up-to-speed with Magento, they will have Shopify managed all of the server, upgraded and coded maintenance issues.
Hosted, but extremely customizable
You have Shopify managed all of the server but you still can control and customize it to your needs (of course you don't have true 100% control)
Regarding the case study of Right Channel Radios, their geo-locating shipping calculator and custom vehicle recommendation wizard- both fairly complex features –  were both implemented within their hosted environment.
Ease of extensibility
Adding extensions is no longer complex when you switch from Magento to Shopify. A couple of clicks and you're done, and I haven't run into any incompatibility or stability issues like when you install new modules to Magento sites.
Simple & Intuitive Interface
Magentois fully and systematically functioned, which results in composing several steps for a task such as refund for edit orders. This is not an issue with Shopify as you simply click "Refund" right on the order page. Therefore your team was able to hit the ground running on day one with almost no training.
Other things
A review by Andrew Youderian from Right Channel Radios is that with Shopify, Support has been solid, server response time is good, enhanced eCommerce analytics support for Google Analytics in built-in and Shopify Payments integration is really nice from a fraud detection perspective.
The cons
The pros seems to be impressive, but to be objective, they still run into few issues.
Botched Order History Migrations
Shopify deals with orders, customers and accounts in a very forward thinking manner by linking everything to an email address. So store owners were able to create workarounds to allow customers to create a new account and auto-import their old order history.  Butthere is an issue when order records were transferred from Magento to Shopify: instead of showing the actual order date, what was recorded was the date the order was imported to Shopify.Along the same lines, date transferred didn'trelate to whether a customer from Magento had an account or simply checked out as a guest. This causes a lot of disadvantages for any transformation.
Impact on SEO / Organic Traffic
One of the biggest concerns people have when migrating platforms is losing their SEO rankings if/when URLs change.  Shopify uses a different URL structure than Magento, so taking a hit on the SEO front was definitely a major risk factor for the migration. Fortunately, theyhaven't yet seen any major impacts to organic traffic from the change to our URLs along with the corresponding 301 redirects.
In conclusion, thanks for the detailed description of Right Channel Radios and their statistics (you can see more at http://www.ecommercefuel.com/shopify-vs-magento/), we've got a thorough understanding about the pros and cons when transfer between the most popular ecommerce platforms.
The decision is still on your hand, just take this article into reference and consider the best solution based on your business conditions.
---