10 November, 2022
No Comment
Adding a new warehouse for your business is an exciting milestone because it shows that you are growing and more people want the product that you are offering. It does, however, come with a lot of "what ifs."
As your business grows and you expand to different locations, multi-warehouse management becomes an essential part of your day-to-day operation. It's natural to be concerned about moving into multi-warehouse management, and you have no idea if the process will be too much for you to handle.
However, we've put up a quick guide to everything you need to know about properly managing your inventory across multiple warehouses.
Before we jump into managing inventory in multiple warehouses, it's essential to know why it's beneficial to have a multi-warehouse operation and the challenges it introduces to your business.
Advantages of Using Multiple Warehouses
Many companies find it easier to have all their inventory in one central warehouse. This may work for a while since it is easier to manage the inventory and supply chain.
However, as the business starts to grow to a global or even regional capacity, keeping all your inventory in a central warehouse makes it harder to keep deliveries fast and affordable for your customers.
You can easily consolidate your inventory to supply products to your clients quickly and save transport costs at the same time by opening new warehouses in locations near your clients.
Challenges of Using Multiple Warehouses
Although having many distribution centers offers business benefits, it can also provide some significant problems.
If you've already dispersed your inventory between two or more warehouses, you're probably familiar with the most typical drawbacks of operating in this manner.
Having more than one warehouse adds a layer of complexity to your business operation. You now have to worry about stocking and maintaining inventory in multiple places simultaneously, which makes your job more complicated and your busy schedules even busier. Some challenges of managing multiple warehouses include:
Increased Difficulty in Inventory Management
Unlike in one warehouse, ensuring all your warehouses are stocked at all times is hard. You might find yourself focused on one warehouse more than the others and realize that the stock and sales are not in line. Out-of-stock products can affect your revenue and supply chain.
Difficulty Managing Cross-Warehouse Communication
Even though you have multiple warehouses, your customers view the business as an autonomous organization. When customers in different locations make orders, it is vital to communicate to the corresponding warehouses and deliver the item.
Sometimes, there is miscommunication and errors, which could cost you losses. It is harder to streamline the processes involved from ordering to delivery across multiple warehouses. The employees responsible for ensuring the correct warehouse delivers the product may make errors, leading to possible delays and, in the worst-case, order cancelation.
It is also easy to mix up orders and shipments, mainly when a company uses a single file system to manage all warehouses.
Managing Inventory Across Multiple Warehouses
When migrating to a multi-warehouse operation, you should consider taking advantage of the technology options available for businesses for better inventory management. Here are some tips for managing your inventory across multiple warehouses.
Automate Your Warehouse Management Process
As a beginner to multi-warehouse management, the most important tip is automation. Numerous tools for multi-warehouse management include warehouse management systems (WMS), cloud-based inventory management systems, and 3D tools that assist in order packaging and routing.
A multi-warehouse inventory management software allows you to track inventory levels in the different warehouses in real-time from one central site. This makes it easier to manage orders for all of your warehouses without neglecting others.
With a cloud-based warehouse management system, you can easily:
View and monitor data in your warehouses from any device, wherever you are.
Initiate product transfers to different locations as customers' orders come in, ensuring your physical location data matches the virtual location data. This also reduces the chances for errors in your inventory data.
Route orders to warehouses with stock to avoid loss of revenue or delayed deliveries.
Integrate inventory management systems like WooCommerce and Magento.
Track Inventory in All Warehouses
As a business manager, you should be aware of the inventory levels in all your warehouses at all times. It is not an easy task, and it can be exhausting taking a physical count of your inventory daily. It is, however, indispensable if you want to manage your warehouses properly.
Having a vague idea of the inventory can lead to ordering too much or too little supply. Whenever customers make orders, you may also not know whether the item is still in stock or not, which could lead to time wastage trying to find out at the last minute.
Having an inventory management system integrated into your multi-warehouse management software can help make tracking inventory more manageable.
You are only required to input all the inventory data, and whenever orders go through to delivery, it updates automatically. Now all you have to do is ensure the physical inventory matches the virtual one. This can save a lot of time when you need to confirm stock availability in your different warehouses.
Integrate Your Suppliers to Your Inventory Management System
Although you may have the management of inventory down, maintaining the inventory is a challenge on its own. Integrating your suppliers into your inventory management system can help you keep the inventory levels as required at all times. You can see information about prices, availability, and lead time from your cloud-based software, among others, making the ordering process more efficient.
Your suppliers can also see when your inventory level is going down and get automated alerts that you will need a top-up soon.
This way, they are more likely to have the products you need available and in the right amount when you request them.
>>>5 Best Ways to Find a Reliable Supplier for Dropshipping
Use Inventory Analytics
A significant advantage of integrating a WMS is the analytics and reporting features that they have. The information in these reports is crucial in making strategic decisions for your business, especially in inventory management.
Multi-warehouse management systems can track your inventory turnover rate, and this information can show you which products sell the most and which are just lying in your warehouse all year.
With this information, you can order fewer products that don't sell, saving you the money you would have wasted in getting the supplies.
Choose Strategic Locations for Your Warehouses
Choose warehouse locations that will help you save money and complete orders faster. Warehouses located in strategic locations near your consumer base help you save time and money on transportation.
However, if you locate your warehouse in a city, you will spend more on rent and labor. Picking a rural location will reduce the rent costs, but travel costs will be higher.
To pick the optimal location, you should consider the local real estate market and region-specific costs like taxes and electricity.
You should find a balance between customer proximity and overhead expenses because either way you choose, there will be trade-offs.
Optimize Your Warehouse Layout
You could automate your warehouse operation, but optimizing the layout of the warehouses for efficiency can also boost your inventory management.
If your warehouses are all well-organized, the arrangement can positively impact how quickly customers receive their goods. When products aren't correctly sorted in your warehouse, it takes personnel longer to locate and send them to customers. Faster, more accurate shipment translates to a better customer experience.
You can organize the popular products closer to the exits to allow your warehouse employees to get them and send them out quickly. It is also advisable to label your shelves and place items on their respective shelves.
For your more giant warehouses, you should draw a simple map of the layout for the employees and paste them around the warehouses. This will save them time to locate the items and send them to customers in time.
Backup All Your Inventory Data
Inventory data is crucial for business continuity. It can be devastating when you lose data in one warehouse, let alone all of them, and you will lose business and potentially many loyal customers.
Protecting the data in an accessible location such as the cloud is, therefore, a necessary thing. Many multi-warehouse management systems store data in the cloud, and that means that in case of data breaches, equipment theft, or even disasters like warehouse fires, your data is safe from loss.
This way, your business is safe 24/7.
Optimized Inventory Management
Growing your business to new locations is a significant milestone. Every company has its challenges, but you can work smart and boost your multi-warehouse management. Customers appreciate fast deliveries and streamlined operation.
There are many eCommerce tools and techniques to stay on top of the game. Using cloud-based ERP systems like warehouse management software optimized for multiple warehouse operations can give you a competitive advantage over your competitors.
>>>MUST TRY! 11 Shopify Apps for Dropshipping – your best convenience
Author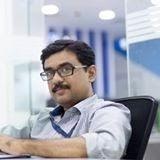 Rithesh Raghavan is the Director at Acodez, a Digital Agency in India. Having a rich experience of 15+ years in Digital Marketing, Rithesh loves to write up his thoughts on the latest trends and developments in the world of IT and software development.