11 February, 2015
No Comment
Today, I want to introduce you an amazing Shopify app – Free Gifts, which is an amazingly effective tool to make your gifts program a huge success.
Trust me! It will surely do you great in boosting sales with special promotions.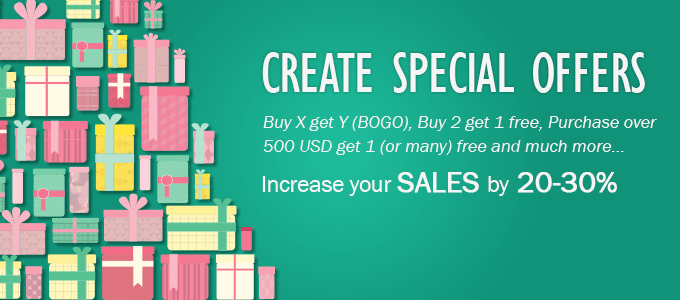 1. What is Free Gifts app?
This app helps you to grow and create promotion programs through the acts of giving free gifts to customers once they make a purchase. For this holiday season, to show your deep gratitude and appreciation to your customers for trusting and using your products, we think Free Gifts app would be a great idea which can both motivate your customers and create a lovely holiday spirit around your stores.
You can read more about this app on shopify apps market
And to experience Free Gifts App, why don't you give it a try with Live Demo?
2. How Free Gift can boost sales with special promotions?
The ultimate goal of every promotion programs is to bring back more profits in the end, which means a raise in your sales. If your programs can't make that happen, well, sadly, you've failed.
In fact, choosing the most suitable idea for your store and starting to launch a racial promotion program of your own are not going to be any easy. So, why don't you take my advice into thorough consideration and then we will show you how Free Gift app can boost your sales:
• With Free Gifts app you can easily create gifts programs like BOGO (buy one get one), purchase more than 1000 USD gets a free gifts, or purchase more 2 items gets 50% some product and much more…
• Upsell (promotion) message and banner: It allows shop owners to advertise and help customers know exactly how close they are to receive a promotion.
• Visual Report Program: It helps shop owners able to easily track and see how successful the gift program is.
3.What customers say about free gifts app?
Here are reviews from our customers:
"I highly recommend this app and its amazing support staff! I have never encountered any other shopify app support that has been this helpful and prompt. I love how they've been able to customize the app for me, and I can already tell it is going to boost sales a lot! It looks fantastic and works perfectly! Thank you sooooo much!" from Eyelashes Unlimited
"First off I want to say that the support we received when implementing this app was phenomenal! The developer integrated the app for us and answered all of our questions, it was absolutely seamless and wonderful. In regards to the functionality of the app, it works wonderfully and does everything it promises and is very easy to use. Great app and I would HIGHLY recommend it!" from VINTAGE by Jessica Liebeskind
"Tried numerous apps that offer the flexibility to allow for offers such as "BOGOF", but this is by far the best I've come across.
Not only is this a top app – easy to use, but free installation support is also given, which was complete within 12 hours from first contact!
Highly recommend this app to anyone!" from Buy Office Furniture Online + Free Next Day Delivery | KOMO
Free Gifts app – A must-have tool to boost your sales.
Let's start your special promotion programs now with the amazing and splendid Free Gifts app!
---