31 March, 2021
No Comment
First of all, we're glad to know that you are interested in writing guest blog articles for Secomapp. We appreciate your intention to work together with us, and we believe this is going to be a successful collaboration that benefits both parties.
To briefly introduce our company, Secomapp is a team founded by programmers and designers who are smart, creative and experienced in the field of e-commerce. We are attempting to become one of the best companies to provide apps for Shopify users.
We started blogging to increase our visibility and foster relationships with our customers by providing them with informative content about business and e-commerce. We put great investment in our blogging platform through well-written articles posted regularly.
With a view to enhancing our blogging site and providing our audience with new perspectives and fresh content, We are currently looking for guest writers who want to share their knowledge with our readers.
As each blog site has its own style and serves its own audience, we do have some requirements and expectations for blogs posted by guest writers on Secomapp's website. Below are the Guest Blogging Guidelines that help you understand thoroughly how a guest blog post is qualified for our blogging site.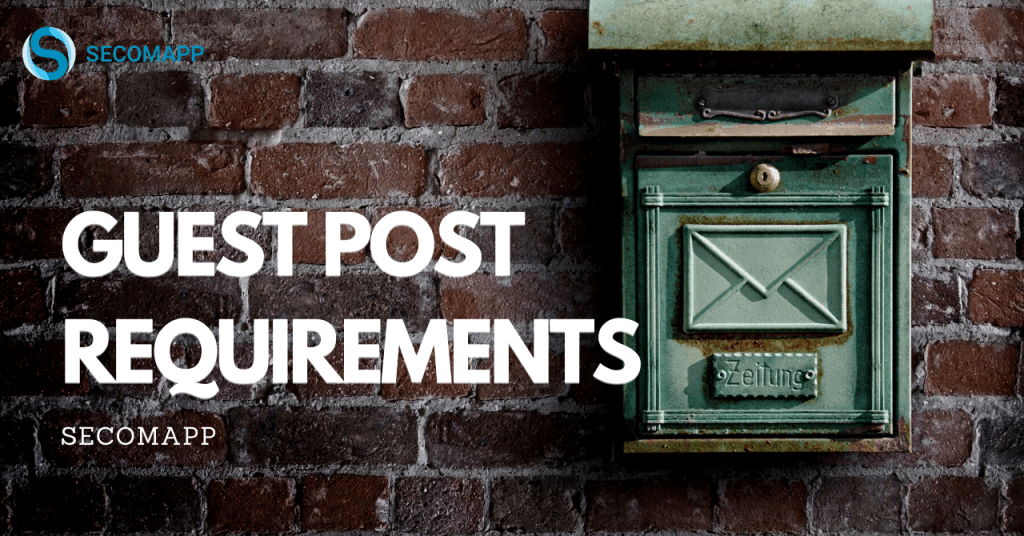 1. The kind of posts we publish on our blog
In case you wonder if we focus on a specific kind of blog post, the answer is no. You could submit a post on a case study, how-to guides, your opinion, etc… or whatever that you come up with. It doesn't really matter provided that your piece of writing is well-written, backed up with data and related to our site's main topics of business and e-commerce.
2. The topics that your blog posts should cover
As mentioned earlier, our blog mostly provides content about business and e-commerce as we are a firm selling services for users on an e-commerce platform. Therefore, your article's topic should revolve around these themes.
To give you a better guide, think of topics that might interest our audience who are shopify merchants. Some suggestions that we have for you are: "Shopify", "E-commerce", "Business trends", "Online customer trends", etc.
Last but not least, there are so many articles that write about the same things, so try to make yours unique and original. This will increase your chances of getting published.
3. Some important notes before you submit your posts
1) Check whether we have written about that particular topic in our blog or not
2) Send us your main topic ideas, target keywords, and a short but interesting pitch.
3) Include at least 3 examples of your previous posts that you take pride in.
Some examples of our posts:
19 Best Shopify Apps To Boost Your Sales In 2021
E-Commerce Trends 2021 And How IT Consultant Will Help Turn Them Into Life
4. Our requirements about the content of guest posts
Original content – we don't accept articles that have been published somewhere else. You are also not allowed to republish the posts on your own blog or other blogs later, but sharing on social media is okay.
Text: Your tone should be friendly with clear language. Try to have varying sentence lengths and diverse grammatical structures. Spelling and grammar errors are highly discouraged.
Your post provides value – Don't just convey generic, descriptive information but try to deliver new and interesting insights to your readers.
Writing structure – Please have a well-structured article with an introduction, H2, H3, bullet points and a conclusion. Keep the paragraphs short (about 4 lines) to make them easier to read
Data and example-based approach: It shows that the writer takes his post seriously and also, this increases the credibility of the article.
Credit sources – make sure to credit the people who own the data you use. Avoid using data older than 3 years.
Avoid advertising content – we won't publish any content that directly promotes your products or services.
Be consistent – please check out our previous posts and try to keep up with the blog style.
Invest in post titles – avoid clickbait but keep your title interesting. Please provide at least 3 different options for the title of your post before submitting it.
Post Length – Like other posts of ours, your post should be around 1500 words on average
Visuals
There are many types of visuals that can better illustrate your post, including images, screenshots, schemes, infographics, etc. Please use high-resolution images and insert them in your post in full-size. Also, it is advisable that you look for visuals in free stock of images to avoid the risk of copyright infringement.
Besides linking to quality sources, we also allow inserting a link to your own website (not direct promotion – try to include it naturally).
Also, we would appreciate it if you could add links to our previous blog articles.
5. How to submit your posts?
Step 1. Contact us with a topic and get approval (send us a short pitch, your target keywords and 3 of your best posts)
Step 2. Write your post following these guidelines
Step 3. Edit and double-check
Step 4. Send us your post through Google Docs
Step 5. Wait for our response
What's next?
– Agreeing on a topic doesn't guarantee that we will publish your guest article. We have the right to reject guest posts that do not meet our standards.
– We can send you some suggestions if we find that there are parts that need improving
– It can take up to two weeks for a response from us. Please be patient.
Are you Ready?
Let's keep in touch!
Email: hori@secomapp.com (subject line: Guest Post Pitch), pitch your topic ideas and include your target keywords.
In addition, It is in our best interest that you could offer us a guest blog post on your blog platform.
Thank you for taking the time to review our guidelines and Best of luck from SECOMAPP!