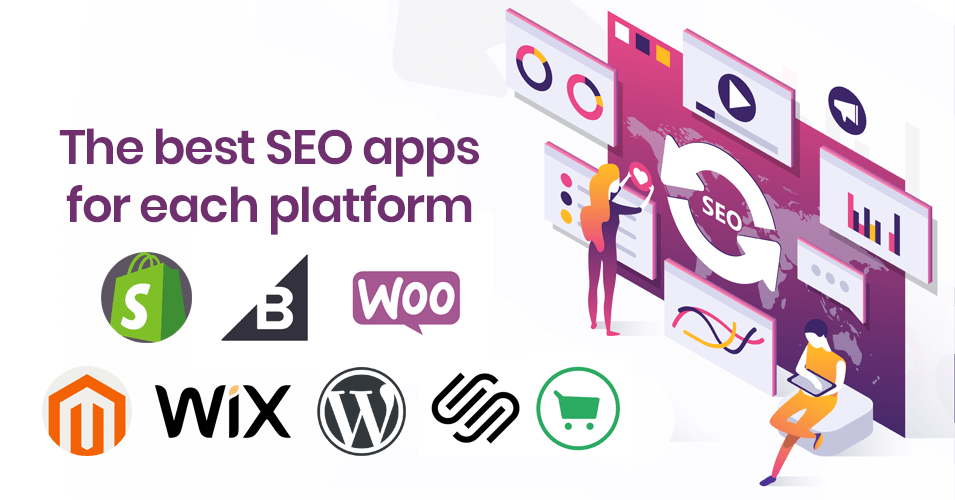 Discovery of the best SEO apps for each website platform
It's difficult to master SEO optimization for your site, especially if you're an SEO novice and just getting started or you have different stores on different platforms. Fortunately, you can get rid of those worries now as we've collected a list of the best SEO tools here for you, in some most popular eCommerce sites. There's no need for you to try all of these SEO tools; all you have to do is figure out which one is ideal and most suitable for your website, and you also won't have to hire an SEO expert to manage SEO tasks for you as you can do it all on your own with these SEO apps now.
The reduced following SEO solutions will relieve you of the time-consuming tasks of keyword research and data analysis. You can examine what's working and which elements you need to optimize with these tools. Some of these will also give you information on how your site compares to your competition's, what your SEO strengths are now, and probably what you can learn from them. They also allow you to check keyword search and your site's overall SEO performance, with just a few clicks, and that surely helps to save tons of your time and effort.
1. Shopify
For Shopify users, SEO Booster – SEO Marketing is a one-size-fits-all SEO app – A must-have app for your site to be made ready for Google SEO within minutes, that helps your website better found on Google, enhance its visibility every day and get more organic customer traffic.
SEO Booster from Secomapp has an easy-to-navigate app interface with an in-depth guide as well as many SEO Auto features that save your time and effort. You also will have your product rating, price and stock amount appear on Google search with JSON-LD, master your SEO keywords with suggestions from updated data, and increase your product images' presence on Google Image Search with Auto Alt-tags.
The app also allows you to learn the SEO status of your own site and competitors, get detailed insights of your website's health with extensive SEO reports, and get prioritized to rank higher from Google bots and enhance mobile customers' experience with AMP.
Moreover, a well-rounded support experience is always in your hand as this app offers both Live chat 24/7 non-technical support to back you up whenever you need assistance and Expert technical developers to customize SEO on your eCommerce site as you want with no personal information gathered.
Pricing: SEO Booster provides a free plan forever and 2 more premium plans including Pro and Unlimited, as well as a special Speed Up Package. Each SEO plan is tailored to fit your business size and the way it grows. A 7-day trial is available, downgrade anytime you want with set-up efforts remaining.
Image Optimizer app helps you to SEO optimize your website images, reduce loading speed by compressing images, and reduce image size while still preserving image quality. Besides, the app will automatically optimize image ALT text with customizable templates to help you save time and effort when setting up.
Another outstanding feature of this app is its automation. When you upload a new product, it scans for those new images, then automatically compresses and adds ALT text to them. It also safely backs up original images for you so that you can restore them anytime you want.
Watermark is also what this app helps to protect your images. You can easily add watermarks to protect your product photos from image thieves as well as customize the watermark in any way you want with no coding skills required.
Pricing: This app offers a free plan forever and 3 more advanced plans for better capacity, including Standard, Professional and Unlimited.
>>>8 EASY steps of SHOPIFY SEO optimization to TOP 1
2. BigCommerce
FavSEO is a BigCommerce SEO app that enables you to easily update all titles, meta descriptions of all the products, categories, and pages in one place, use SEO Audit to check which products are lacking good SEO and optimize them, or check your SEO Score. Moreover, Live Chat Support is available in this app to support you anytime you need it.
If you connect the app to Google Webmaster Tools, you can also submit the sitemap to Google, find out more new keyword opportunities, and track the ranks of those keywords in Google.
Pricing: This app provides a 10-day free trial for you to experience all features of the premium plan at the cost of $19.95/month.
With ProSEOTracker app, you can get started to improve your SEO by optimizing your metadata and content, managing your blogs, checking SEO Issues, research keywords, checking the analysis of your competitors' sites, building content for SEO faster, monitoring Google Analytics, Google Search Console and AdWords data all at one place with easy and understandable reports.
Furthermore, if you don't have time to look into your analytics data, the app has clustered the most required data from those into the section SEO metrics for more convenience for users.
Analytics
Pricing: This app brings you a 10-day free trial for you to try first and a recurring fee with a cost of $16.95 per month.
3. WooCommerce
Product Condition for WooCommerce by Amplify Plugins, a tool for displaying the condition of every item in your store, right on the product page, helps you add a product condition to the product meta and Schema markup for the product.
With this app, you can easily select a store-wide product condition, set a product condition on individual products such as Brand New, Certified Pre-Owned, Good, Remanufactured, etc. Moreover, it allows you to show customers a product's condition alongside other relevant product information, and improve search engine rankings with accurate product condition information on individual product pages.
Pricing: This app offers an annual plan which costs $29.00, and also a 30-day money-back guarantee.
E-commerce SEO by WordLift will help you solve three common issues for your e-commerce websites, including automatically showing your products on Google Shopping, interlinking your products and your editorial content in just one click, and improving navigation with powerful recommendation widgets such as Product Navigator and Product Context Card.
In addition, this SEO app also enables you to easily create FAQ markup, add structured linked data, keep track of your search rankings, as well as create a Product Graph that maps relevant connections between products, brands, product categories, and features.
Pricing: This app allows you to pay annually with a 30-day money-back guarantee at the cost of $79.00.
4. Magento:
For users who have a website on Magento, SEO Suite Ultimate is a great choice. This tool perfectly handles a wide scope of on-page SEO activities: from weeding out duplicate content and enhancing site indexation to optimizing any type of ULRs like Canonical URLs and big amounts of metadata. The extension also comes with advanced HTML and XML sitemaps, cross-linking, SEO redirects, and advanced rich snippets functionality.
This app also allows you to create Product SEO and Layered Navigation Templates as well as add Rich Snippets. Besides, there's an SEO Report provided to help you easily deal with such frequent SEO problems as duplicate content, missing values, errors in metadata and URLs.
Pricing: SEO Suite Ultimate costs you $299.00 along with an installation service which is $69.00.
SEO Friendly Images are an extension that renames the images of a product to the full product name, making it more descriptive and more SEO-friendly. This gives Google clues about the subject matter of the image and improves SEO. This also increases the probability of the images getting indexed by Google (and other search engines) which in turn results in more traffic.
This tool is really easy to use and install as well as can be enabled and disabled in the admin panel. It will automatically name images descriptively without changing original ones.
Pricing: The current price of this SEO Friendly Images tool is $25.00, and its installation service costs you $29.00.
5. Wix
If you are finding an effective SEO tool on Wix, Site Booster by AppSharp is worth considering. This tool will help your site rank higher in search results pages, get your site listed in directories & business listings of big search engines such as Google, Yahoo, Bing & more, then drive more traffic to your site and make it get found on search engines & top-tier directories.
You can also easily add your business address, hours, and phone number with this tool and get assistance in listing and monitoring your business online in the most important places across the web.
Pricing: Site Booster brings you a Site Booster Premium plan, which will cost you $4.95 each month, but if you pay with an annual package, it is just $3.03/month
Visitor Analytics tool assists you to view your advanced website traffic statistics, with a user-friendly interface, including sophisticated dashboard, visitors, conversions, session duration, page traffic, and much more. Besides, it enables you to check visitor behavior analytics and also their feedback analytics by using targetable surveys and polls.
This tool is an innovative solution that does not need cookies for tracking data, it uses 100% GDPR & CCPA compliant tracking instead, with no data passed on to third parties. For more convenience for users, it supports up to 20 languages.
Pricing: Site Booster provides you a free forever plan, and some multi-function plans such as Basic, Advanced, and Pro.
6. WordPress
Yoast SEO, a popular WordPress SEO plugin, will be helpful assistance for you, which helps your website to rank highly in search engines. This will take care of your WordPress SEO with many features, namely automated technical SEO improvements, advanced XML sitemaps that make it easy for Google to understand your site structure. Besides, it also offers an in-depth Schema.org integration that will increase your chance of getting rich results, by helping search engines to understand your content.
A readable SEO analysis will be also provided by Yoast SEO, which is an invaluable tool while writing SEO-friendly content with the right key phrases, and ensures that humans and search engines can read and understand your content with 52 languages supported
Pricing: Yoast SEO has 2 plan options for you: A free plan and a Premium plan which is $89.00 (ex VAT) for 1 site
All in One SEO for WordPress has several features that are highly optimized for Google and other popular search engine algorithms because it follows the most up-to-date SEO standards and SEO best practices. With this plugin, you will be able to set up all the advanced WordPress SEO features like XML sitemaps, optimized search appearance, SEO meta title, SEO meta description, SEO keywords, Open Graph SEO Knowledge Panel information, social media integration, SEO search console/webmaster tool connections, local SEO, schema markup for SEO, and more.
This also has the TruSEO score which gives you a more in-depth SEO optimization analysis and an actionable SEO checklist, so you can easily optimize your website pages for any keyword to get higher SEO rankings and maximum traffic.
Pricing: All in One SEO provides you with increase4 yearly plan options: Basic ($49.50/year), Plus ($99.50/year), Pro ($199.50/year), and Elite ($299.50/year).
7. Squarespace
With Smart SEO on Squarespace, you can save resources on SEO tasks that can be automated by having at hand a powerful and flexible SEO app that you can use to bulk edit your product meta tags and alt tags. In addition, you can use automation and SEO rules to generate the meta tags and alt tags for newly added products, then increase the chance of driving more organic traffic to your store.
Moreover, you will be able to substantially cut down the time you spend on SEO so that you can focus on running and expanding your business.
Pricing: Smart SEO plugin is free and available anywhere for anyone.
8. 3dcart
For those who are familiar with 3dcart platform, Wincher is one of the greatest SEO rank trackers. It helps the website owners to get free traffic from organic search and monitor keywords performance, grow in ranks and get daily ranking reports, snowball organic volumes by discovering more keywords and also outrank your competitors by tracking their efforts.
Some of its outstanding features are Daily Keyword Tracking, Keyword Rankings overview, On-Page SEO tool, Keyword Research tool, Competitor tracking, and WordPress plugin.
Pricing: Wincher has both monthly and yearly plans, which are suitable for Starters, Business, and Enterprise, ranging €24-€199/month for a yearly plan and €29-€249/month for monthly plan.
Conclusion
SEO is essential to every website, especially if you want to increase organic traffic rather than relying on Facebook ads, which is quite an unsustainable marketing solution. We believe selling good products isn't enough to be a successful merchant, as you should also make sure that your store is SEO-friendly on your current eCommerce platform, that your products are displayed properly on Google search pages.
Fortunately, thanks to these SEO apps, it's a lot easier than you might imagine. They provide you with insights that would otherwise take a long time to come up with, and help you save a huge amount of time, money, and effort. SEO is a stable path that you'll have to invest in the long term to see the results you desire, but it is also a worthy journey to drive more customer traffic to your site.