17 April, 2021
No Comment
Duplicate content happens when your content (images, videos, text, etc.) appears twice or more times on the same website or on different websites.
Currently, Google's algorithm is smart enough to detect this. If it detects duplicate content errors (without citing the source), Google might ignore them. Even your website can be penalized if it finds too many identical articles, especially for manipulating search results.
Hence, in this article, we will provide you the great tools to check duplicate content on your website as well as how to protect your original content. If you get ready, let's start!
1. What is duplicate content?
It is not difficult to understand what duplicate content means. Your website is always supposed to own original and unique content. In other words, your content only comes with one location on the Internet, which equals a unique website address (URL).
If the content on your site and other sites has too many similarities, it is called duplicate content. Even if there is the same content on different pages on one website, it might have negative effects on your Google ranking. Duplicate content causes Google and other search engines to encounter difficulties in deciding which content is the most relevant and informative for users.
2. Why does duplicate content matter?
2.1. For search engines
When receiving too similar content from different places, it is very time-consuming for search engines like Google to determine which version is original or plagiarism. Google's algorithms do not allow the same content to be ranked in a query, so the majority of duplicate content is often excluded from the rankings.
In addition, if the same content is available at multiple URLs, then each of those URLs can attract different backlinks. That might result in a splitting of link metrics (e.g. URL Rating, anchor text, etc.) between URLs in biased ways.
And most importantly, duplicate content may not be shown at high rankings or may not show up on search results, as Google doesn't know how to rank between the same duplicate assets.
2.2. For website owners
Google has stated many times that it does not have a duplicate content penalty.
If your duplicate content happens by accident such as store item descriptions or printer-friendly versions of content, there is nothing to worry about. However, if it is the result of the deliberate manipulation of search engine indexes or web spam, your site may no longer be available on Google. Even Google can use the Google Sandbox filter to put some restrictions on rankings for your website. A terrible result, right?
Along with that, your visitors also can get confused when they search for a query and are presented with too much duplicate content. Obviously, your website is failing at bringing meaningful and valuable user experiences to them.
Therefore, be careful and check duplicate content websites regularly. It might be a time bomb that hurt your SEO rankings eventually.
See more about SEO optimization: "How to SEO my Shopify store?" | Shopify SEO Guide
3. Notable tools to check duplicate content on your website
The plagiarism checker by Prepostseo uses an advanced algorithm that figures out all of the copied or paraphrased lines in content.
A user has to stick the content material withinside the plagiarism container add the files directly.
This AI-based tool will suit the content material with loads of on-line databases and factor out the duplicated strains. After detecting the copied lines,
it cites the supply from wherein the data is copied. After getting the duplicated lines, a user can alternate the ones strains and make his content material 100% particular for use.
This originality checker additionally affords a function of converting the language. Thus, someone can convert his content material into a couple of languages.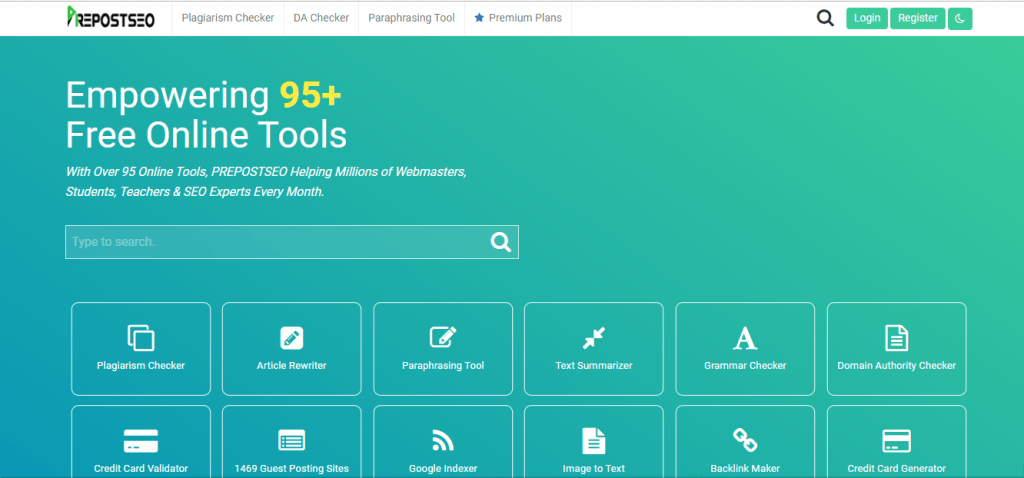 3.2. Grammarly
Grammarly is a pretty excellent tool for checking duplicate content. Grammarly focuses on grammar; spelling and writing style; helps you find the right words and eliminate any possible errors. Best of all, you can add Grammarly to Chrome for free as an extension and check for errors all the time.
However, in fact, Grammarly is not a free duplicate content checker. That is, if you want to check whether your content is similar to other websites, you must pay a specific fee of $ 11.66 a month. And the free features provided by Grammarly usually only include spell check, readability check of articles. And of course these features usually only apply to English.
This is a free tool available to all users. Many website owners review this tool as an effective duplicate content checker. You can enter text or TXT files to check.
How to check the duplicate content website:
Visit: http://smallseotools.com/plagiarism-checker/
In the "Select a sample text" section, copy the content to check and paste into this box. Notice no more than 1000 words
Select "I'm not a robot" and "Click check plagiarism"
This is one of the most popular free anti-plagiarism tools available today. Plagtracker is based in Ukraine and was launched in 2011. PlagTracker has many advantages such as fast file processing, the unlimited number of checked words, easy-to-use interface, and support services (paid) included.
PlagTracker allows users to upload PDF, DOC, or DOCX documents as well as cut and paste online documents in a free and convenient way.
The search algorithm of PlagTracker will compare your uploaded content with other published content on the Internet. You can check for a detailed plagiarism report to see where the exact origin of the content is placed and some other useful information.
Currently, Copyscape is one of the most effective duplicate content checkers in the world.
You can use Copyscape for free with a limited number of searches per site. Its free version only allows checking the content published on the website, by checking the URL.
Copyscape has 2 main paid services for you:
Copyscape Premium: Copyscape's Premium (paid) account allows you to do unlimited searches, deep searches, search snippets, and full site searches.
Copysentry: Copysentry will automatically notify you when someone else tries to copy your published content.
Pro Tip: The two types of accounts above are different. Depending on your purposes, you can choose to sign up for one of them or both.
Siteliner was born to help you check duplicate content inside your own website.
All you need to do is to paste your website's URL into the checkbox and it will scan for duplicate content, page load time, word count per page, internal links, out link, and more. Depending on the scale of your website, the scan may take a few minutes, but the results are well worth it. After that, you can click on the result for more details and download the scan report as a PDF file.
Note: The free version of Siteliner is limited to one time of scanning one website per month. However, you can consider the Siteliner premium because the plan is affordable at $250 per year for 25,000 pages.
3.7. SEO Booster (For Shopify users)
If you are running a Shopify store, besides these choices, it is also a good idea to give thoughts on the available integrated apps of the Shopify app store. Shopify and the partners have provided a wide range of different apps for merchants, especially to optimize SEO factors including check duplicate content websites.
With more than 2 years of experience, SEO Booster is an all-in-one Shopify SEO App. To help your store rank better in search engines, SEO Booster focuses on identifying and getting rid of negative factors like duplicate content. With the free version, this app will finish everything daily and automatically.
Simple-to-use, timely, and effective are what many Shopify users said about SEO Booster. If you are searching for an all-rounded SEO app for your Shopify website, why don't you give it a try?
How to protect your content website from stealers?
No one can deny that content thieves are a serious problem for any website owner. As we discussed above, duplicate content will certainly hurt your website. Have you ever been the victim of this issue and wondered whether there are any solutions to protect your original content?
Now, let me show you some tips.
Shorten URLs in the RSS feed
RSS is a file format in XML for sharing web content. The RSS format provides and summarizes the website content along with URLs to the full version of the content. When you publish content on your website, after a certain period of time, it will be updated to the RSS Feed. This is a loophole for thieves to take advantage of, they will use automatic software to scan your RSS Feed to get content information about their website and then complete the copy. So after only a few minutes, your post has been stolen.
The easiest way to prevent this issue is to shorten RSS, show only a portion of the content, and put a link back to your site. Even thieves who get information on the RSS feed cannot copy all of your content.
Copyright registration and information protection at DMCA
To prevent the theft of website content, you will register with DMCA (Digital Millennium Copyright Act). You will add a piece of code to the web page containing content that needs to be protected by the DMCA.
After that, the DMCA will give you a certificate. If you find that another website has stolen content from your website, you only need to report it to the DMCA. They will be responsible for informing the owner of the website you have reported, or DMCA will notify the service provider (such as OSP / ISP) for action.
Solutions after your content had been stolen
When you find out that someone has stolen your website content, keep calm.
You can send an email to the person who stole the content, asking them to remove your content from their website. You let them know that they are in breach of copyright (citing Google terms) and they will be penalized if they don't take appropriate action.
If the content thief does not respond after 48 hours, DMCA will automatically remove the post on their website.
The Last Words
We hope that this article has provided helpful and informative knowledge about duplicate content on the website. This SEO factor contributes to how Google and other search engines rank your content, hence, check it regularly. These duplicate content checkers will be the most powerful assistants for you!
If you still have any doubts, feel free to let us know by leaving your comment.