If you are starting a Shopify store, you must know about the marketing tools as well. There are many marketing software and tools available in the market that you can use for better sales and better growth of your business. If you are unaware of what is the best Shopify marketing, let us help you out. Below we have compiled a list of the best Shopify marketing tools that you must know about. Take a look and decide which one works for you the best, and then start using the features and excellent functioning of the software so that your business grows more and more.
OSI SOFTWARE is the major and the most important Marketing software that can help you out with a lot more than just basic functioning. This marketing tool will help you out with greater features, including the maximum growth of your business, and it will also help you out with better tracking of the audience. It will provide you with a better data analysis regarding all the important information for your business growth. Ensure you are getting the best idea regarding what you are looking for and what you need for your business. You must figure out the application details and get the best marketing strategies with this OSI SOFTWARE.
Truepush Shopify plugin is a perfect solution for sending push notifications to engage customers, build brand credibility and increase revenue.
It will simplify the process of pushing notifications about cart abandonments, in-stock alerts, shipping updates, and welcome notifications. The analytics dashboard provides all stats of campaigns.
Pricing: All the features are available for free plan
This one is another powerful marketing tool. Most people like it because of its excellent function. It is also available with the five-star drive useful stop. People are using this software to build a real connection and build the maximum growth of your business. Especially if you have Shopify software, you must understand how incredibly well it can generate profit and revenue. You can make the direct booking, and you can cater to the guest with the best hospitality marketing.
If you want to automate your sales, you know what you can do. You can use this software for the best and the most efficient automated sales for your business. It will not only help with lead capturing but also help you with email marketing. For all the other features, you can explore this software even more for the best help. There are some amazing features available, including the data analysis and the subscription data that Drum Set Lab has been using. It is the best option that you will come across, and also you can sign up for free.
Google Analytics is another major and the most well-known software that most people use. The beginners who are planning to start their Shopify store must use Google Analytics. It provides complete information regarding your business and provides you better insight into the business you do. Hunting Bow Lab connected their business very easily with the help of the software, and it helped them with increasing sales and email marketing. For a better exploration of the marketing strategies, you can visit the website.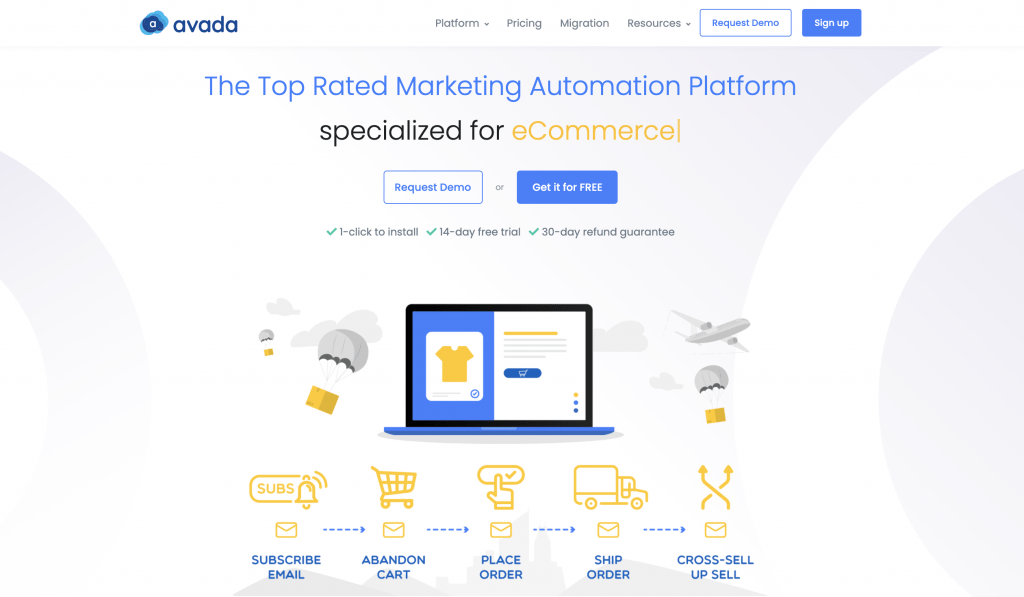 AVADA is a top-rated marketing automation platform for eCommerce stores. It allows you to send email and SMS in Automation workflows such as Abandoned Cart, Browse Abandonment, Welcome subscribers, Thank you email, Transactional emails, Cross-sell, Win back, Review requests, etc. You can also collect quality leads with stunning sign-up forms.

Additionally, AVADA provides a ton of pre-built email templates that make your shop look like a pro. You can quickly create your branded campaign to drive more sales using our drag & drop email editor. Plus a powerful segmentation tool based on customer behaviors and order information.

Send the right messages to relevant customers at the right time with AVADA – the key to thrive your businesses.
The maximization of the sales and the revenue maximization is the kind of software you can look for. There are many features and benefits that you will be getting with this software, including the easy-to-use marketing software and the easy capturing of the market. You can convert your leads very easily when you are using this software. This makes sure you manage your sales properly by checking the analytics you have when given the software.
The next best marketing software for Shopify is the lead Fox software that helps with automatically generating new leads and customers. It is the kind of software that will provide you maximum support with easy online options, and also it will help with quick growth. To better maximize the revenue, this is the kind of software you must be looking for. It will provide you a better idea regarding the business, and also it will provide you Major help with the growth of your business.
This demand-based software is the perfect idea for the marketing of your Shopify business. It will provide you better demo and also the segmentation of the marketing strategy. For anyone who is looking for sales and unifying the sales, this is the option that you should consider. You can now get excellent marketing strategies along with unified sales strategies with this software.
It is another software that focuses on work and marketing. We can get many different options with their software, and there are several different platforms available. With the flexible features and the online attendance option, you can now track the employees. Moreover, it can also be used for Shopify marketing if you understand the features and use it just the right way.
Adobe campaign is another well-known software that is known for providing people with the best marketing strategies. It will provide you all the features altogether just with a single click. You do not need to worry about the individual Shopify business or collective business. It will help with all of it.
Lastly, when we talk about agency 360, this one of the best software you should consider. It is good quality software that offers excellent features, including email marketing and much more. Make sure you explore this software whenever you are looking for the best Shopify software for marketing. This is an excellent software that offers is just a little more than the basic options.
Conclusion
Now that you have seen some of the best Marketing software for Shopify, you can finally decide which one is the best Shopify Marketing software. He will still recommend you go for the OSI SOFTWARE that will help you with the marketing and provide you with better data analysis. This makes sure you take a better look at the features and then decide which one works the best for you. The massive amount of marketing strategies and the features that you get from the software are incredible.