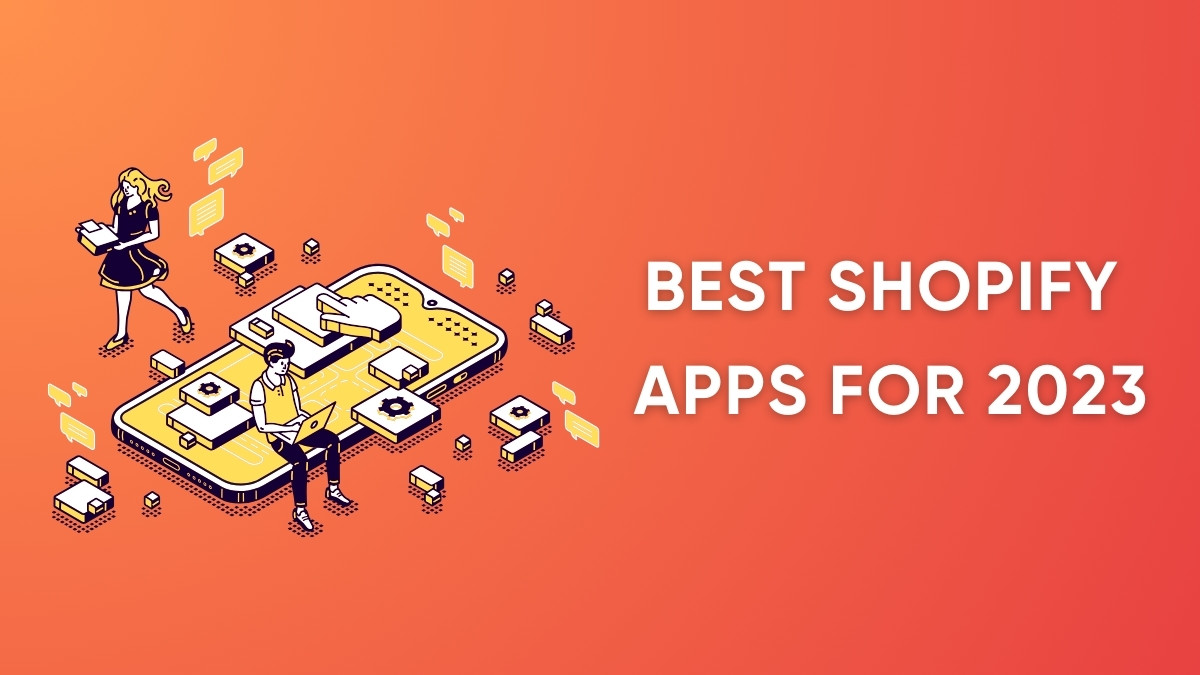 21 September, 2023
No Comment
Shopify, a leading eCommerce platform, has revolutionized how businesses sell online. It provides all the tools needed to build and manage an online store, from designing the store's appearance to handling payments and keeping track of inventory. However, to harness its full potential and stay competitive in today's digital landscape, leveraging the right apps is crucial.
In this article, we'll explore some of the best Shopify apps and the vital role these apps play in enhancing your Shopify store's functionality and driving growth. Whether you're a newcomer or a seasoned eCommerce entrepreneur, read on to discover the must-have Shopify apps that can streamline your operations, boost sales, and provide an exceptional shopping experience for your customers.
So, without further ado, let's explore the best Shopify apps that are making waves this year.
DelightChat's omnichannel customer support inbox helps your team streamline customer service, improve team productivity, and become loved by your customers for your amazing service. Grow your sales by leveraging the power of WhatsApp. Run powerful WhatsApp Broadcasts, marketing automation, and retention marketing campaigns using customer segments. We help you get official WhatsApp Business API access for your brand.

Key Features:
Omnichannel Customer Support: DelightChat brings together chats from various platforms like WhatsApp, Instagram, Facebook, Email, and Live Chat into a unified inbox. This consolidation eliminates the need for multiple apps and significantly streamlines the workflow for customer service teams. Agents can respond to customer queries promptly, regardless of the channel used to contact the business.
Automated Responses and Assignments: DelightChat enables creating canned responses and automations to expedite replying to frequently asked questions. Chats can also be automatically assigned to specific agents based on availability, expertise etc. This boosts team productivity.
WhatsApp Marketing Broadcasts: DelightChat facilitates sending promotional and transactional messages to customer lists via WhatsApp broadcast campaigns. This provides the power to run marketing automations, retention campaigns, and other promotional content to boost sales.
Abandoned Cart Recovery: Customers who abandon their carts can be identified and sent automated messages to complete their purchase. This helps recover lost sales opportunities.
Order Notifications: Post-purchase notifications like order confirmations, shipping alerts etc. can be automated for customers. This keeps customers informed about their purchase status.
Pricing:
The STARTUP plan costs $49 per month, the SCALE plan costs $99 per month, and the GROWTH plan costs $299 per month. The app also provides a 14-day free trial.
2. SearchPie
SearchPie is one of the must-have applications for your Shopify store that helps make your store better for search engines like Google. This application provides top-notch features like an AI generator, keyword research, speed boost, schema, and more to boost your website's ranking.
Key Features:
Helps you keep an eye on all your website's SEO issues by providing helpful reports
Uses advanced technology to create content that's good for SEO
Helps speed up your site with features like Instant Page and AMP
Fixes issues with long and broken website addresses (URLs)
Makes websites more readable to Google with Auto rich snippets
Pricing:
The premium plan costs $39 per month, and the enterprise plan costs $79 per month. The app also provides a 7-day free trial.
3. Growave: Loyalty & Wishlist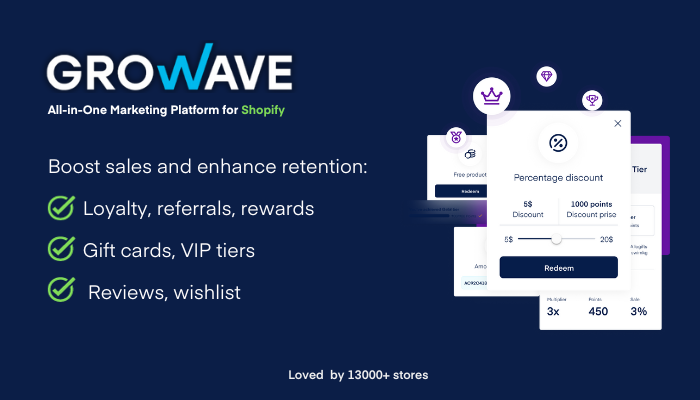 Growave is your all-in-one marketing solution for Shopify, combining loyalty, referrals, rewards, gift cards, VIP tiers, reviews, and wishlists in a single app. It is build exclusively for Shopify, and all the features work seamlessly together to effectively grow your business. Elevate your online store with Growave and boost sales effortlessly.
Loyalty programs, VIP tiers, and rewards to boost repeat purchases
Implement wishlists and trigger emails to boost sales: on sale, back in stock
Acquire more customers organically through referral program
The app is easily managed from a single dashboard, no coding is needed
Multi-language for cross-border selling
24/7 world-class email and phone support
Real-time analytics
Pricing:
Free Plan Available
Medium plan: $49/month, up to 500 monthly orders
Growth plan: $149/month, up to 1000 monthly orders
Premium plan: $349/month, up to 3000 monthly orders
4. UpPromote Affiliate & Referral

UpPromote Affiliate & Referral is the top recommended affiliate marketing/referral app on Shopify App Store. This all-in-one solution allows you to easily build and manage your marketing campaign. UpPromote helps merchants manage and expand their affiliate team, saving time and effort.
Key Features:
Customize everything matching your brand: affiliate link, form, affiliate portal
Create rewards & discounts with customer referral program for repeat purchases
Seamlessly track referral orders via affiliate links, coupons, connected emails
Motivate affiliates with powerful options: bonuses, gifts, store credit and MLM
Automate your affiliate program process: PayPal auto-pay, Auto-tier Commission
Pricing:
Provides free plans. It also provides three different paid plan options: GROW AFFILIATE, PROFESSIONAL, and ENTERPRISE, with a price range of $29.99, $89.99, and $199.99 per month, respectively.
5. Transcy: AI Language Translate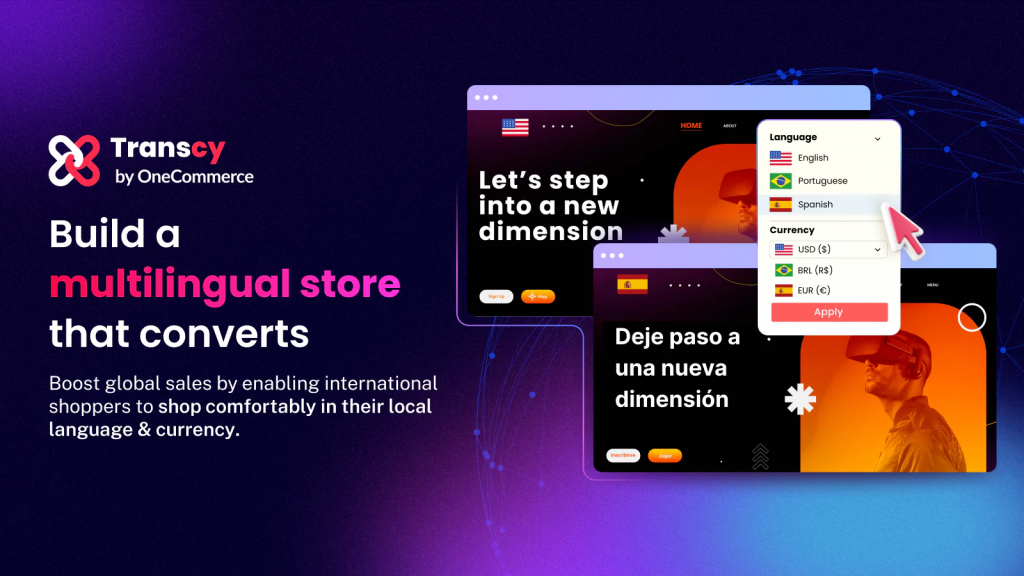 If you want to sail off your Shopify store to the global shore and drive sales from 2 billion worldwide shoppers, Transcy is an app you can't afford to miss out on. Basically, the app allows you to translate your store into 110+ languages and offer real-time conversion for up to 166+ currencies.
As 74% of surveyed customers claimed they prefer to shop on websites displayed in their local language, Transcy helps improve your conversions by showing the right language and currency to the right customers.
The best part is that Transcy offers unlimited words translated for all plans. Plus, the tool also comes with premier features like the ability to bulk edit translations, translate images, auto-convert language and currency based on visitors' geolocations, etc.
Key features
Translate your store into any language with unlimited words powered by AI

Automatically sync and translate your Shopify store content

Offer your customers laser-precision currency converter with real-time exchange rates

Translate your store images for consistent translations across your storefront

Fully customizable language and currency switcher that auto-detects your customers' geolocations

Rebolt Bundle Products app is a must-have addition to any Shopify store looking to boost sales and increase customer engagement. This powerful app allows merchants to create enticing product bundles with ease. By grouping related items and offering them at a discounted price, you can encourage customers to buy more, which helps in increasing your average order value.
With the Product Bundles app, you have full control over the bundle creation process, allowing you to customize the offerings to suit your business needs. You can also set up various discount types, such as fixed amount or percentage discounts, making it easy to create irresistible deals that entice shoppers to purchase more.
Incorporating the Rebolt Bundle Products app into your Shopify store not only helps increase revenue but also enhances the overall shopping experience for your customers, making it a top choice for businesses looking to maximize their sales potential.
Key Features:
Create unlimited bundles, and offer bundle discounts to increase your sales.
Increase AOV with product bundles, mix & match bundles, and quantity discount.
Create frequently bought together bundles, combo bundles, and popup bundles.
Customize the bundle widget look to perfectly match your store's style.
Seamlessly integrates with page builders, upsell apps and side cart apps.
Pricing:
Provide a 14-day free trial. It provides 02 different paid plan options: Advanced plan at $12.49/month and Enterprise plan at $24/month
7. StoreRobo
StoreRobo is a user-friendly app for your Shopify store that makes it easy to migrate or transfer your products between different stores. With StoreRobo, you can easily import new products or export existing products using CSV files.
Key Features:
Allows bulk importing and exporting of products from one Shopify store to another
Easily import products from the WooCommerce store to your Shopify store
Provides filtering option for products to be imported or exported
Offers the opportunity to schedule the importing and exporting process
Can import products from URLs or from your computer using FTP or SFTP
Pricing:
This app can be installed for free.
8. Shopify Email
Shopify Email is one of the best Shopify apps to increase customer engagement through email campaigns. The app helps in creating professional email campaigns based on targeted customers.
Key Features:
Provides pre-built email templates
Offers a drag-and-drop feature for content blocks
Provides tools to segment email lists
Allows tracking of the performance of email campaigns by integrating with the Shopify analytics platform
Pricing:
Allows sending 10,000 free emails per month and charges $1 for every extra 1000 emails sent.
9. Adroll
AddRoll is one of the popular apps that help increase sales through advertisements and remarketing campaigns. The app targets returning visitors who once visited the site and makes them shop repeatedly through various marketing campaigns.
Key Features:
Displays ads with pictures of the items that the targeted audience browsed on your site on various websites they then visit
Helps in creating ads for different social media platforms like TikTok, Facebook, Instagram, and Pinterest
Allows you to send emails along with ads to bring back more visitors to your store
Provides automation option for running ads and email campaigns
Provides reports and insights into the campaigns run
Pricing:
Free plans are available and provide a 30-day free trial for paid plans. Pricing starts from $25 and depends on the plan chosen.
10. Bulk Discount Code Bot
The Bulk Discount Code Bot is a Shopify app that makes special discount codes for your customers. Each code created by Bulk Discount Code Bot can be made unique, thus enabling each customer to get their special code.
Key Features:
Allows creating unlimited unique discount codes
Provides the option to export these codes using a CSV file
Allows previewing of these codes while generating
Provides automatic filtering to make sure no unwanted characters are present in the code
Offers the option to find what discounts are connected to each special code in Shopify
Pricing:
Provides three free discount sets. Paid plans start from $19 to $99 per month.
11. EasyRoutes Delivery
EasyRoutes Local Delivery is an all-in-one delivery service app with a route optimizer, order tracking, driver apps, and delivery notifications. This app makes the whole delivery process easier.
Key Features:
Plans delivery routes and helps figure out the best way to deliver the products to customers
Provides an option to create the items to be delivered
It assigns delivery routes to the mobile driver apps
Keep customers informed about the orders through notifications and tracking options
Allows the capture of e-signatures, notes, or delivery photos for proof
Pricing:
Provides free plans. It also provides three different paid plan options, lite, standard, and premium, with a price range of $15, $30, and $45 per month, respectively.
12. Google Channel
The Google Channel is one of the best apps for Shopify that helps increase sales. This app helps expose your products to new customers looking for similar products through YouTube, Google searches, and more. You can even run paid campaigns with this app.
Key Features:
Makes it easy to sync products to the Google merchant center
Automatically lists your products on Google for free
Provides buy-on Google options and thus enables direct conversions for eligible merchants
Allows you to utilize YouTube to connect with your customers and sell products
Helps boost sales through special campaigns
Pricing:
Installation is free. When running a campaign, the amount spent on the ad is directly billed to the Google Ads account.
13. Locksmith
Locksmith is a popular Shopify app that helps you decide who can see content on your online store. This app lets you put "locks" on products and pages to keep them hidden. You can then give "keys" to specific people based on tags, email addresses, etc. It's flexible and even allows developers to make custom rules if needed.
Key Features:
Allows you to lock or hide parts of your store, like products, collections, prices, and more
Provides an option to give access to people with specific tags, email addresses, or even those who enter a passcode
Developer-friendly app that allows the creation of custom rules using a special code
Pricing:
Provides a 15-day free trial. Various paid plans are available, ranging from $9 to $199.
14. Judge.me
The Judge.me app is one of the Shopify apps that helps create trust for your store through reviews and ratings. This app helps collect customer reviews and ratings about your store and products and displays them using theme templates. It even helps provide photo reviews and reviews on social media platforms like Facebook, Twitter, and more.
Key Features:
Provides email review requests with photos and videos and even offers in-email review forms
Displays star ratings, product reviews, and trust badges on your website for people to see
Allows sharing these reviews on social media platforms like Facebook, Twitter, Instagram, and more
Provides options to engage with customers through Q&A, coupons, and email marketing
Automatically syndicates product reviews with Facebook, Instagram, and Shop app
Pricing:
Provides a free and paid plan for $15 per month.
15. VF Image Resizer+
VF Image Resizer+ is an app for improving the images of your Shopify store. It uses innovative technology to resize, crop, and make your pictures look great. It even allows you to add watermarks and alt text for better SEO and thus boosts traffic to your online store.
Key Features:
Optimizes the images of your store to a uniform size and quality, hence creating professionalism
Provides better quality images in smaller sizes
Offers the option to add watermarks to images, thus making them unique
Lets the images be scaled, cropped, and resized easily
Supports all types of images like jpg, png, gif, webp, and heic
Pricing:
Provides different plans, from free and basic plans to professional and advanced plans, with prices ranging from $8.99 to $38.99.
16. Route
The Route is yet another Shopify app that makes order tracking and deliveries easier. It provides shipping insurance, real-time updates for customers and even handles refunds for lost or damaged items.
Key Features:
Takes care of the customers during checkout until delivery
Reduces support time and claims resolution time
Increases conversions by offering product recommendations
Provides carbon-neutral shipping for protected orders
Pricing:
It provides three plans, the basic one being free. The pro plan with advanced features starts at $349 per month. It also offers an enterpriser-level plan that can be customized according to how you operate, and the price depends upon each custom.
17. Keeper
Keeper is a Shopify app designed to boost sales by addressing abandoned shopping carts across different devices. For example, when a customer adds items to their cart on a mobile device and later logs in from a laptop, they receive reminders about the same cart, encouraging them to complete their purchase.
Key Features
Reduces abandoned carts and increases sales
Automatically recovers carts
Provides options to shop from different devices
Pricing:
A completely free application
18. Peek!
Peek is a Shopify app that helps you make your website better by making you understand how customers use your website. This app allows you to record sessions in order to see the details of what customers do on your site. You can even create surveys and ask questions on the checkout page to learn more from your customers and make your store better.
Key Features:
Provides details like the browser customers used, how long they stayed on your site, time visited, and location
Have options to record, watch, and replay what they do on your website
Allows you to create surveys to ask questions to the customers
Pricing:
Provides a free plan and a paid plan for $29 per month. A 7-day free trial is also available for the paid plan.
19. Outfy
Outfy is yet another Shopify app that helps you increase sales. This app allows you to create engaging posts, videos, gifs, and other content of your products for different social media platforms. It even offers an automation feature that allows you to post content automatically.
Key Features:
Promotes products on various social media platforms like Facebook, Twitter, Instagram, and more
Allows you to create engaging gifs, videos, collages, and more for promoting sales
Allows you to publish these contents both automatically and manually
Creates hashtags for content
Provides customized and themed templates
Pricing:
Provides a plan and a 7-day trial for paid plans. Different paid plans are available, ranging from $15 to $52.50 per month.
20. PushOwl
PushOwl is a Shopify app that helps you turn website visitors into subscribers without needing their email or phone number. This app allows you to send messages about your products and offers directly to their devices, making them more likely to buy. It is a great way to reach and convert anonymous shoppers into customers, boosting sales.
Key features:
Lets you turn visitors into subscribers even without a phone number or email address
Creates web push campaigns within minutes
Automatically reminds customers about their abandoned carts
Personalizes marketing according to customer behavior
Tracks the web push marketing performance
Pricing:
Provides a free plan and two different paid plans for $19 and $38 per month. A 14-day free trial is also available for paid plans.
Conclusion
eCommerce is constantly evolving, and Shopify apps play a significant role in helping businesses stay competitive and successful. The apps highlighted in this blog offer a glimpse into the powerful tools available to Shopify store owners. These applications serve as indispensable tools to optimize and expand your online store's functionality, ensuring a seamless shopping experience for customers and boosting your business's overall performance.
Whether it's enhancing marketing efforts, streamlining operations, or improving customer support, the right Shopify apps can make all the difference. As you embark on your eCommerce journey or look to revamp your existing store, consider integrating some of the top-rated apps discussed in this blog to unlock your store's full potential and make a significant difference in your business's overall performance and success.
---