How often have you encountered a situation where you think you have created a masterpiece of content, and then it just doesn't perform?
We all have been through this situation in our content creation process. And the answer to this problem lies in our approach to content marketing.
Instead of creating content that only speaks to making your brand and product the superhero, you need to create content that helps your consumers solve their problems.
That is where customer-centric content marketing comes into play. And in this guide, I will go through how you can use this customer-centric content strategy in your content marketing to see the results you are expecting.
What is customer-centric content?
Customer-centric content marketing refers to creating content for your perfect audience. It is a content creation process that resonates with your consumer's needs, pain points, desires, interests, and overall buyer persona.
In simpler terms, the content should speak individually to your target audience. It would be best to keep your audience focused on your content copy rather than communicating about your brand and its products.
The content tailored around educating your audience can help you get more visibility and acceptance from your target market. And ultimately give you more conversion, which we all are craving.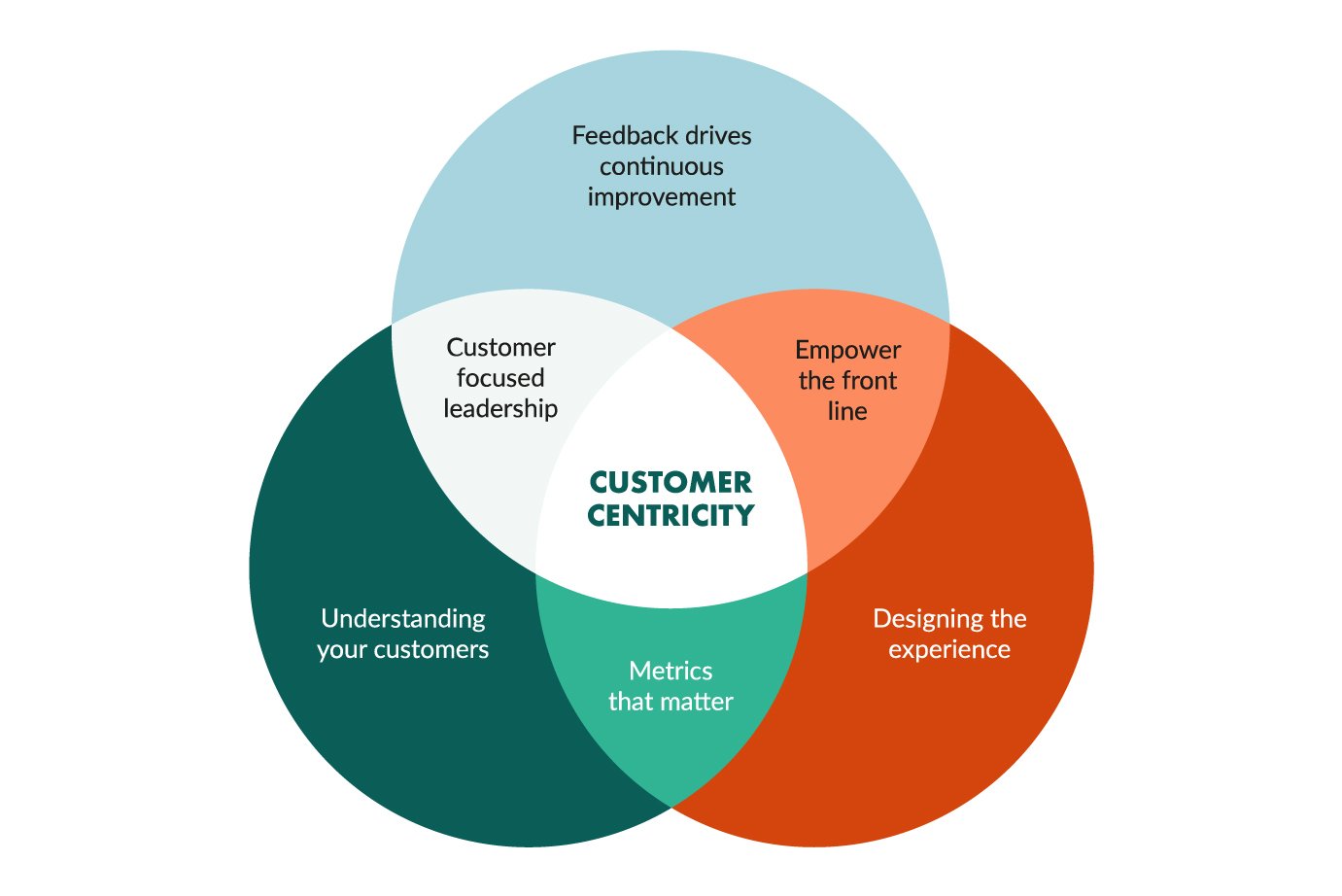 How do you differentiate between customer-centric vs product-centric?
Ok, let's be honest here; we all have encountered those telemarketing shows where the salesperson is trying to levy their product on us.
All those sweet talks around how good their product is, how well it has been designed, and those cool features and specifications.
This is more tilled towards product-centric content marketing, where the brand's major focus is its product in its overall marketing communication.
Now I am not saying this approach is wrong, but it is more beneficial for the product with a mass market and does not cater to the specific consumer needs and pain points.
On the other hand, you see an online advertisement of an oil brand focusing its brand proposition on maintaining healthy hair growth and reducing baldness by focusing its message around customer needs and pain points.
This works because people facing DHT hair loss and baldness will be more responsive to the advertisement and may go on amazon and buy it. 
That's a customer-centric content strategy where the brand focuses on having problem-solving communication with its target audience.
What is customer-centric in marketing?
According to Investopedia, marketing "refers to activities a company undertakes to promote the buying or selling of a product or service."
On the other hand, you work inversely when it comes to customer-centric marketing. You are more involved in activities for finding consumers' needs and interests.
Some of the activities include:
Understanding the buying behavior of your consumers. Why do they buy a certain product? What is the motivation behind their purchase?
Identifying the stage your consumer is at the marketing funnel
Analyze the data patterns for understanding consumer sentiments & touchpoints with your product and services.
How will your product make a difference in your consumer's life? What problem will it solve, and what goal will it help them achieve.
What makes your offering different from your competitors, and why would consumers buy your product over your competitors?
If you are following me here, I am trying to communicate that you need to shape every decision of your branding and sell from a customer point of view.
And if you are a new startup and company who don't know where to start, you can take the direct approach of communicating with your target audience to understand their needs and interest.
Look out for this example of how Bacardi hosted a live whiskey tasting experience on Amazon*
To increase awareness of their single malt whiskey brands.
Through this live whiskey tasting experience, Bacardi communicated with consumers by allowing customers to take part in the tasting and ask live questions to the hosts.
Benefits of a Customer-Centric Strategy in Content Marketing
Adopting a customer-centric strategy in your content marketing is a huge benefit for a business because you have already moved one step ahead of the rest of the players in the market.
But there are 4 clear benefits you can see in your business through a customer-centric approach.
Build more trust among the target audience: While adopting a customer-centric approach, your content speaks the voice of your consumers. Giving them solutions to their problems without asking anything in return. (Nobody likes to be sold). This helps the brand to create a direct relationship with their prospect, which eventually motivates them to buy their product and services. According to Forbes, brands adapting customer-centric content get 60% higher profits than those that don't focus on their customers.
Creat customer-fit products: Understanding customer needs, pain point, desire, and goal help you to map out buyer persona. You can use this buyer persona to create a highly specific custom-fit product.
Create competitive edge: Delivering a great customer experience has always been appreciated by customers. It helps create better recall value for your brand and creates barriers for your competitor to win your customers.
Enhance brand visibility: The more engaging and useful content you produce, the more social coverage it will create. People often share useful content on their social media handles and in relevant communities. Resulting in more coverage and brand visibility.
9 ways to create & implement customer-centric content
1. Understand your customer avatar-
To get acceptance from your customers, you need to understand them first. You need to know to whom you are selling and who you are not. Understand the pain points, issues, concerns, and challenges faced by your consumer.
If you can address the problem your consumers are having, then you can present your content as a solution to them. You need to go deep down and create a buyer persona of your perfect customer to do so.
The below-mentioned question can help you get started-
What age group does your customer fall into (the closer you can get to the number, the better it is)
What Gender of your target audience does your product cater to.
Designation of your target audience.
Which social media do they consume the most content from?
What are their biggest challenges
What are their biggest goals?
What current action are they taking to accomplish the following goals?
What kind of content will appeal to them.
The following points can help you map out a clear picture of your target market. Once you have the buyer persona of your target market, you can position yourself accordingly.
2. Find the missing piece by analyzing competitors-
4.4 million blog posts are published every day across all platforms. If you want to stand out, you need to go above and beyond your competitors. But how can you do that? How can you create better content than the one already out there?
Using content gap strategy. I have been using this strategy for creating thorough content.
For example, if you are trying to compete for organic ranking, then finding the common sub-heading and adding the missing pieces can help you create more thorough content than the one out there.
If you are dealing with SEO as your content marketing approach, you can head over to the content gap feature on a tool like Ahref to find the topics you haven't covered yet. You can also use the Google SERP features like, People also ask for, searches related to, google auto-complete, and tools like answer the public and also asked.
But there is nothing wrong with following the manual process. Head over to google and extract the common sub-headings of the top 10 SERPs. With this, you can find out the most common queries your audience is looking for.
3. Align your content with buyers' journey
Above, we discuss understanding customer avatars, even after finding the most interesting customer segment in your form of content. You still need to know which stage of the buyers' journey your audience is dominating.
There are three stages:
Awareness – The buyer realizes they have a problem. They want to understand more about it.
Consideration – The buyer is looking for and comparing potential solutions to their problem.
Decision – The buyer purchases a solution.
Many times we don't align our content with our buyer's journey. This can result in less conversion and higher input costs.
So if you find the majority of your target consumers at the consideration stage, you need to create content that can help them understand how your product can cure their problems.
You need to showcase the benefits of your product in your customer's life. The same alignment of the content will follow at the awareness state and the decision-making stage.
4. Implement Benefit based content approach
Showcasing how the product can help customers solve their problems can gain more eyeballs than sparking its feature. A b2b firm selling its services can opt for product-led marketing to showcase its expertise. Similarly, an eCommerce brand needs to embrace the pain point of its consumer with its content marketing.
Today, big brands focus more on benefit-based marketing communication than feature-led marketing. This can't be stretched anymore, so I am going to leave you with a benefit-based example below-
Image via Help Scout
5. Use the right content format for two-way communication-
Your content does not have to be in one format; you can use the content repurposing technique for exploring different formats. Remember when we talked about buyer persona, we also emphasized finding where our audience consumes content from?
If you believe you can better interact with your audience through videos, video marketing can be a better approach. Simultaneously using other platforms such as social media, live streamings/seminars, and podcasts are some of the ways to expand your content reach.
Ultimately, each platform should allow your business to engage with your audience, resulting in better communication and building trust among your target audience.
6. Create user-friendly content
Creating easy-to-read and error-free content can make a huge difference in your viewership. Nobody likes to read a wall of text, even if it contains real gems in the form of content. People are used to having a shorter attention span, and you want to take advantage of it.
Tips that can help you create user-friendly content-
Use small sentences and avoid difficult reading words.
Use small paragraphs to divide your content into smaller pieces.
Use animation, images, and infographics to support your content.
If you are using videos to create content, make sure they are of higher quality.
Use powerful words in your content to entice the reader.
I am sure the above point will help you in your content-creating process. If not, there are many AI-based copywriting tools available to help you out. All you need to give them is the info regarding what you want to create, and the AI algorithms will create content for you.
7. Make your content reachable to your target audience
It seems obvious that sharing your content with your target audience is a must. But many businesses fail to do so. They create content and wait for the audience to find it somehow. Honestly, it can take a lot of time for the content to reach to audience manually.
Instead, it would be best to spread the word on your own. You can start with your newsletter subscribers and use the social media platform to let your audience aware of it. Share it in relevant communities or groups where you possibly believe it will reach your target audience.
You can also use paid media such as Facebook ads and PPC marketing to reach more audiences if you have a budget.
8. Create sharable content and measure Social insights
People like sharing valuable content among their social circles. This can get your content organic visibility without making any effort on it. But how can you make shareable content?
The first step is to analyze what's been trending; you can use tools like buzz sumo and exploding topics to gain this insight. These tools can give social insights into the content that is performing extraordinarily. You can filter down the search by placing keywords belonging to your industry.
The second step is to analyze what's been working for your competitors. If some form of content is working for your competitor, the chances are that it can work for you as well. But you don't have to copy them as it is; rather, use them to get inspiration for creating something of your own.
At last, going backward and measuring your past performance can help you make better decisions. See which form of content has worked for you in the past, and check the engagement rate, likes, comments, and social shares. More on this in the next point.
9. Apply and improve content based on set metrics
Content creation is a continuous process, but you need to measure your past performance to create content that works for your audience. That is where data and social insight come into play.
To be successful in the long run, you need to see which metrics are in your favor. Look for content with the most social shares, most liked, and video views, and measure the engagement rate.
For example, if you find a certain list post is getting more shares, you can create similar content. This will help you get wider coverage and enhance your brand awareness.
If you are communicating through your website, you can use google analytics to find the pages that are doing well. You want to pay attention to content with
Most views,
New vs. returning users,
Time on a page,
Most linked to,
Top-ranking,
CTR(Click through Rate)
Email opt-in rate
All these insights will help you understand which content is accepted by your audience well but also the one which is not. You use these insights to strategize on improving and continuing with the form that is working well for you.
Example of customer-centricity marketing
There are many brands out there making customer-centricity as there top priority. Be it a global retail brand or an e-commerce giant like Amazon. Giving handholding support to your consumer always rewards you well.
Zappos: An well-known e-commerce brand that has always been in the limelight for being customer savvy. Starting with their world-class customer service by hearing out customer needs and concerns.
The representatives are trained to build relationships with consumers to serve them better with priority.
In fact, one service call ended up being 11 hours long between their representative and the customer. If that's not called going the extra mile, I don't know what will.
On top of this, they also provide an easy refund, free shipping, and a 100% money-back guarantee. This is everything a consumer needs when it comes to online shopping.
Starbucks: Worldwide recognized coffee chain had gone one step further after accessing the needs and desires of its consumers.
The brand has continuously worked on simplifying the ordering and serving process for coffee lovers through brand offerings and loyalty programs. The consumer can now customize their choice of coffee through their app and even select their preferred timing for order picking.
Escaping the long queue for placing the order at the outlet.
This outstanding customer-centric approach has rewarded Starbucks with wider acceptance among their consumer. The data shows that 48 percent of app users regularly use their loyalty apps.
Adidas: One of the largest show manufacturers is transferring the ownership of making the product through personalization. The shoe brand offer personalization at two-level
You get the personal text written on the shoes in 11 characters.
You can have your shoe colored in the twenty shades option given by the company.
By going through this activity, the consumer is more like to get engaged with the brand as it creates a touch of creating your product while enhancing purchasing confidence of users.
The brand also collects consumer insights and analyzes consumer buying patterns and behavior. This allows them to recommend up-sell and cross-sell products and increase the AOV.
Amazon: This e-commerce giant needs no introduction. They are one of the most customer-centric companies you can think of. Its mission statement says they want "to be the earth's most customer-centric company." There is no second doubt about that mission statement with that customer obsession.
From leveraging tech for a super convenient purchasing experience to creating a robust consumer ecosystem. Amazon has gone miles ahead in understanding its consumer needs and pain points.