In today's digital age, e-commerce is an important part of the retail industry. With the rise of online shopping, it has become imperative for businesses to understand how to leverage e-commerce analytics in order to:
Gain valuable insights into their operations
Improve customer experience
Drive growth
Well, as per stats, there are an estimated 12 million – 24 million eCommerce sites across the world.
So it's high time to analyze your website traffic, monthly R.O.I of your marketing campaigns, and conversion rates to stay ahead of your competitors.
In this blog post, we'll explore why e-commerce analytics matter and how businesses can use them effectively.
Importance of E-commerce Analytics
E-commerce analytics is the process of collecting and analyzing data from online shopping platforms to gain insights into your customer behavior, preferences, and trends. It is a strategy designed to analyze huge amounts of data and leverage it to make data-driven decisions.
For example, Brands like Warby Parker, an e-commerce eyewear brand use e-commerce analytics to improve their customer experience. They produce e-commerce content by tracking customer habits and intentions. Finally, they offer personalized recommendations and optimize their product for each customer.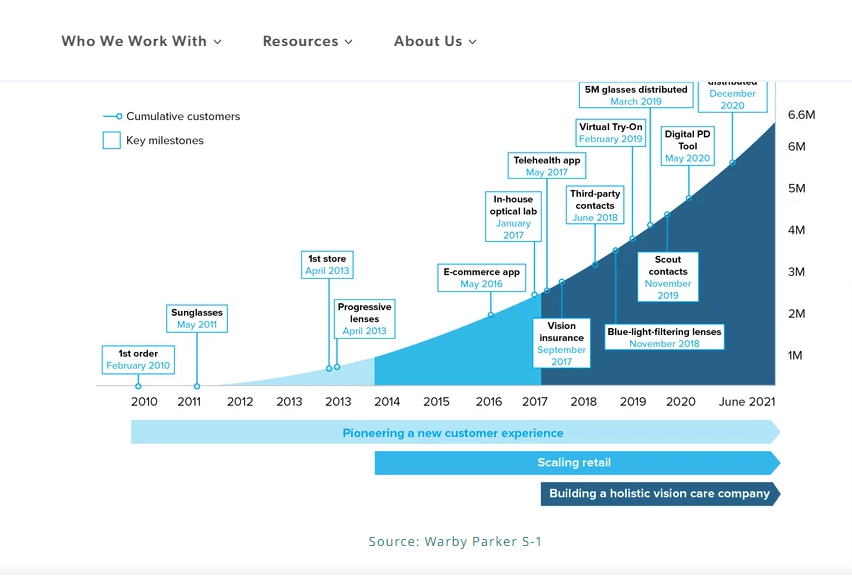 Source: thetaclv
Now you're familiar with e-commerce analytics definition, it's time to understand its importance:
Understanding customer behavior: E-commerce analytics can help businesses understand how customers are interacting with their content.
Different customers behave differently. For example, some are interested in checking your "hot sellers" products, others just want to see the "deal of the day" and leave your website.
When you analyze this information in numbers, you can figure out the products they are loving, the amount of time they spend on certain pages, and track their actions before making a purchase. You acquire customer knowledge which is paramount for leading a successful e-commerce business.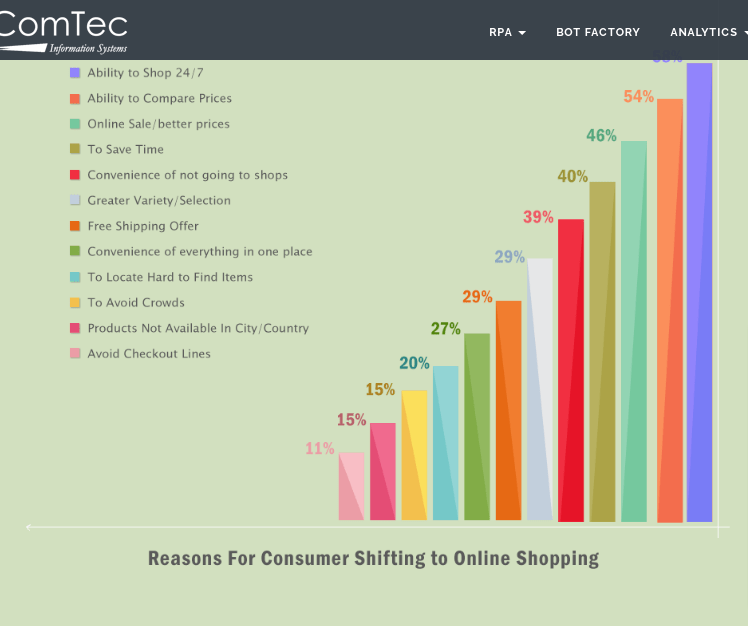 Source: Comtec
Identifying trends and opportunities: You can use e-commerce analytics tools to predict the demand for a product and estimate its sales. When you are aware of the sales trends beforehand, it gives you an opportunity to balance your inventory and other marketing endeavors.
By evaluating data from the previous year, e-retailers can streamline business operations, offer discounts on products, and plan inventory accordingly.
Want to optimize your product pricing as per industry trends? Consider checking your data points around conversion rates, sales, and marketing channels and fix optimal prices after this segmentation.
Improving marketing effectiveness:
Better leads mean better sales. E-commerce analytics tools allow you to collect data on your marketing progress.
Analyzing metrics like traffic source, conversion rates, page view sessions, the effectiveness of your keywords or click-through rate and add-to-cart rates can help you gain insights into which source is best for your website traffic.
You can focus on the higher R.O.I. metrics and improve them to gain more views and reduce your bounce rates.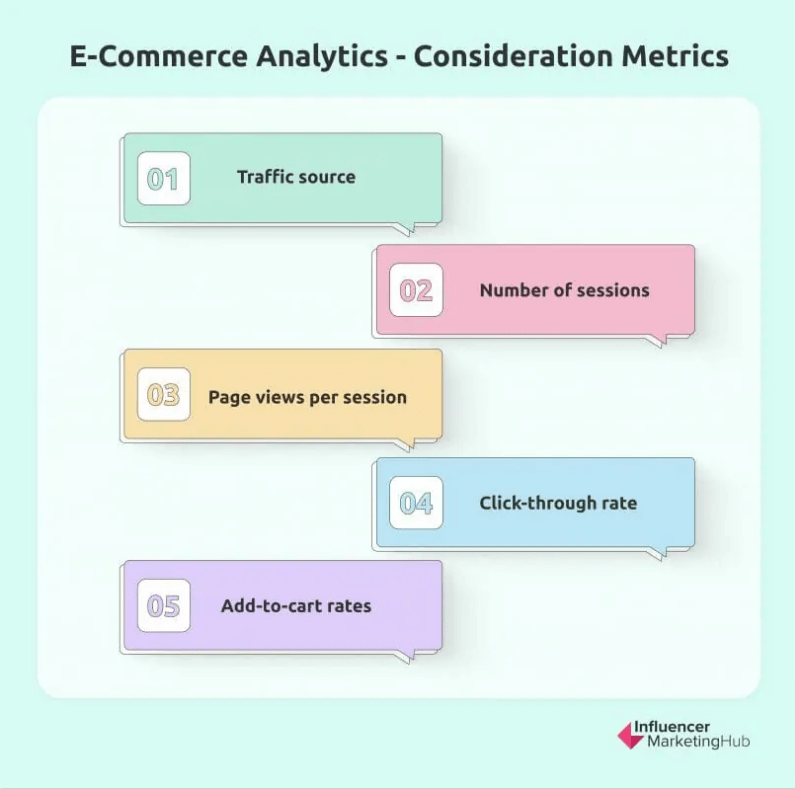 Source: Influencermarketinghub
5 Types of E-Commerce Analytics and Key Metrics
As per Forbes, 20.8% of retail purchases are expected to take place online in 2023. More sales mean more data points which means analyzing different e-commerce metrics to create a better marketing strategy for your e-commerce business.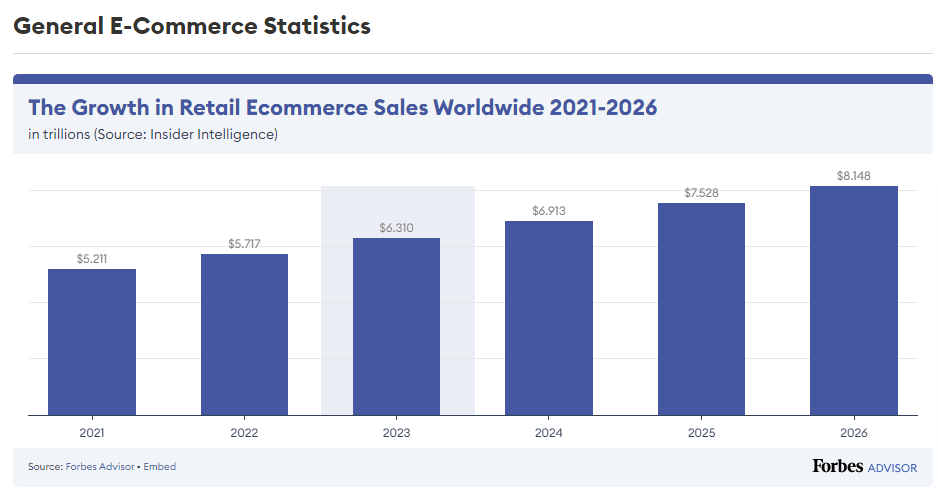 Source: Forbes
So, here are 5 types of e-commerce analytics and key metrics that businesses can track:
Website traffic analytics: Imagine you sell social media management software to people in the UK. Now your target audience here is U.K people which means you don't want people from South America looking for a management tool. So when you track the right web traffic metrics, you'll get insights into who comes to your site, whether they like your website, and what actions they might take next.
For example, Hubspot is a marketing software company that uses website traffic analytics to measure the performance of its website experience. They use data analytics to track user behavior, such as page views and click-through rates, which helps them to make informed decisions for better user experience.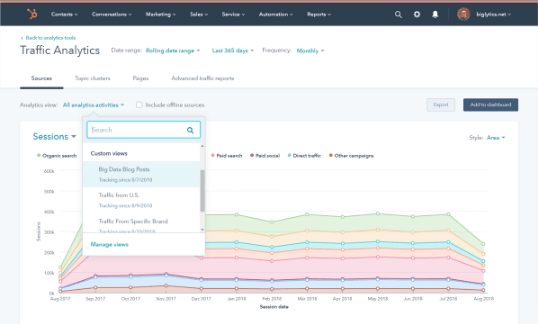 Source: Hubspot
Conversion rate analytics: The percentage of users who take a desired action on your website is the conversion rate of your e-commerce site. They may have subscribed to your email list or purchased a new product.
When you analyze this percentage rate, it helps your business to understand what factors are driving or hindering these conversions. It helps you to assess current conversion funnels like add-to-cart rates, checkout abandonment rates, and average order value.
Product analytics: Product analytics shows who are your users, what they need, and how to retain them. It converts unstructured data into valuable insights by tracking the digital footprints of your users. When you understand what your users like or dislike, you can change your marketing strategy as you go.
For instance, Fitbit is a fitness tracker that uses product analytics to get real-time updates, make global price comparisons, and get an insight into their consumer preferences based on geographical location. As a result, simultaneously improved its fitness tracking devices and increased customer engagement.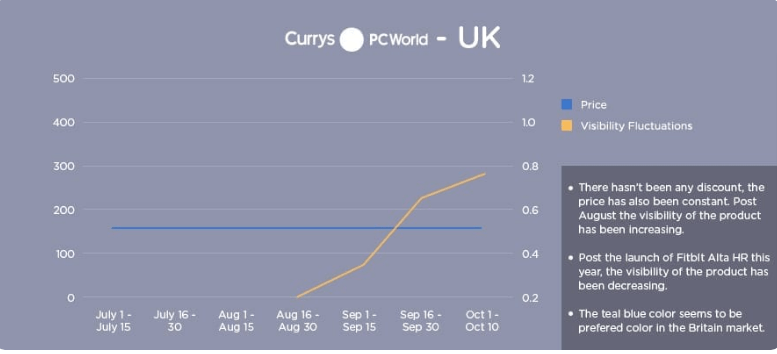 Source: Intelligencenode
Customer analytics: Think about your website, do you remember your last month's daily pageviews or average amount of time spent on your site?
Customer analytics helps your business to collect all these granular details about your customers. It analyzes data points that indicate your customer's actions, behavior, preferences, and demographics on your website so that you can make informed decisions about your business in terms of customer satisfaction.
Take the example of Starbucks. It uses customer analytics to improve its customer loyalty program. The company uses data analytics to track customer behavior and preferences, which helps to inform its loyalty program rewards and promotions.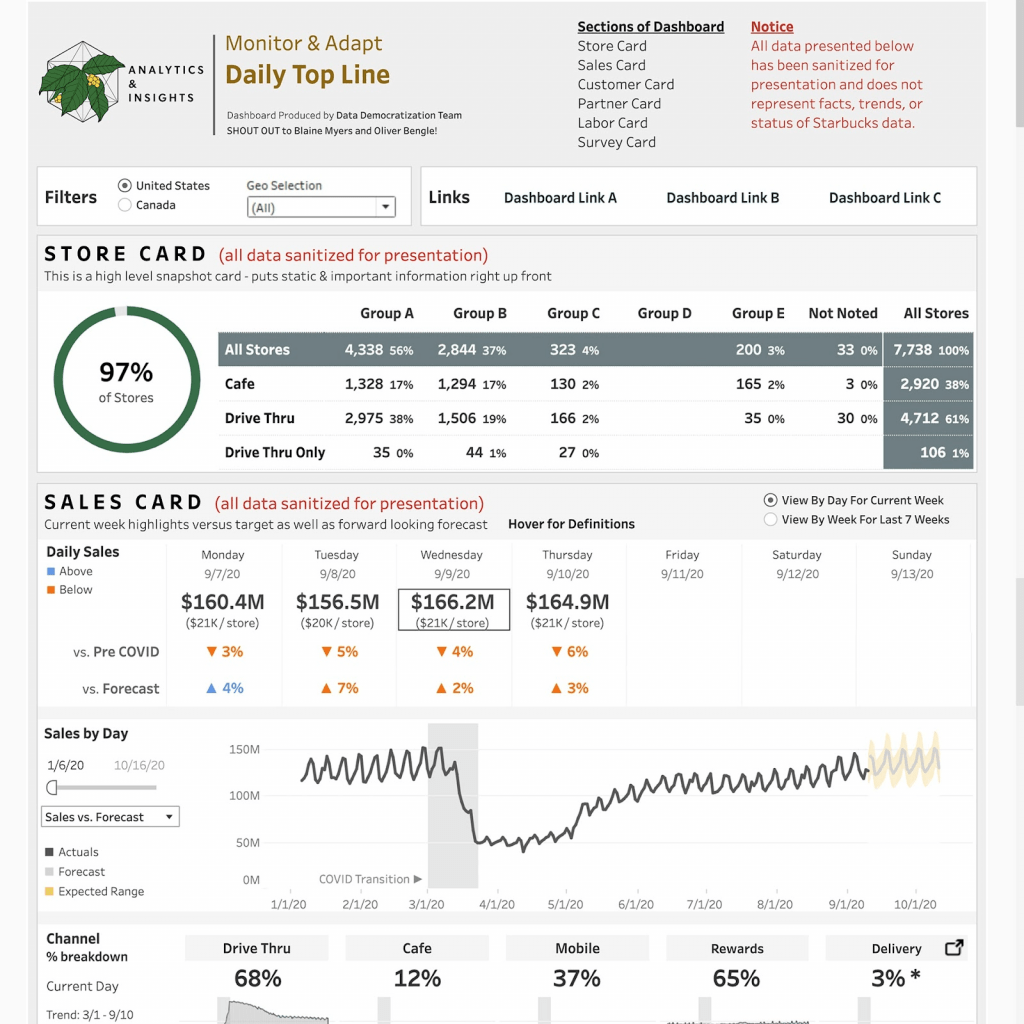 Source: Tableau
Inventory analytics: Want to stay ahead of your e-commerce competitors? Inventory analytics can help your business to gain insight into estimating and predicting future consumer demand using predictive analysis.
This way you can control your inventory. Make informed decisions regarding cash flow, and operation costs, optimize your stock levels, balance your reorders on time, and reduce stockouts.
Walmart relies on inventory analytics to manage its inventory and improve operational efficiency. The company uses advanced algorithms to optimize its inventory levels and improve supply chain visibility, which helps to reduce waste and minimize costs.
How to use E-commerce analytics effectively?
Using e-commerce analytics effectively involves a combination of data collection, analysis, and action. Here are some steps businesses can take to make the most of their e-commerce analytics:
Set clear business goals: Before diving into analytics, it's important to have a clear understanding of your business goals. Businesses can better prioritize which metrics to track and how to use them to achieve their objectives.
Now based on your analysis, set specific goals for improvement. For example, you may set a goal to increase conversion rates by 10% or increase the average order value by $20.
Collect relevant data: To make informed decisions, businesses need to collect relevant data. This involves tracking the right e-commerce metrics and setting up e-commerce analytics tools such as Google Analytics, Shopify Analytics, or other third-party analytics platforms. You can also check trending e-commerce SEO strategies for the same.
Analyze data effectively: This involves identifying patterns and trends in the data, as well as using statistical tools and data visualization techniques to make sense of the data.
There are ways to do so. Use e-commerce analytics tools to collect and analyze data effectively. Popular tools include Google Analytics, Kissmetrics, and Mixpanel. For example, you may want to segment your data by customer demographics, product categories, or marketing channels.
Last but not least, identify key metrics that are relevant to your goals.
For example, you can start with basics like conversion rates, average order value, or customer lifetime value.
Act on insights: Finally, the insights gained from e-commerce analytics need to be acted upon. It is a conclusion you can confidently make from analyzing data that can inform a direct change to your business or marketing.
For instance, it can involve making changes to the website or optimizing the product catalog to meet customer demand.
This also includes:
Consistent analyzing, and reviewing of trends and opportunities for improvement
Incorporating A/B testing to implement different strategies and measure their results
Ensure data accuracy by regularly auditing and cleaning data
Share insights and data with stakeholders across the organization to drive alignment and collaboration
Conclusion
Food for thought: Your e-commerce business needs tools to make better decisions. And analytics plays a crucial role in the construction of these decisions.
There's no denying that so many e-commerce businesses are using analytics to stay ahead in the game. But the question is: who is using this technology correctly?
E-commerce analytics are compassionate glasses that help you to look inside your customer's mind.
You've got an online store, and customers regularly make purchases. But how many people arrive on your site and don't buy anything and why do some buy and others don't? Also, how can you make sense of your user behavior to boost sales in the future?
With e-commerce analytics—you will get to know what visitors are doing, feeling, wanting, and missing.
Now it's up to you, how are you going to use e-commerce analytics and speed up your profits?
---
Author's Bio: Deepankur is a Senior Marketing Manager with extensive experience in creating lead generation strategies for SaaS. He is skilled in using data and analytics to guide their decision-making and ensure measurable results.
Gravatar ID: deepankur@hub4saas.com
Profile pic: Author headshot