14 August, 2023
No Comment
The market of modern social platforms continues to surprise. Unexpectedly, a new giant entered the arena – Threads from the American holding company Meta. It would seem that why even launch more apps? We already have Instagram, Twitter, LinkedIn, and other platforms for the development of e-commerce. But Threads has come, and it's here to change the rules of the game.
What is a Threads App?
This is a new app launched in early July of this year. Its primary function is to share text messages, but the option of publishing photos and videos is also available here.
This is a separate app in itself, but it is closely linked to Instagram. In general, this is not surprising, given that it is developed by Meta. That is, it is part of the main platform, and to log in to it, you must have an IG account.
Here's what the developers wrote about their brainchild :
"Threads is where communities come together to discuss everything from the topics you care about today to what'll be trending tomorrow. Whatever it is you're interested in, you can follow and connect directly with your favorite creators and others who love the same things — or build a loyal following of your own to share your ideas, opinions, and creativity with the world."
If you thought it looked like Twitter, you are right. However, Threads has overtaken Twitter in all respects. Just take a look at how fast the app has grown: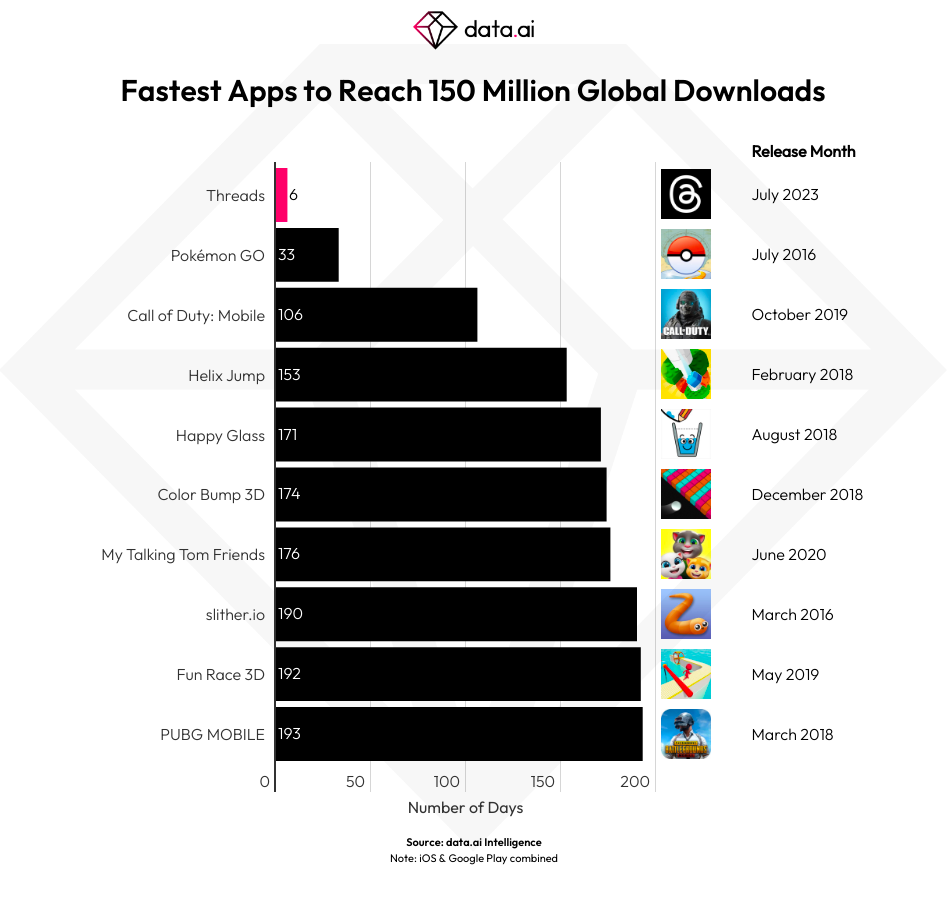 These are literally record figures for mobile apps. Of course, that's why it has attracted so many new users. It's even faster than ChatGPT. Less than a week for 150 million downloads, aren't these amazing numbers? CEO Mark Zuckerberg said: "The launch has been way beyond our expectations". We cannot disagree – this result is amazing.
But it is important to understand that at the moment the number of active users is about 23.5 million. We're talking about users who regularly visit the app, interact with others through comments, reposts, likes, and so on. Anyway, now Threads is at the peak of its fame.
Why do users like the app?
Generally speaking, there are several reasons for this, and we'll talk about the main ones. Threads differ from its competitors and have some advantages that others cannot provide to users.
Easy to Sign-Up
As we mentioned earlier, to be here, it is enough to have an IG profile. To sign up, you don't need to perform any additional actions. Moreover, users have the opportunity to transfer all the information from Insta to a new app. This option seemed immensely attractive to users, and they hurried to use it here and now.
You may think: "Sign-up on other platforms is simple too." Yes, but not as simple and fast as here. As an example, in TWT, beginners have to enter much more information about themselves before creating an account. This, by the way, is one of the differences between the platforms.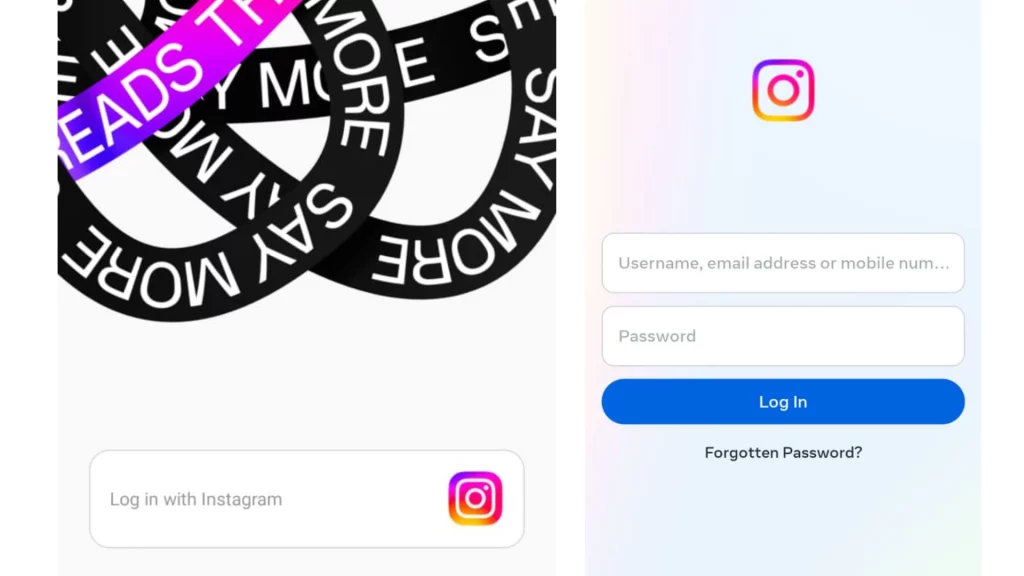 Friendly Environment
While Twitter concentrates on the main news, in a sense of aggression and discussions, the new resource from the creators of IG offers people a friendly atmosphere. Scandals around popular (and ambiguous) persons in the first platform don't subside, while the new one focuses on kindness, soft sales, and jokes.
It is unknown how long Mark Zuckerberg will be able to support this direction of the platform. As everyone knows, the more active users there are, the more problems there are.
Make an Account Influential Overnight
This is a big plus for both influencers and entrepreneurs. At the same time, it doesn't matter whether there was experience in the field of promotion or not. The competitive environment is not so intense here yet, which means only one thing – there is an opportunity to gain a new audience and strengthen positions in the online community.
Moreover, it is possible to use third-party services such as buying real Threads followers or other metrics. While other platforms have significantly complicated this process and set new restrictions.
One more thing: unlike other platforms, there is not much diversity in terms of content, and the algorithms aren't yet perfect. This means that any post, even an unknown newcomer, can go viral in a few minutes.
Well, now you have an idea about the app and understand why users suddenly rushed here. And we want to convey one thought to you: while people continue to join the platform, now is the time to use it for your marketing purposes.
Benefits for Shopify Merchants to Use Threads
Build Trust and Loyalty among Customers
In today's competitive market, people expect much more from companies than before. Today, to position your brand as modern and trending, it is not enough to post on IG a couple of times a week and advertise your product directly. It's no secret that customers have become more selective and choose companies not so much with their minds as with their hearts. That's why communication with potential customers is the key to success, which some forget about in the pursuit of increasing sales.
Personalized, friendly and direct communication on equal terms is what people expect today. And most importantly, Threads can help you build loyalty and increase interest in the brand.
How? Let's say your Shopify store offers fashionable clothes for young women from 16 to 30 years old. They are probably already on the new network – generation Z quickly picks up technological innovations and connects to them at lightning speed. Therefore, the target audience is in place. All that remains for you is to demonstrate your product correctly and redirect potential customers to your store.
This is not as difficult as it may seem at first glance. Create a small message, it can be something like "Voila, our trendy hoodies on Threads!" and add a photo. Young people love unusual and creative approaches. Consequently, a brand that has demonstrated these qualities with several messages can attract a lot of attention to itself and form a more loyal attitude.
Look at some of the company's posts, they're frivolous and funny, but people love it: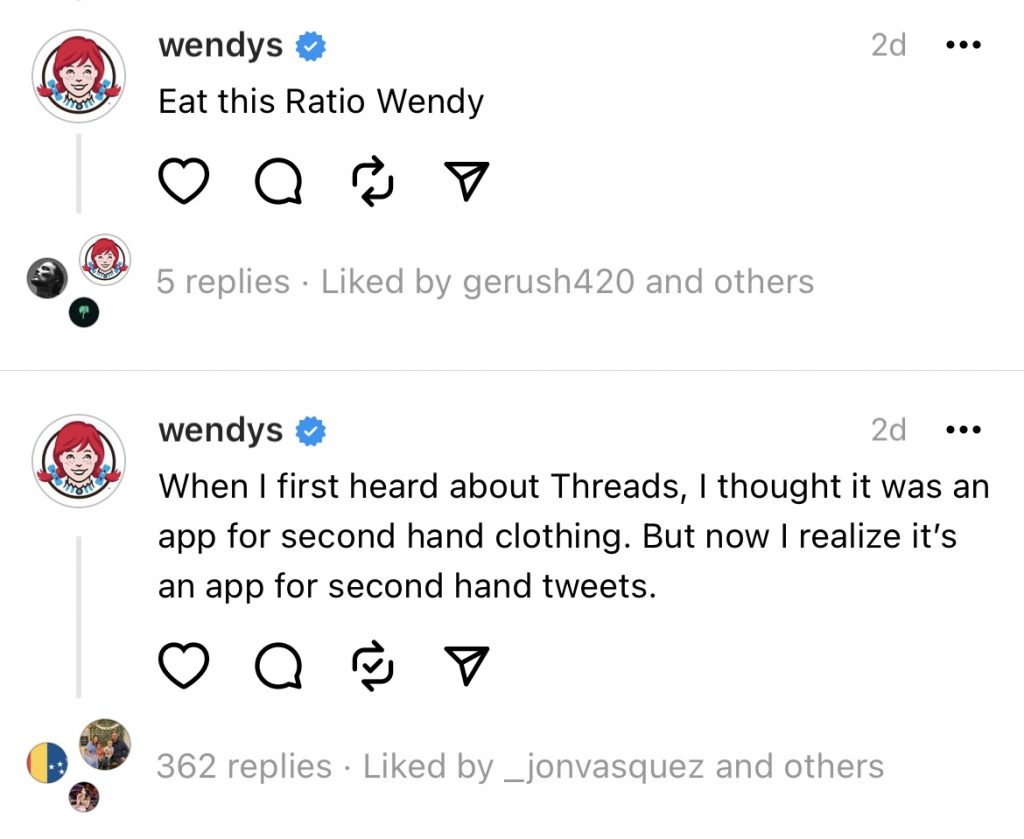 Don't forget to add a product link to generate new orders. By the way, try Smartviewer – this is a convenient app to product previews in one click. Convenience for users is above all, remember this.
Find New Clients
Another non-obvious advantage of Threads is the ability to quickly and easily expand the audience and find new potential customers. Right now the app looks like one big feed without recommendations. That is, users see all published random posts.
Conditionally, their feed may contain several messages from popular artists, ten posts by unknown authors and several from companies and brands.
This is a big difference from other media platforms. While on other resources there is a thriving ranking by topic and popularity of authors, Threads promote absolutely everything : from little-known creators to commercial accounts. That's why expanding your audience with this app is much easier than anywhere else.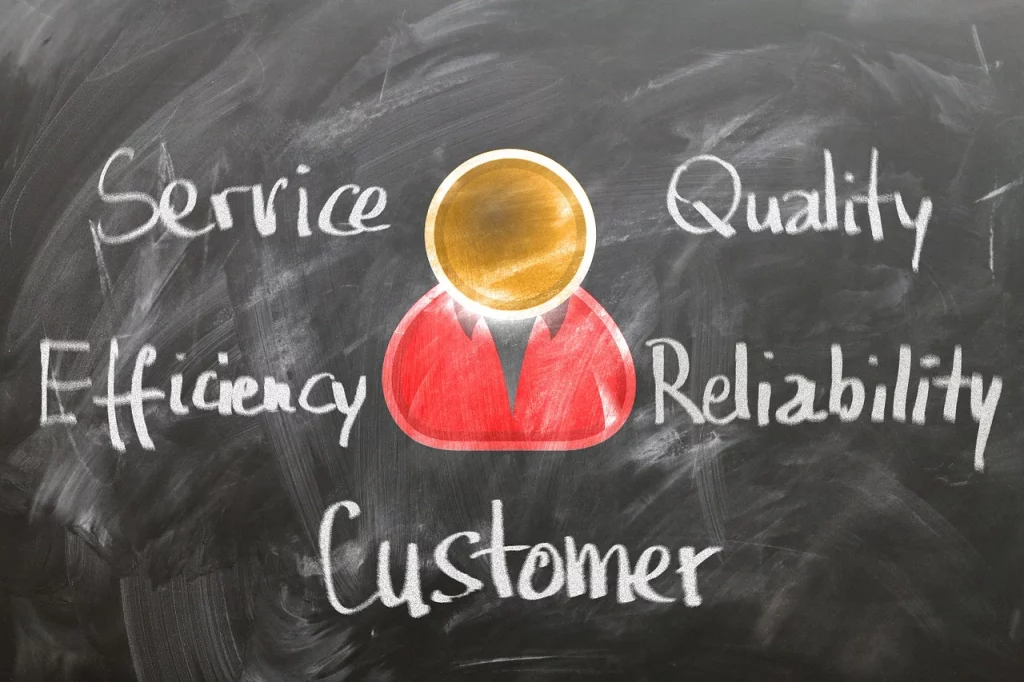 What's more important: to form their own follower base, users interact with brands to increase visibility. That is, for you as a Shopify merchant, this is a good opportunity to connect new clients through simple actions. Respond to comments, questions, and customer reviews. Thank them for their interest and, if necessary, advise everyone who wants.
It may take some time, but this is not a whim, but a necessity. This is the only way you can establish contact with customers and encourage them to buy from you. If it seems too complicated and long to you, you can hire a specialist who will do routine work and will regularly interact with clients.
Increase the Visibility of Your Shopify Store
It's great if you already have commercial pages on other sites, but entrepreneurs need to react quickly to changes in the digital landscape. Keeping up with the times and trends is no less important than generating new orders. All this is connected to each other and cannot work separately.
Brands that are on the same wavelength as their customers get more benefits than others. Why stay behind the competition if you can get ahead? This is what the new resource offers from an e-commerce perspective.
It's not difficult to create a working strategy here with zero marketing budget. Think for yourself: there are only a few content formats (photos, videos, text) and a rather "quiet" competition. Here no one will expect masterpieces from you, and this greatly simplifies the process of interacting with potential buyers.
As for visibility, as we said above, IG and the new app are connected. Hence, if you get more new followers here, they are more likely to start following you on IG too and visibility will grow.
Why? This is easily feasible. All they have to do is enter your nickname in the search bar or click on a special button. This is another confirmation that speed and comfort are the most important things for people.
Final Words
It is not known how long Threads will last on the wave of hype, but one thing is known: now it is one of the most popular apps (#4 in social networking), and this is a good chance to open a new way to connect customers. Simple and fast communication will help you generate new sales and increase your client base.