15 January, 2015
No Comment
There are many shopping cart softwares. However Shopify and Bigcommerces are two leading tools now. This article provides a comparision between these tools.
About Pricing.
That is important criteria to compare. Bigcommerce offers 3 plans and start from $29.95 for Silver Plan. While Shopify offers 4 plans and start from $14 for Starter Plan. Does it mean shopify is cheaper, in fact we can not comparison the Starter Plan of Shopify with Silver Plan of Bigcommerce. Because Starter plan is restricted for number of products. So we should compare from Basic plan with Silver Plan, the price is 29 and 29.95. It's similar. However with offering the starter plan, it is very suitable with small shop that have a few products. So the shopify serves many more customers.
About How to use these tools.
If you tried to use the both Shopify and Bigcommerce, you will found that the Shopify is very easy, most of features are simple and easy to use while Bigcommerce seems to be more difficult. However it is understandable, because Bigcommerce provides more features than Shopify.
About Apps, Addons.
Shopify is really stronger than Bigcommerce, because Shopify has many apps, and now the number of apps grows very fast. If you owns a Shopify store, you will find an app that meets your requirements. For building the apps store, Shopify is really more successful than Bigcommerce. Moreover, both platforms are compatible with headless and DXP architecture.
About Support
Shopify and Bigcommerce offers similar support options: Phone, Live chat, email. Shopify offers phone support 24/7 and Bigcommerce offers Facebook and Twitter support. For support, both Shopify and Bigcommerce are very professional and you don't worry when using their service.
The final, what is the trend of these two tools.
I made a simple comparison from google trend, and you can see in the graph. The both tools are growing now. However, Shopify is much more impressive. The shopify is the fastest growing tool.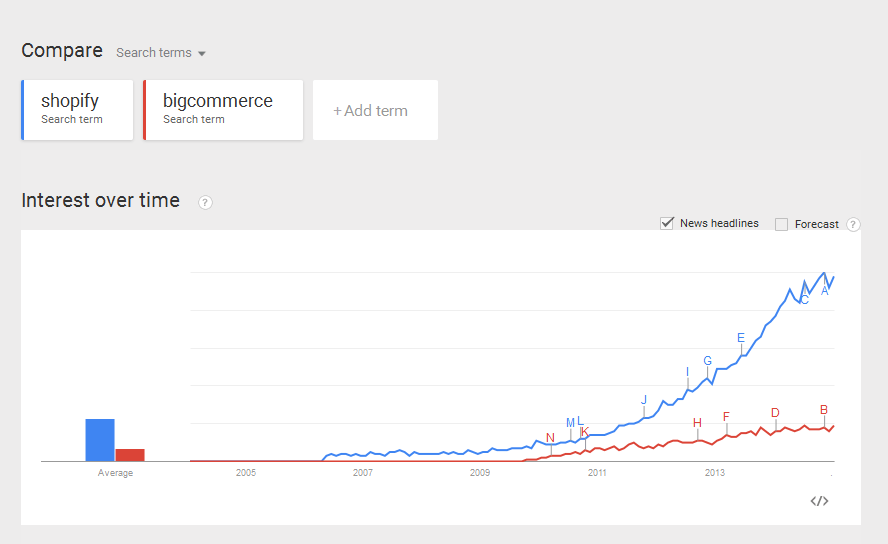 Shopify and Bigcommerce, which is better
It's very hard to say which is better. However in fact, Shopify is now more popular and grows faster. And i hope my reviews will help you to understand about these 2 tools. In order to have the decision, my suggestion is for you to try the both tools in trial mode to check which is suitable for you. You can find the links for free trial here.
Start your FREE trial with Shopify!
Start your FREE trial with Bigcommerce!
---