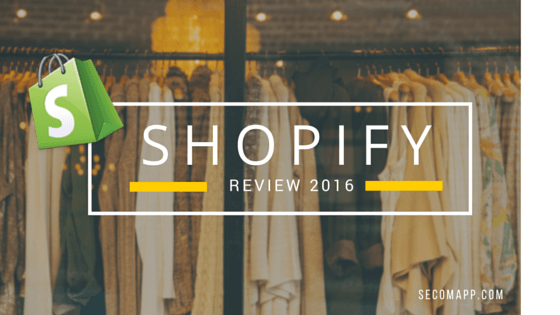 Lots of you are asking around which ecommerce platform is the best suitable for a company just starting out with an online store. You may read a lot of review posts which are very long but complicated. A short answer to that question is whether Shopify offers all features that your business need.
Ok, let's get started!
Criteria

Mark

Details

Easy to use

5/5
No matter how many features Shopify has, it is still very clear for user. You simply can't get lost there. Everything is logical and simple since you create a stores.

Design

4/5

There are over 100 excellent design templates to work from designed by well known designers. Refer to our last blog post on "Best free shopify themes for your online stores".

However, this number (100) is still a small one compared to other platform.

Shopify Pricing

4.5/5

"A bit pricey, but easily one of the best eCommerce solutions on the planet."- Shopify review written by Casey Ark

Shopify's pricing ($29/month-$299/month, depending on how many products you'll need to list) is relatively reasonable.

Basic feature

 

Product Types

5/5

All kinds of products supported including digital products.

Product Variants

5/5

Offer different variations of your products, such as multiple sizes, colors, materials, and more

Mobile View

Yes

Your online Shopify store includes a built-in mobile commerce shopping cart. Your customers can browse and buy from your store using any mobile phone or tablet.

Your own domain

Yes

Use your own domain name, or purchase one through Shopify.

Edit HTML and CSS

Yes

You have full access to the HTML and CSS of your store, making it easy to customize every aspect of your website

Marketing

 
 

Optimize SEO

5/5

Shopify supports SEO best practices like customizable H1, title, and meta tags.

Coupon code

Yes

Run sales and promotions by offering coupon codes that save customers money.

Email Marketing

Yes

Notify your customers of upcoming sales or new products with the MailChimp email marketing app

Sell on Facebook

Yes

Your Facebook fans can browse your products and make a purchase without leaving Facebook.

Gift Cards

Yes

Your customers are able to purchase a gift card for someone from your store, or you can use gift cards as store credit.

Check out/Payment

SSL certificate

Yes

All pages, content, credit card, and transaction information is protected by the same level of security used by banks

Credit card

Yes

You can accept Visa, MasterCard, Discover, and American Express

Flexible shipping rates

Yes

Set up shipping rates by fixed-price, tiered pricing, weight-based, and location-based rates.
Automatic taxes

Yes

Based on your location, Shopify will automatically handle major country and state tax rates.

Tracking

 
 

Overall tracking

Yes

An actionable dashboard of your sales, orders, and traffic helps you make the right choices for your business.

Google Analytics

Yes

Google Analytics works with your online store, so you can track sales, visits, and referrals.
In short, whether you are a beginner, intermediate or advanced users, Shopify Ecommerce platform is built for you. We are happy to recommend Shopify to everyone. You can give it a try with 14 – day free trial. I am sure you won't be disappointed.
---