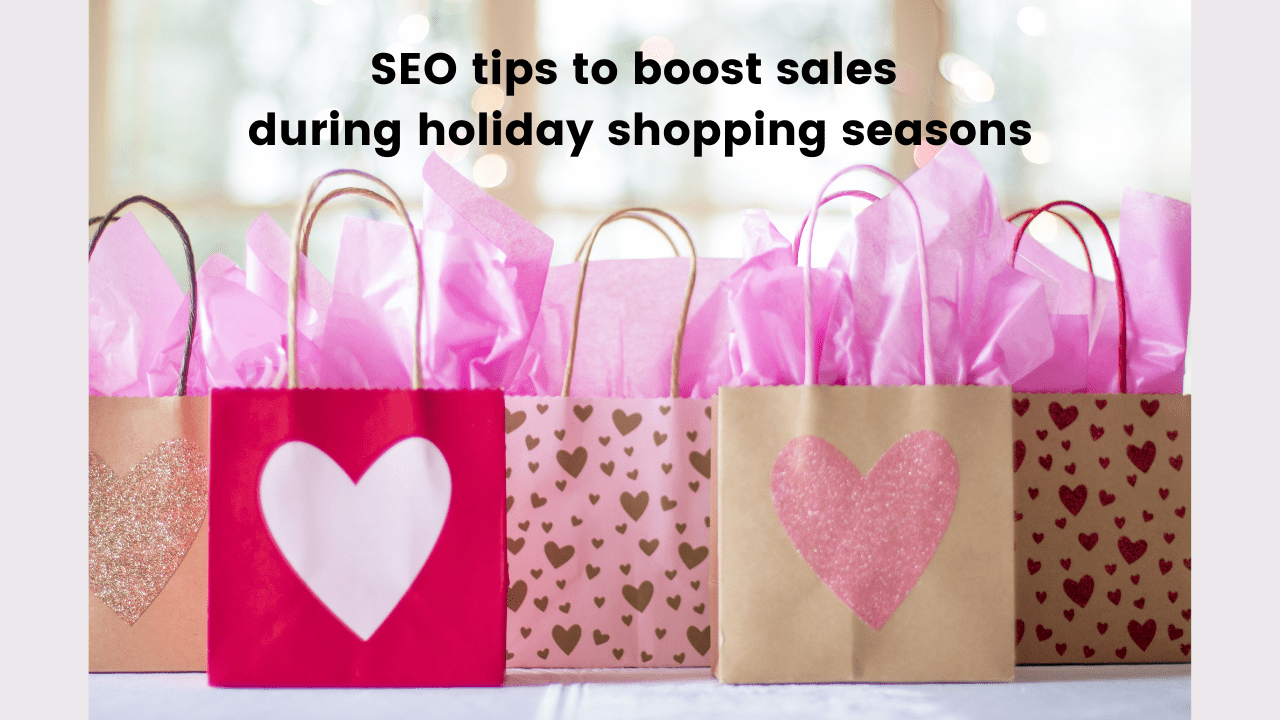 4 SEO tips to boost sales during holiday shopping seasons
Holiday seasons are when retailers make big bucks. This is a fact.
To make the most out of these precious times of the year, sellers need to prepare themselves in advance if they don't want to fall behind in the race for sales. In the Covid-19 era when most purchases are done online, SEO marketing comes out as a great customer acquisition tool. SEO done right can save store owners huge costs while bringing about a great positive effect to their stores.
Let's check out these 4 SEO tips below on how to boost your sales during the holiday shopping season.
Perform holiday-oriented keywords research
It is obvious. Keywords play a vital role in a successful SEO campaign. To prepare your store for the upcoming holiday season, it is essential that you carry out keyword research first and foremost.
Study last year's holiday
One can always learn from the past. By looking back at previous holiday seasons, store owners can discover valuable information that could be of great help for this year's campaign.
At which point exactly did the search volume of holiday-related queries start to increase? When did it reach its peak?
Which queries did customers use to find your products and services?
Having these questions answered helps you understand the holiday shopping traffic pattern and thus come up with an appropriate plan. This is where tools like Google Analytics or Google Search Console, etc… come in handy.
Make use of long-tail keywords
Long-tail keywords are keywords that are low in search volume, but instead high in conversion rate. When deciding which keywords you should opt for during the holiday season, do not count out these long-tail guys.
Many people normally think that they should always go for keywords with high search volume, for example, "holiday gifts". That's a big mistake. These top-of-the-funnel keywords are way too high in competitiveness. Moreover, they only account for 0.16% of the total number of search queries. That's too much competition for a small piece of the pie! There's a high chance that you won't even make it to the first page of search results, not to mention the top.
Meanwhile, long-tail keywords offer you various options, since they are huge in number. This means that the competitiveness is reduced by a mile. You can take time doing research to find out which one suits your business. A long-tail query with only 10 – 20 searches per month could be a goldmine if used correctly.
Moreover, when people search for long-tail keywords, they are likely to make the purchase decision soon. It is because long-tail keywords are very specific ones, and people who search for them already know what they want. For example, a person searching for the query "buy 70 inch tv lg oled on sale" must have done research about the product and decided to buy. Meanwhile, another person searching for "best tv 2021" must still be in the research process to find out which one he should go for, and that he's not gonna convert soon.
The searching intent between the 2 persons is clearly different. I think you already know which one you should target.
Of course, you still need top-of-the-funnel keywords to come into play to serve your research purpose. To conclude, you should consider these four criteria while choosing your keyword: search intent, search volume, competition, and conversion rate. The ideal keyword should be the one that meets all four to a certain extent that suits you.
Optimize content to target holiday keywords
Meta tags
Meta tags, including meta titles and meta descriptions, are pieces of information that represent your page when displayed on Google search results. It is the first part of your website that web users see before clicking through.
To prepare for the holiday season, re-editing your meta tags is highly recommended. Incorporating holiday-related terms into your page title and description is a common and effective practice. It helps attract potential customers when they are shopping online, thus improve click-through rate and drive more traffic to your website.
However, after you re-edit your meta tags, it could take Google weeks to index these changes and display them on search results. Therefore, you need to plan ahead and have your meta tags sorted out early so that when the holiday arrives, everything is in place.
Webmasters can also seek apps and plugins that help them edit their meta tags without any need for technical knowledge. For example, SEO Booster from Secomapp allows users to edit and schedule their meta tags to change on Google search results.
Blog posts
Blog posts are a great source of content that you should definitely put the effort into. Start producing holiday-themed articles with an appropriate sprinkling of keywords. These articles help drive traffic to your site and educate potential customers and could possibly make them convert. Google also indexes these pages and may rank you higher in search results of holiday keywords.
When writing, keep in mind that you are writing for the customers, so try to make your articles informative and educational. You can even reuse old articles as long as they are value-rich. Just make a few additional changes that were needed to match the present time.
Another factor you should consider is the Covid-19 pandemic. It has significantly affected people's lives and their shopping behavior. It's such a hot topic that people now care about covid-related articles more than ever. This is a goldmine of content for marketers if exploited correctly. For example, an article with the title "Top 5 gifts for your family members during Covid time" would definitely catch customers' eyes better than the one with no Covid phrase.
Landing pages
To increase your website's chances of showing up on search results of holiday-related queries, it is a must that you create specific landing pages targeting those queries.
When thinking about what differs holiday shopping from daily shopping, the first thing that comes to mind would be discounted. Many people shop solely because of the prices. Therefore, your holiday-centric landing pages should be pages that include information about your available holiday offers and discount programs. You can re-categorize your product pages, creating new pages that only include on-sale products. In that way, customers can find what they want easier without spending much time navigating through your site.
Improve site loading speed and performance
Now that you have got your content optimized, you successfully attract customers to visit your website, the next thing to do is to improve your website's technical performance and loading speed. Just imagine when a huge number of customers are logging into your store at the same time and causing it to crash, the loss you have to suffer from will be immeasurable. That's why you have to make sure your website is technical-ready to handle a great number of visitors since it's holiday time.
But that's just the bare minimum. Your website needs to perform at its best to improve customers' experience as well as their onsite time, eventually making them convert. Do you know that 79% of online shoppers say they won't go back to a website if they've had trouble with load speed? Amazon – the retail giant of America has calculated that every second added to page load time could cost it a $1.6 billion loss in sales each year. That's enough for anyone to realize the importance of load speed.
Don't forget the mobile users
When we tell you to improve your site load speed, we mean to do it both on PC and mobile platforms. According to Statista, three out of four online purchases are done on a mobile device. It means 75% of your customers are mobile users. Besides, Google also ranks mobile-friendly sites higher in its search results, so make sure to keep an eye out on how your site performs on mobile. Tools like Google PageSpeed Insights could be of great help in this case.
Start early
Simple, but it is the most important tip.
SEO is a long-term journey and you are not likely to see results in just a few days. It can take weeks, not to mention months. Therefore, you need to time your optimization right so when the holiday season comes, your website is SEO-ready.
If you start optimizing your site for the Black Friday season in early November, then you are already late. The best time to do SEO for holiday seasons was 3 months before the holidays. The second best time is now. So you better head up, evaluate everything, come up with a plan and start getting down to it as soon as possible. The early bird catches the worm!