8 February, 2017
No Comment
Promotion Popup is an easy app to fall in love with. You can create popups or special offers and show them in any where on your website.
Customers love Promotion Popup because the app helps them to increase the conversion rate. And the app is featuring on Shopify Store right now.
Investigate the following questions which are frequently asked and get ready to have one.
I would like to use QuickView app to create a fancybox type of popup on my site for showing peripheral information. It seems that fancybox popups are used in a lot of Shopify sites, but Shopify does not seem to support it officially.
Promotion Popup app is able to help you: https://apps.shopify.com/promotion-popup?ref=secomapp.
This app allows you to create several custom popup based on available templates 🙂
2. I have a worker trying to edit the popup on my website and she's receiving this error: "Fail when save popup! Multi-users are using app."
The case might be that she was opening many tabs for promotion popup app at her browser. If that message appears, please click Save again and it will go away 🙂
Can I use it month to month? Can I cancel the app at any time and not get charged?
Yes, you can have the app monthly and cancel it any time you want with no charge.
Is there a way to set the countdown from minutes and seconds? We would like to leave out days and hours. I tried looking through the CSS but since it's the styling I'm not sure that's even the right place to look.
If you want to make your popups display in minute and seconds only, please setup "Start Date" and "End Date" options so that :
Start Date – End date < 1 hour . That is available time of your popups.
I'd like to be able to turn off the popup on mobile devices.
In order to disable popup on mobile, please go to Promotion General setting and switch "Disable on Mobile" button to Yes
I want to open popup automatically on opening website homepage, but it should be opened after some seconds like 20 secs not just after opening website.
Our popup always shows after your customer opens the page. We use shopify scriptag so popup must wait until your page loads completely. In your case, there are probably several images or html items in your shop which take 20 secs to load, then Popup is supposed to wail until that item is loaded completely.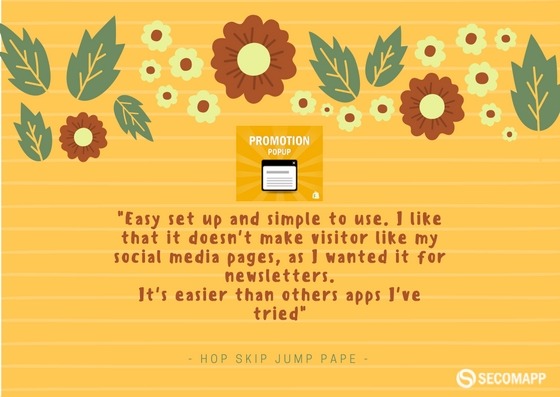 Hi, I have a problem with the countdown, I cannot change the time, which always stays at 15 minutes.


Please go to Promotion Popup app -> Edit popup then turn off this option : "Use Persistence Countdown"

The Exit Popup is not working on the mobile phone.
 Exit popup can work on android phone only. Currently, It is not supposed to work on IOS devices.
Is there a way to use this app with another autoresponder service such as Aweber instead of Mailchimp?
Newsletter templates only requires a form url but autosponder service (mailchip or aweber). So feel free to advise the service you want.
Can we customize the app so that the CSS is able to stretch along the sides of the box.
Yes of course, Promotion allows you to custom in html and css 🙂 at design popup section.
11. How would we customize the HTML CSS? Can you provide more details?
Please follow the steps below to edit html of popup:
1. Go to Promotion Popup app
2. Add new popup
3. At "Design Popup" section, click to Code view button with icon "</>" and you will see all html and css of popup.
12. Does "exit intent" Promotion Popup work on mobile?
"Exit intent" only works on android phone.
13. My question is if and how I can configure a few URLs at the same time.
Can I enter a few URLs to the "specific URL" section?
The "Specific URL" section accepts one url only. And you have more than one url to show popup, you have to create multi popups (duplicate) for each url.
14.Do you have an option to duplicate a popup? Or do I need to create it from scratch?
You don't have to re-design your popup up , you can copy html code of your popup by this way:
1. Edit your current popup -> Design Popup tab -> At design box click to button Code View  "</>" and copy html code of your popup
2. Add New Popup and at "Design Popup" Tab you paste html code to Design Box
Any more questions, feel free to drop us a mail at support@secomapp.com.
We love to hear from you!