27 April, 2023
No Comment
Do you run a Shopify business and find it challenging to continually look for new ways to increase sales?
One factor that is sometimes forgotten is enhancing the customer experience through the billing documents and invoicing process. By using a PDF invoicing app for your Shopify store, you are able to provide a more professional and personalized experience to your consumers. After that, it will result in more repeat sales and improved customer satisfaction and loyalty.
Let's dive deeper into this article to learn more about tips for using the PDF invoice app to maximize your Shopify store's sales.
Overview of Shopify PDF invoice apps
When it comes to running an online store, providing a seamless shopping experience for your customers is essential to ensuring their satisfaction and loyalty. One aspect of this experience that often gets overlooked is the invoices that you send to your customers. However, with Shopify PDF invoice apps, you can create professional-looking invoices that match your brand's style and improve your customers' experience.
Every company must now have an accurate and proper invoicing system. Thanks to the Shopify app store, billing is now easier and more efficient than ever. Most importantly, it boosts the level of professionalism in your shop. Spreadsheets and paper-based invoices are obsolete. You can do a variety of things using today's invoicing software.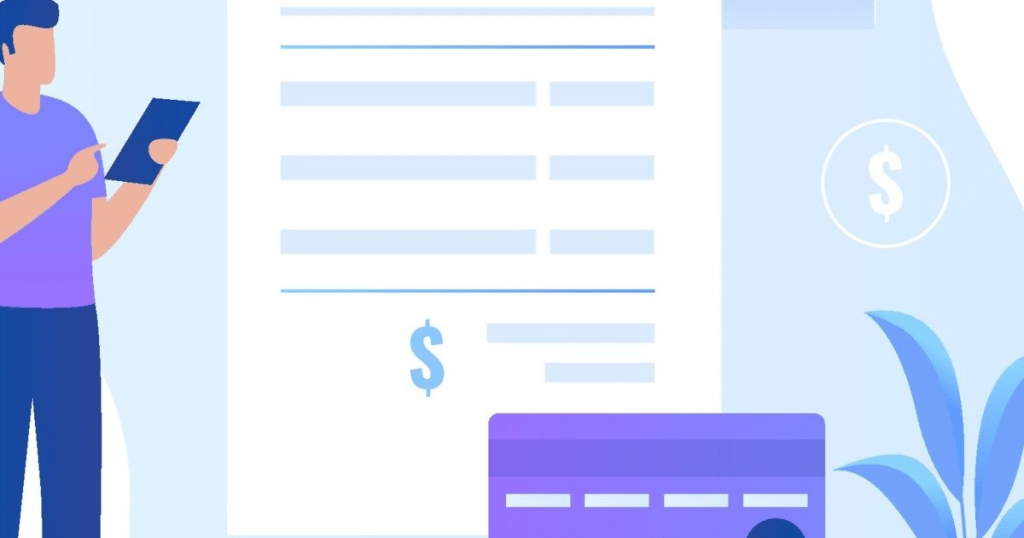 Overview of Shopify PDF invoice apps
They include creating beautiful billing records, managing clients and financial information, and keeping track of payments, all of which can help you have complete control over all of your interactions and avoid losses for your organization. There are plenty of excellent Shopify invoicing applications available. You may pick a simple app that tracks payments and invoices or one with more extensive functionality such as drafting invoices, inventory tracking, and integration with accounting software.
Finding the best PDF invoice app for your store then seems to be a challenge.
Why should Shopify merchants use the PDF invoice app?
In this part, Fordeer will take a closer look at the advantages of using Shopify PDF invoice apps for your online business.
Customization
One of the primary advantages of using Shopify PDF invoice apps is the high level of customization they offer. You can use these tools to customize the design of your invoices to match the style of your business. You can personalize your invoices by adding your logo, changing the font and color style, and even adding new fields. This level of personalization guarantees that the invoices are consistent with your entire brand identity, leaving a favorable impression on your customers. You may also boost the perceived worth of your products or services by designing invoices that seem professional and fit your brand.
Time efficiency
Manually creating invoices can be a time-consuming and error-prone operation. Shopify PDF invoice tools let you save time and work by automating the invoicing process. You may produce invoices automatically and deliver them to your customers with a few clicks using these apps. This level of automation allows you to concentrate on other elements of your company, such as marketing, sales, and customer service. Furthermore, with email automation features, you can streamline your invoicing and marketing processes, saving even more time.
Accuracy
Manually creating invoices can lead to errors that can damage your business's reputation. Shopify PDF invoice apps ensure that your invoices are accurate, reducing the risk of errors. These apps automatically calculate taxes, shipping fees, and discounts, ensuring that your customers receive the correct invoices. This level of accuracy ensures that your customers are happy with your service, reducing the likelihood of disputes or negative reviews. Additionally, since Shopify PDF invoice apps store all your invoicing data in one place, you can quickly access and review your billing history, reducing the chances of missing payments or invoices.
Professionalism
Shopify PDF invoice apps can create professional-looking invoices that improve your customers' experience and help you stand out from competitors who may be using less professional-looking invoicing solutions. This can help increase customer trust and encourage repeat purchases. Additionally, these apps can help you comply with legal requirements in your country or industry, such as including specific tax or shipping information in your invoices.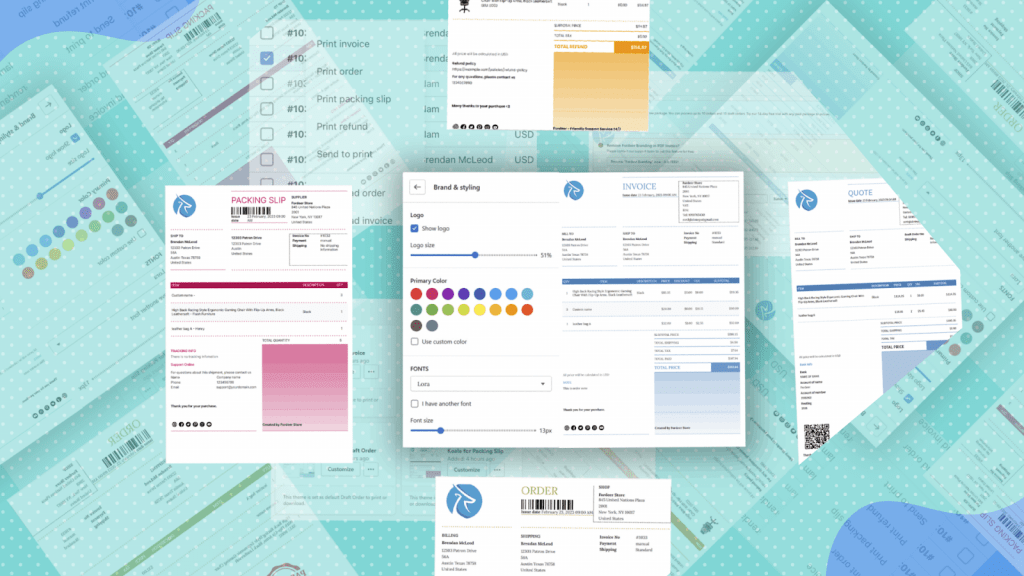 Why should Shopify merchants use the PDF invoice app?
Multiple languages and currencies
Finally, Shopify PDF invoice apps support many languages and currencies, making it easier to conduct international commerce. You may produce invoices in several languages and currencies, ensuring that your consumers understand the invoice and pay in the currency of their choice. This functionality is very beneficial for online retailers who sell globally or have consumers who understand multiple languages. You may expand your customer base and revenue potential by employing Shopify PDF invoice apps that support multiple languages and currencies.
How does a PDF invoice app maximize your Shopify store's sales?
Here are some tips for you to take advantage of the PDF invoice app to maximize your Shopify store's sales:
Add your brand elements
With a PDF invoice app, you can customize it with your brand's unique elements, like its logo, colors, and design, so that your customers can easily identify who they are purchasing from. By keeping your brand top of mind, you'll reinforce the image in their minds and increase the chances of repurchasing.
Share vital purchase details
Your invoice should contain all the relevant details related to the customer's purchase, including product names, prices, quantities, shipping fees, taxes, and any promotions, discounts, or coupons applicable. Make sure everything is concise, clear, and easy to read so your customers will feel confident in your products and services.
Personalize your messages to customers
Use your PDF invoice message to create a personal connection with your customers. A simple "Thank you for your purchase" can go a long way, but you can also consider offering personalized recommendations or advice based on their interests to show customers you pay attention to their experience. Customers are more likely to come back when they feel like they matter to the brand.
Add incentives for future purchases
Who says an invoice has to be just a "thank you" page? You can utilize this opportunity to offer special promotions or discounts on their next purchase, like free items or bundle deals, or even a coupon code. By extending these offers, you'll encourage your customers to come back and shop again, building loyalty to your brand.
Make it user-friendly
A well-designed PDF invoice should be easy to read, navigate, and understand. Keep the formatting clean and simple so customers don't need to spend a lot of time decoding and interpreting the data. Ensure every detail is clear to avoid customer confusion. Make sure the PDF is easily accessible by providing links to it or giving a clear indication of where the customer can access it.
Fordeer: Invoice Order Printer – The Best Choice for Your Shopify Sales
Fordeer PDF invoices can be automatically generated and sent for every specific order or event placed in your business with no effort. There are numerous options for creating email automation with a PDF invoice attachment with Fordeer PDF Invoice. Continue reading to learn deeply about the benefits of using the Fordeer PDF invoice app and why you should have it in your billing process.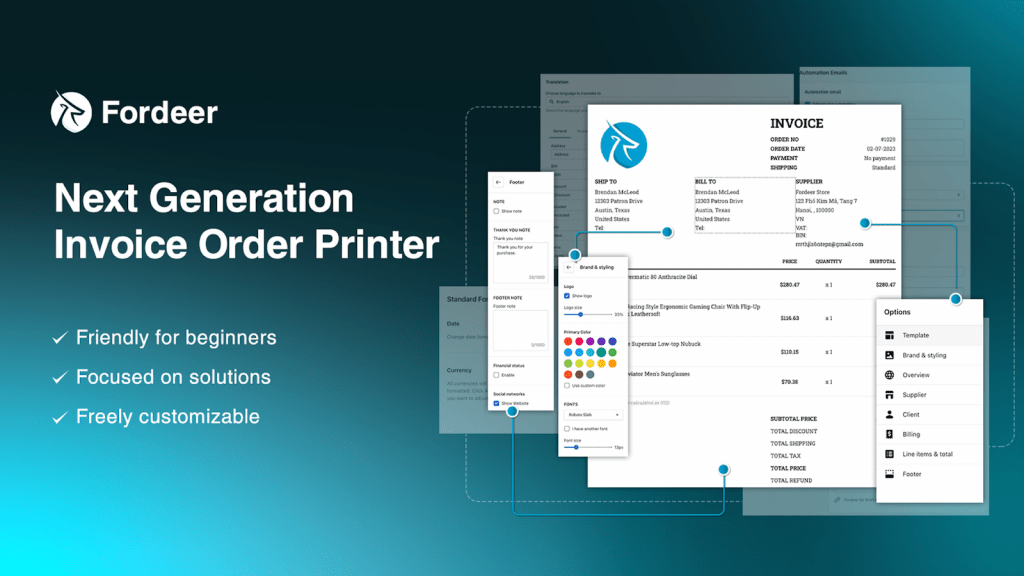 Fordeer: Invoice Order Printer – The Best Choice for Your Shopify Sales
Get paid faster and smarter
Email automation with a PDF invoice attachment that is triggered by specified events is simple to set up. You have complete control over the content and subject lines of your emails. This sophisticated feature allows you to add the check-out link and make it easier for customers to complete the payment procedure online.
Saving time and effort in the payment process gives you more possibilities for rapidly growing your business.
Increase worldwide sales
The Fordeer PDF Invoice application allows you to show multiple languages and currencies, allowing you to increase your multi-national sales. Furthermore, flexible customization allows you to freely add and remove information fields displayed on your billing documents, making them appropriate for any industry or culture. This will pave the way for you to increase customer satisfaction with your professionalism.
Do branding and cost-savings all at once
The Fordeer: Invoice Order Printer allows you to develop and build a strong brand by providing a large gallery of stunning pre-made invoice templates. You can create your own customized invoice templates by freely customizing logos, phrases, or thank-you messages.
Furthermore, transferring PDF invoices by sending emails to customers shows that your business places a high value on sustainability.
Increase repurchase rate
Showcase your professionalism and thoroughness in every email and billing document to build trust with your clientele and urge them to head back to your online business and make another purchase.
This will not only showcase your appreciation for their support but will also show your commitment to providing excellent customer service.
Last but not least, Fordeer has already made available a promotional code, "FORDEER50".
Don't wait any longer; now save 50% off a Pro or Premium subscription and enjoy full access to our powerful advanced features.
Wrap up
Although invoicing is an important aspect of any e-commerce business, it is something that can be automated and does not require your personal attention. You may save time and focus on growing your business by using an invoice management app.
Fordeer: Invoice Order Printer is unquestionably the best choice in terms of functionality, customer support, and price. The most recent version has just been published, and it has full-power advanced features as well as appropriate pricing levels. Consider your company's requirements and don't wait to try Fordeer 1.1 for free!