26 October, 2017
No Comment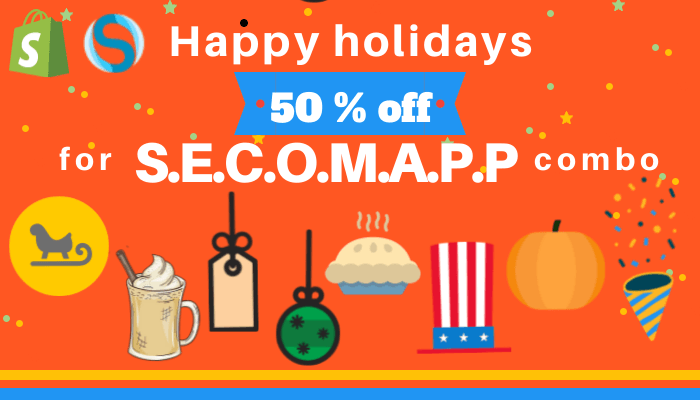 More Savings, More powerful features!
The troubles of doing business with Shopify are a whole lot. And there are a ton of Shopify apps out there to help!
But can you have enough time to search and try them all?
No worries!
You won't have to suffer a headache of the festive fever on Shopify!
This holiday, you have a wide selection of Secomapp combos which gives you a guide to bold up your sales campaign in a minimal style with a minimal budget:
50% OFF for the special holiday combos on the menu!
(*Please Note that the offer only applies to the app you've installed the first time. So if you are using one app in the combo, only the other ones which are not activated yet in the combo are discounted at 50%)
Now let's take a look at the special menu and get ready to order!
S.E.C.O.M.A.P.P 

Have you made up your mind yet? Whatever Yes or Not Yet, please email to us at support@secomapp.com.
What we wish is to be with you and help you to take the fullest advantage of the lucrative festive season. Your customers will have the memorable holiday ever and so will you!
We are happy to hear from you and help you with everything.
Happy Holidays!
Secomapp Team
---