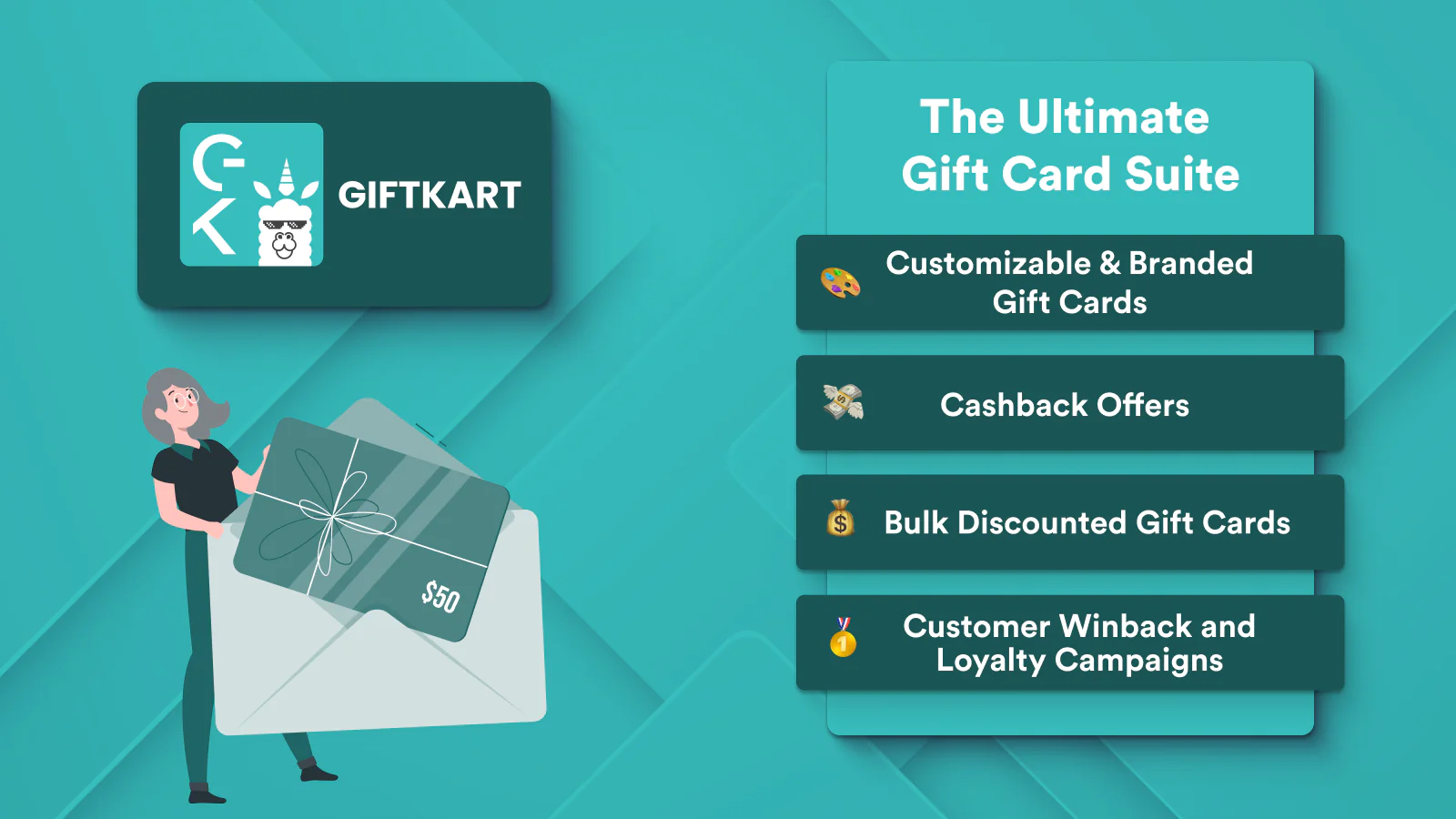 20 September, 2023
No Comment
We are thrilled to announce our partnership between SearchPie and Gifkart, with a primary focus on empowering merchants. Through this collaboration, we are dedicated to providing comprehensive solutions that enhance the merchant experience and drive business growth.
Imagine crafting digital cards with a touch of personal warmth, making them even more meaningful for the people receiving them. GiftKart is one of the best economical gift card apps for Shopify.
With GiftKart, you can design personalized gift cards and even include features like video messages to encourage customers to share them with their loved ones. And if the need arises, you can offer refunds in store credits, ensuring that your customers always have a reason to return.
You can also set up bulk customer winback and discounted GiftCard campaigns to increase revenue, or provide cashback to keep them engaged with your brand. Overall, it's an all-in-one suite that provides all the features and tools required to keep your valued customers returning for more. Whether it's Christmas, BFCM, or Halloween, the platform has the right tools to engage your customers.
And the best part? Managing all of this becomes effortless as the user-friendly interface lets you automate bulk gift card campaigns, ensuring you boost acquisition and retention.
Key Features:
Personalized e-gift cards: Create custom e-gift cards that resonate with your brand and connect emotionally with your customers. Offers email customization, a balance check page and branded customisations.
Automated bulk gift card campaigns: Get rid of the hassle of manually sending out gift cards and run automated bulk campaigns for corporate gifting or engaging your valued customers.
Cashbacks – Offer cash back to your customers using Gift Cards and also run marketing campaigns for same directly through the app
Tailored scheduling: Set precise timings for sending gift cards, ensuring they reach your customers at the perfect moment.
Headless integration via APIs: GiftKart provides seamless integration connectivity with various platforms and systems, such as Omnisend and Klaviyo.
Rewards for customer win-back: The platform allows you to implement a customer win-back strategy by offering rewards and incentives to bring back inactive customers.
Customer wallet: It allows shoppers to store and manage their gift card balances directly at checkout.
Data-driven insights: Gain valuable insights into customer preferences and behaviors, enabling informed decision-making for future campaigns.
Manage physical gift cards: the platform supports the management of both digital and physical gift cards, catering to diverse customer preferences.
Flexible pricing plans: Whether you're considering launching an automated gift card campaign on a small or large scale, Giftkart offers adaptable pricing plans to suit your specific needs and budget.
Features of SearchPie: SEO Booster & Speed
Boost Google visibility through optimized parameters for higher rankings.
Accelerate site speed with Instant Page, AMP, and Image Compression.
Streamline metadata with bulk updates for Meta titles, descriptions, and Alt tags.
Stay informed with up-to-date SEO reports for improved search engine rankings.
Enhance readability with Auto Rich Snippets JSON.LD for Google.
Improve credibility with automatic detection and navigation of long and 404 URLs.
Final thoughts
Our combined efforts leverages loyalty & retention suite with advanced search technology and to deliver exceptional customer experiences. Together, we aim to equip merchants with the necessary tools and support to succeed in today's competitive digital landscape.
---