1. Why do we need to collect customer information?
Do you know about purchase funnel, which describes 3 steps in customer's interactions process, including Acquisition, Behaviour, and Conversion? (*)
Customer information is the key to this model.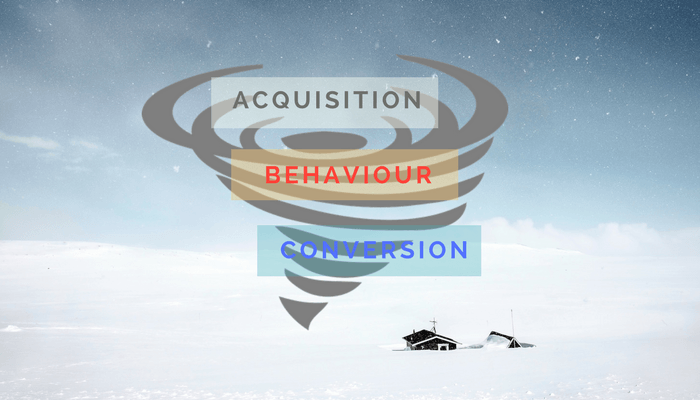 There's a quote saying that: "The more you engage with customers the clearer things become and the easier it is to determine what you should be doing." — John Russell.
Knowing better about customer would help you attract more customers in each step, from which you would make informed decisions to better engage with existing customers, acquire more new customers, improve conversion rate, and finally increase your sales.
On Shopify store, how could we collect customer information?
Amazingly, we have a simple and effective way to do it with Shopify Customer Account.
2. What types of customer information should we collect?
There is much information about a customer. Below is some of the basically necessary information you should choose to include in your customer form and how you could utilize it:  
Types of information

What you can use it for?

Examples

Contact details

(Email, Telephone number)

Contact with your customers

For delivering, for advertising purpose (for example when you have new promotion campaign…)

Name

Make

personalized communications

Avoid a series of email starting with "Hi there" or "Dear Sir/Madam"

Demographic information

(Age, birthday, gender, location, job, income…)

Help in customer segmentation

Then tailor in:

Advertising content and channels

Pricing strategy.

Product and even in each order

Customer service

….

Use age and interest for advertising content and channel.

Use job and income to adjust pricing strategy.

Send birthday card or message to keep in touch with your customers.

How could they find you?

Evaluate how effective each advertisement channel you're using

If

most of them say they were referred by a friend. why don't you motivate them to refer to other people by offering a discount for doing so

?

Transaction history

Indicates user preferences, which products they're buying most, and when/how often they buy.

Classify customer based on how often they drop by your shop and how much they usually spend

Use to decide which product should be focused on, it means importing more and boost them.

How your customer's shopping?

(Impulse buys, considered purchases, comparing the prices from different businesses, …)

Find channel to affect customer decisions' process.

Display goods and structure deals based consumers' spending habits.

Supermarkets put magazines and chocolate bars at the checkout: impulse buys.
Notes:
Do not just stick to the default registration form of Shopify
Do not just stick to the default registration form of Shopify Customer Account, which just offers Name, Email and Password fields, you should add more than those basic fields to get more information which is valuable for you.
Furthermore, do not forget that, customer is easy to get bored with the repeated type of question, so let's be flexible with a variety of field types (Text Field, Select box, drop down, multiple select…).
Let add some design to make your form be more attractive
Change the fields' color, use some pictures instead of text, etc.
You can check out our Customer Attribute App to have some more ideas.
We should keep a short and concise registration form because: (1) Most customers are usually impatient with a too long registration form. (2) Your website could not store and analyze too much data, and even could be lag by those. (3) You could avoid wasting time to process & filter irrelevant data.
How many are too many? How many just isn't enough? You need to ask yourself a few questions below:
what is a must have

what is a nice to have

what can be enriched easily, perhaps at a later stage

what makes the most sense for the goal of the form
3. When should we collect customer data?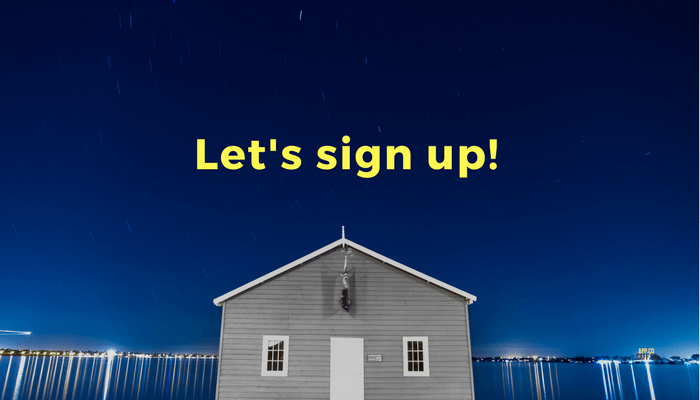 The important thing to keep in mind is that you should find the proper time for collecting customer data.
On Shopify Customer Account, it defaults to let you collect customer data on the registration page. However, that might sometimes make your customers feel annoyed when they've reached your site, haven't purchased anything, and then you ask them to spend the time to enter their personal information.
Letting customer sign up after the checkout could be a better solution. There are three reasons explaining why it's the great moment to set a loop that a client needs to go through to complete their purchasing.
1st: Customer will be more patient to spend time with your brand, where they've already found the thing they need and paid money for.
2nd: This helps the customer save their time because your customers don't need to fill out their sign-up info – it's already been completed during checkout.
3rd: It also helps to save your time as you won't have to deal with accounts from the customer who never buys from your store, these people aren't real customers.
In case, you don't want to spend the time to create a customer registration form, how could you collect additional customer information? The answer is to add some extra field on cart page, which is called "cart attribute". Note that, in cart page, keep your questions shorter than on the other, it should be like a quiz. For example: Where are you from? How did you find us? etc. Customer Attribute will help you be creative in creating these fields.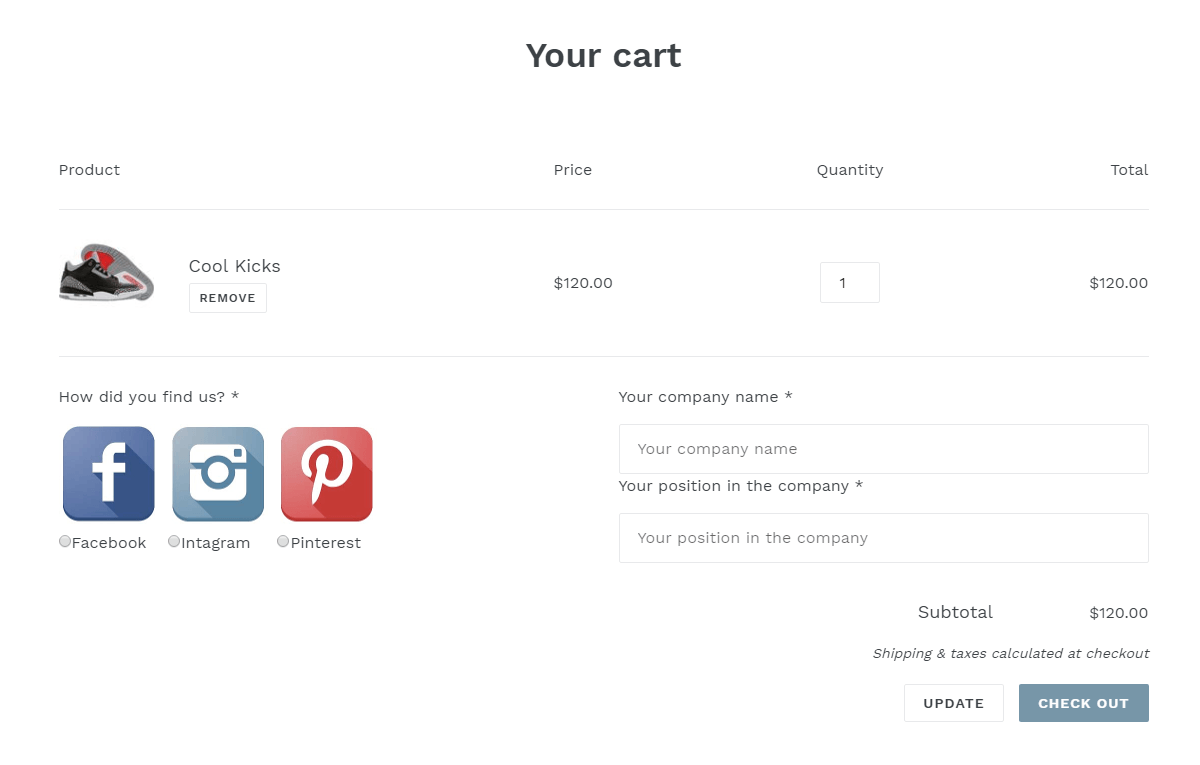 4. How could we store and analyze all this data?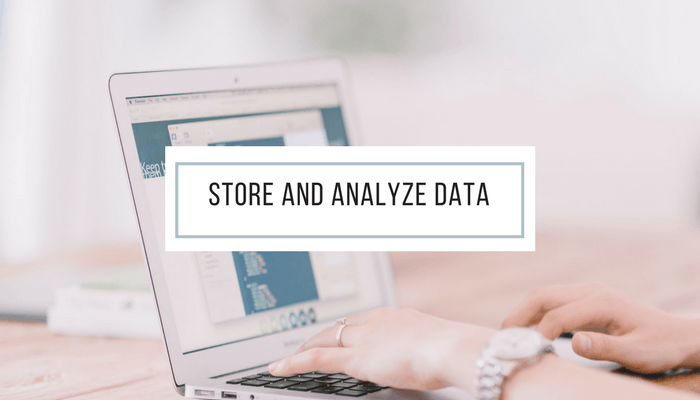 Another important thing in collecting customer data through customer account is storing and analyzing.  
There are some problems you might need to deal with:
– how your date is updated when customers edit their registration information
– how data is saved even in case your website's clustered
– how you can take advantage of this big data
The solution for this is to find an app that can let your customer updated their information, store all collected data in safe place (Metadata of Shopify is recommended), and last but not least, export your data into visual report, from which you can quickly have an overview of customer insight and big ideas with it. Customer Attribute is the free app that you need.
5. Conclusion:
If you're now a startup, you should set up Shopify Customer Account system to start building a customer database for your shop from the beginning.
If you've been in Shopify for a long time (may be a professional shop), it's time to stand out from the crowd by using customer information in your business campaign.
And don't forget that Customer Attribute will be there to help you understand your customers from inside out.
————————————
(*) Purchase funnel describes 3 steps in customer's interactions process, including Acquisition, Behaviour, and Conversion?
  

Acquisition

is when you build awareness and acquire user interest

  

Behaviour

is when users engage with your business

  

Conversion

is when a user becomes a customer and transacts with your business
You may also want to read:
---