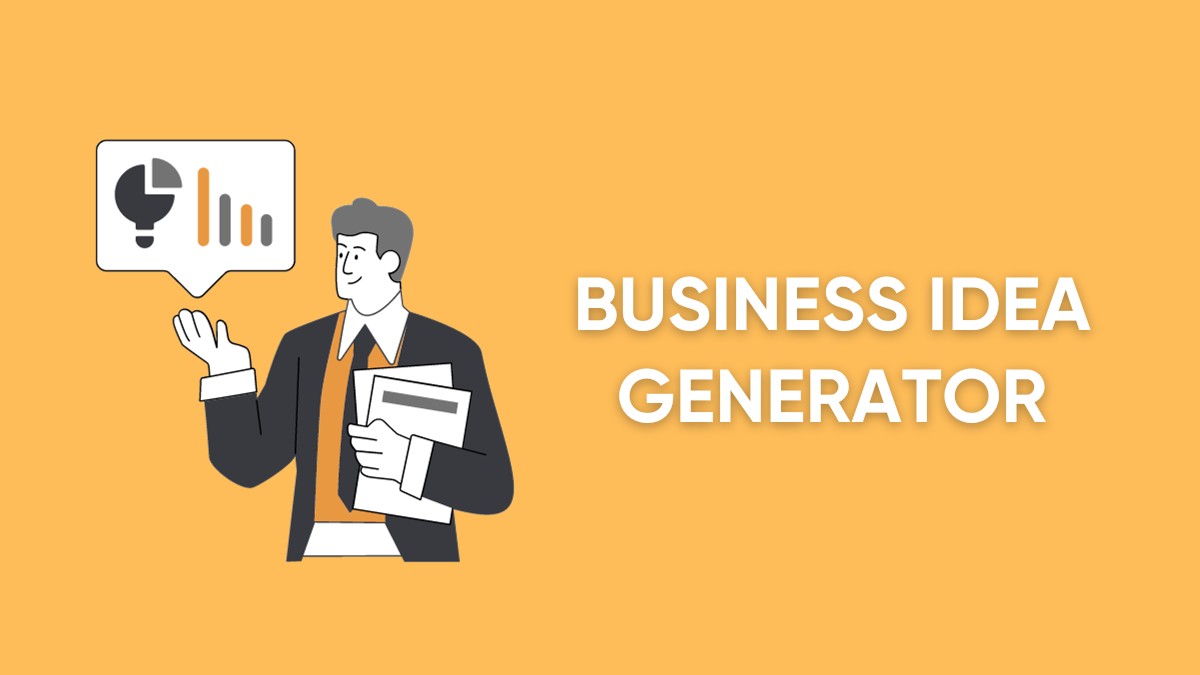 3 October, 2023
No Comment
Every entrepreneur remembers that moment: Steve Jobs in his garage brainstorming the first Apple computer or Sarah Blakely conceptualizing Spanx in her apartment. 
While these success stories are awe-inspiring, let's face it, not every great mind has an "aha!" moment.
Entrepreneurship comes with a lot of struggles, and one of them is coming up with that great idea. Business Idea Generator is one game-changing tool for budding entrepreneurs and writers alike. 
It uses the power of AI technology and bridges the gap between your entrepreneurial spirit and the world of innovation. This handy tool offers a plethora of unique ideas for startups, so you're never stuck at the starting line.
Why You Need a Business Idea Generator
Overflow of Ideas: Sometimes, you have so many things buzzing in your head that settling on one feels impossible. This tool brings clarity by presenting options tailored to your interests.
Stuck in a Rut: Every entrepreneur faces a creative block at some point. Instead of waiting for inspiration to strike, use the generator to spark a new direction.
Diverse Niches: With the digital world exponentially growing, there's room for every niche. Whether you're into tech startup ideas, crafts, or sustainable solutions, this generator will serve up fresh ideas.
How to Generate an Innovative Startup Idea Using Business Idea Generator
Generating a startup idea using Business Idea Generator by Paraphrasingtool.ai is very simple and intuitive!
Input Your Keyword: Begin by typing a keyword related to your interest area. For instance, if you're passionate about eco-friendly solutions, you might input "sustainable."
Choose a Category: Further, refine your search by selecting a specific category from the dropdown. This ensures that the generated ideas align with your vision.
Let AI Do Its Magic: Once you've added your criteria, hit the "Generate Ideas" button. In a flash, the AI sifts through its extensive database and presents a list of potential business ideas.
Review and Refine: Scan through the generated ideas. One might just resonate with your entrepreneurial spirit! If you're a writer, use the integrated blog outline generator to structure your content efficiently.
Features that Make the Business Idea Generator Stand Out
Fresh Ideas
To grow your business, you have to stay one step ahead of your competitors. Relying on overused or outdated ideas can make your venture stagnate.
How Our Tool Helps: Our generator's AI taps into a vast database, continually updated with the latest trends, concepts, and innovations. 
So, each time you use the tool, you're presented with ideas that are both unique and aligned with current market demands.
Focus on Niche
Every business has its unique audience. For example, vegan snack bars and high-tech gaming gadgets serve entirely different markets.
How Our Tool Helps: By allowing users to select specific categories, our generator crafts suggestions tailored to those niches. 
As a result, you get ideas that are not just generic but are relevant to the user's area of interest or expertise.
Beyond Business
While starting a new business is exciting, there's more to the entrepreneurial world. Content creation is a massive part of the digital era, be it for promoting a business or establishing an online presence.
How Our Tool Helps: The Business Idea Generator isn't limited to just business proposals. Bloggers, writers, and content creators can find it invaluable for brainstorming content topics. 
Whether planning guest posts, thinking of a new blog series theme, or even devising challenges to engage their audience, this tool offers a plethora of ideas.
Ease of Use
In our time-crunched world, simplicity is golden. A complicated tool can deter users, no matter how powerful it might be.
How Our Tool Helps: Designed with users in mind, our generator boasts a straightforward, intuitive interface. This means that even if you're not a tech whiz, you can easily navigate through and get the desired results without fuss or confusion.
Final Thoughts
With the advancement of the digital market, the world is brimming with possibilities. The Business Idea Generator is your secret weapon to stand out. 
It can be a partner in your entrepreneurial journey, which you are hesitant to start because of the solid business idea. 
Therefore,  explore the world of infinite ideas with our Business Idea Generator today and pick up the idea that resonates with your business plan. And now that you've already found a great business idea – it's time to find a business name idea. For example – here's a list of hundreds of dropshipping business name ideas.
However, it is important to conduct thorough research and planning before diving into a new business venture. The generated ideas are starting points, and their feasibility should be evaluated based on market conditions, resources, and personal capabilities.
---