11 January, 2021
No Comment
If you are interested in creating an e-commerce website, or you have built one already, you might have heard about the term "sitemap". Sitemaps do not help boost search traffic all at once, but they provide a layout of the webpage. This assists search engines in navigating through your site more easily, which results in improved SEO rankings.
So, adding a sitemap into your website is certainly a good investment. Read through our article to know what a sitemap is, and how to best leverage it.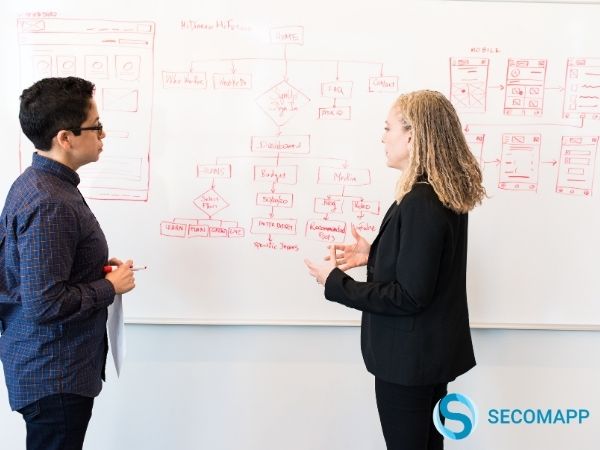 1. What is Sitemap In website?
Sitemap in a website is a text file containing all the URLs of a webpage. It includes a system of links leading to the main pages and subpages that are shown clearly and coherently. A sitemap helps search engines to crawl the website properly and effectively. It also updates changes made to the website, such as adding a new page and changing the existing website.
A website can still work whether it uses a sitemap or not. However, a website with a clear and detailed sitemap will be more advantageous to website owners. Sitemap does not help to increase your SEO ranking immediately, but it does assist web crawlers in navigating through all the webpages and indexing your content. A sitemap also tells search engines which links are important, as well as how often owners update their websites. As search engines can better crawl your webpage, there is more content to be found, which results in more search traffic and enhanced SEO rankings.
There are a few formats of sitemaps, such as XML, RSS / ATOM Feed, and Plain Text file.
The most common one is XML as it is the most flexible. It enables connecting sitemaps together and linking to language-specific pages.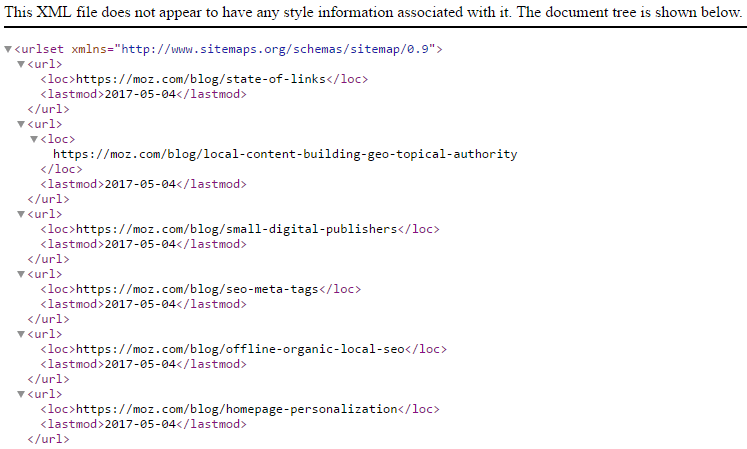 Meanwhile, RSS/ATOM Feed only informs search engines about the most recent changes to the website, so it is usually used for blogs. Plain text file is the most straightforward format, but also the least flexible one. The text file contains only a list of pages, one page per line. You cannot find extra information, for instance, the date of the last change.
2. How do you find a sitemap?
You might want to find a sitemap in order to get a list of all pages on a website. These data can be used for competitive analysis or website updates. A sitemap on a site can be found in the following ways: checking Robots.txt, checking common locations, using advanced search operators, using a tool, and finding an RSS sitemap.
2.1. Using Robots.txt
All sites should contain a robots.txt so as to provide commands to web crawlers and bots. This file normally includes a link to the sitemap to help search engines find the sitemap file quickly for crawling. The standard location for robots.txt is directly under the main site directory: https://www.websitedomain.com/robots.txt
2.2. Checking common locations
If you are the web owner, you can access your file directory through File Transfer Protocol (FTP) to know where the XML sitemap file is.
However, if you cannot directly access your website's files, you can try several common-used URLs. The most common sitemap location is at sitemap.xml. Thus, by adding this to the end of the domain name, you will know whether there is a sitemap: https://websitedomain.com/sitemap.xml.
Some other common filenames for you to try include: /sitemap.xml, /sitemap_index.xml, post-sitemap.xml, /sitemap.txt…
2.3. Using advanced search operators (Google Search)
To search for XML files, try typing one of these into the Google search box:
site:websitedomain.com filetype:xml
site:websitedomain.com ext:xml
site:websitedomain.com inurl:sitemap filetype:xml
For some websites, their sitemaps are in text file format. In this case, try searching:
site:websitedomain.com inurl:sitemap filetype:txt
2.4. Using a tool (Google Search Console and SEO Site Checkup)
You can use a tool such as Google Search Console if you own the website and it already contains a Google Search Console property setup for the site. Log in to see if there is any sitemap declared that Google is crawling.
There are other tools, in addition, that crawl your website as well as offer tools for checking domains for sitemaps. SEO Site Checkup has a user-friendly tool that informs you whether the website has a sitemap, just by typing in your domain. However, this tool is not verified.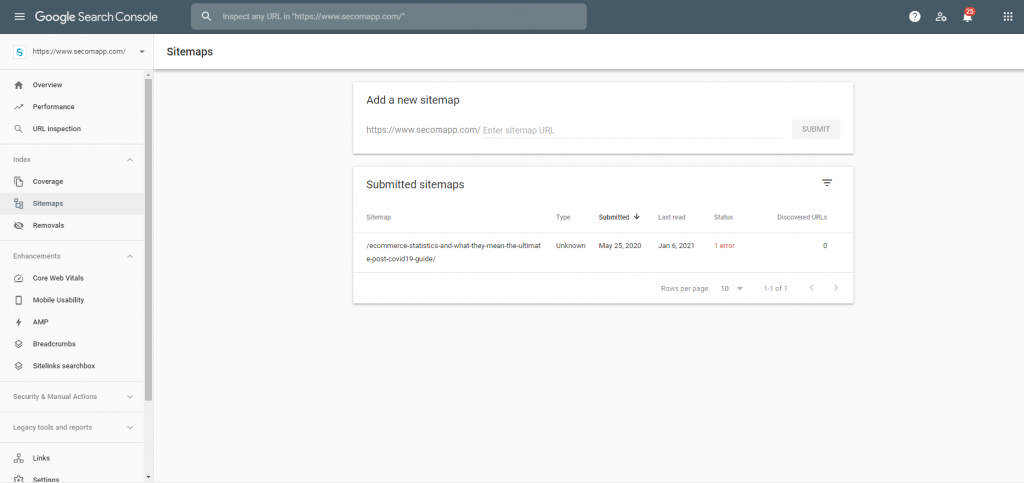 2.5. Finding RSS sitemap
You can use an RSS feed as a sitemap and many blogs will create this file by default.
To find the files, look at the source code of the HTML page by right-clicking the page, then choose Inspect (Ctrl+Shift+I or F12). If there is an RSS feed, it will be shown on the Element tab. You can search for RSS feeds by searching for the code that contains "application/rss+xml".
An example of RSS feed is as follow:
<link rel="alternate" type="application/rss+xml" title="…" href="https://websitedomain.com">
3. What does a Sitemap look like?
Here is an example of an XML sitemap that can be found at https://wordpress.com/sitemap-1.xml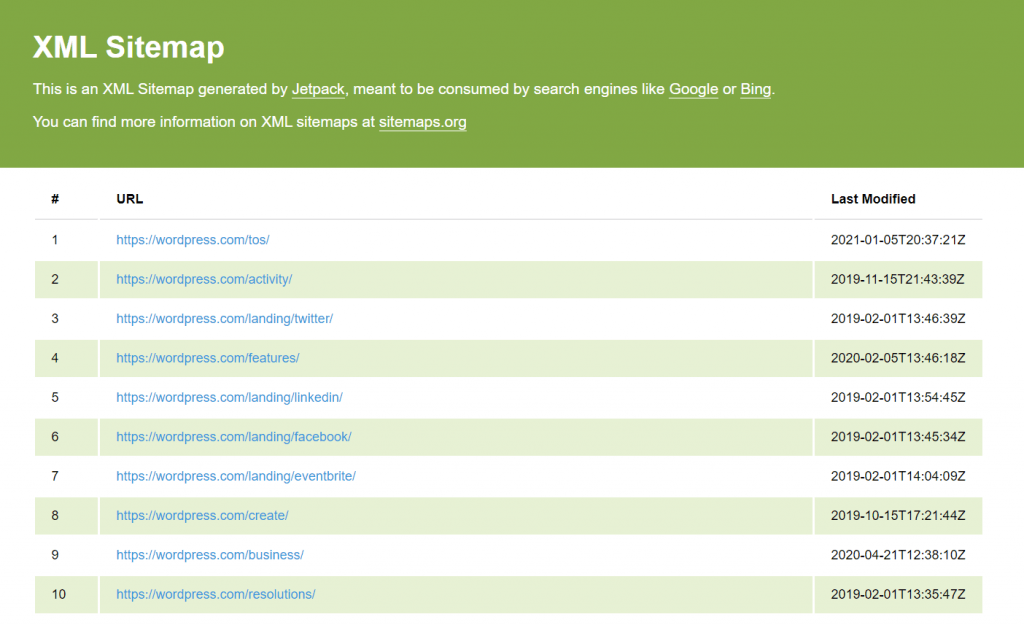 It is just a list of URLs with some additional metadata. As an XML sitemap's target audience is web crawlers, it is not especially useful to humans.
4. How do you create a Sitemap?
Search engines like Google read pages and files listed in sitemaps while crawling your site. If they find something valuable from your sitemap such as relevant information or the last time your content is updated, your site's ranking in search results will be significantly affected. For better performance, we present right below three excellent tools to help you effortlessly create the most search-engine-friendly sitemaps.
4.1 Create a Sitemap with Google XML
Google XML has gained a reputation for its powerful assistance in creating XML sitemaps for e-commerce websites built on WordPress. Especially, the XML sitemap index that this plugin generates is valid for not only Google as its name sounds, but also Yahoo, Bing, and other search engines.
Follow these steps to make sure you can make the most of Google XML to have your desired sitemaps:
Step 1: Downloading and installing Google XML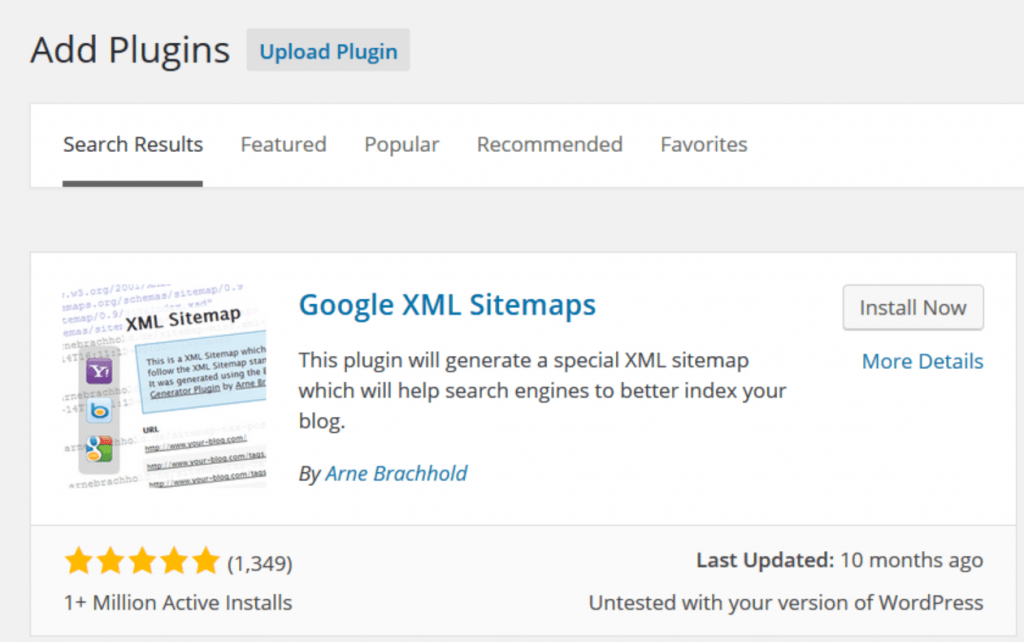 First things first, you need to click "Plugins" in the left-hand pane of your WordPress admin dashboard, then select "Add New", which leads you to a landing page or a "plugin store", and search for "Google XML Sitemaps" on this page. The next actions are also simple: you just need to choose "Install Now", wait for WordPress to finish installing the plugin, and click "Activate" to make Google XML yours.
Step 2: Customizing the sitemap index
After getting Google XML installed, go back to your dashboard, click "Settings" on the menu bar and you'll see "XML-sitemap". From then on, you are free to make any changes to the sitemap content as you want, such as displaying and hiding any types of WordPress content, or changing how often each category is read by search engines. Finally, don't forget to click "Update Options" to save all alterations.
4.2 Create a Sitemap with SEO Yoast For WordPress
Alongside with Google XML, WordPress Yoast SEO is also commonly used thanks to its handy features that can make your site as search-engine-friendly as possible. More specifically, it helps you easily manage several essential tasks such as optimizing titles and meta descriptions, setting your targeted keywords and tracking their frequencies, and on top of that, creating XML Sitemaps.
Similarly, there are two major steps that you need to know when creating sitemaps using WordPress Yoast SEO. However, the two plugins are different at certain points so we add one more step for a detailed explanation.
Step 1: Downloading and installing Yoast SEO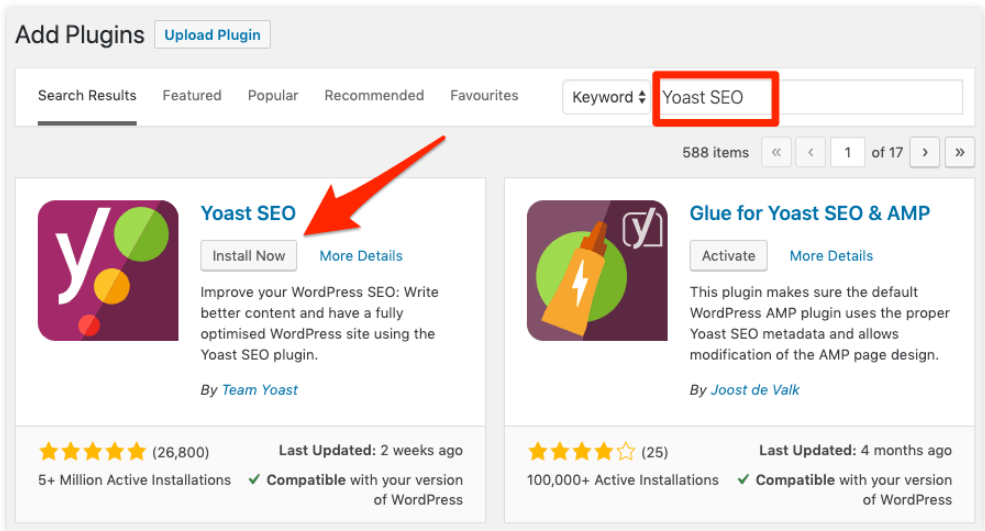 After clicking on "Add New" from the "Plugins" option, you are transferred to a page of WordPress plugins including Yoast SEO. Click on "Install Now" and wait for about 30 seconds, you will have this plugin set up automatically, then, choose "Activate" to finish the installation process.
Step 2: Activating "Advance" feature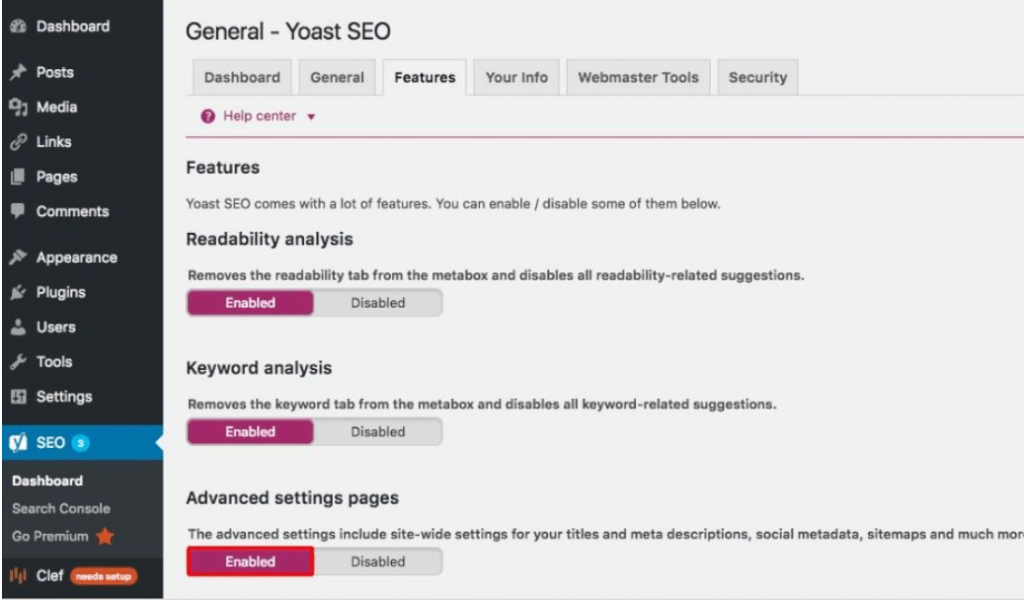 After step 1 is completed, an "SEO" option will be instantly added to the left-hand sidebar menu. This option is equipped with six sub-categories listed along the horizontal menu bar, but for XML Sitemap activation, all you need to focus on is the "Features" option. Enable "Advanced settings pages" and you can continue with step 3.
Step 3: Customizing the sitemap index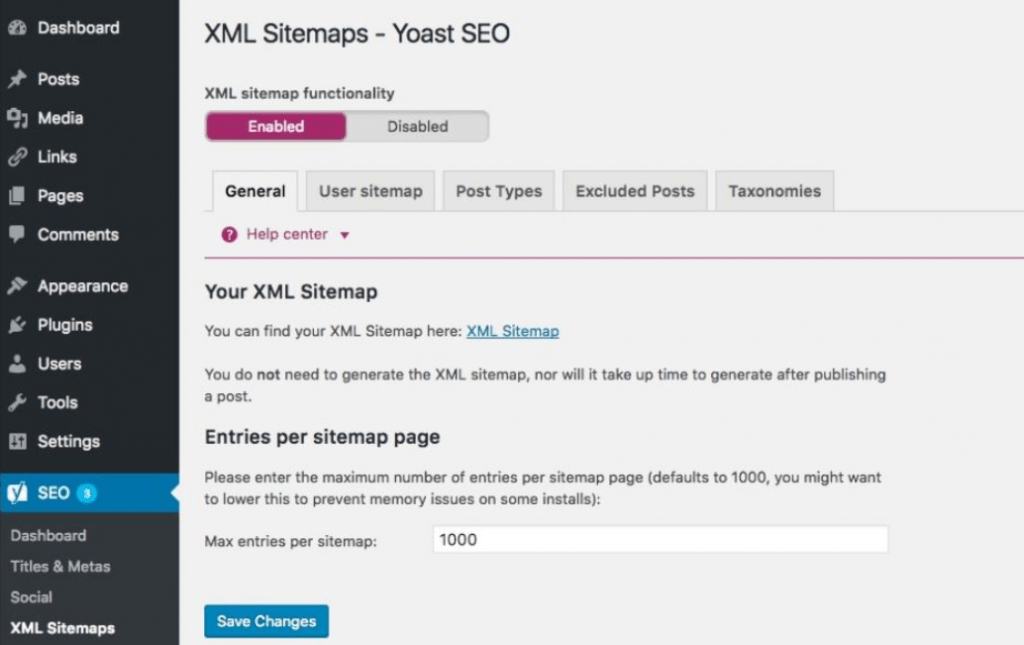 In this step, you are given full control over how you want your sitemap to be submitted to search engines. For example, you can set the maximum entries for each sitemap (as illustrated in the image above), or exclude particular pages and posts from sitemaps. Take note that the index is set in default so that you won't have to configure any components of it if you don't want to. Once again, don't forget to click "Save Changes" or else you will see no difference. Follow the sitemap creation process step by step and you're done with it!
If you are a Shopify store owner looking for Shopify versions of Google XML and SEO Yoast, you are in the right place. In the last section of today's blog post, we'd like to introduce the SEO Booster app by Secomapp, a top-rated tool that can help you create effective XML sitemaps for your online business on Shopify. Hit two simple steps below to make your sitemap visible to Google:
Step 1: Downloading and installing SEO Booster
What you need to do in this step is click "Visit the Shopify App Store" after choosing the "Apps" option in your store backend, then search for SEO Booster in the search bar and get the app installed by clicking "Add app". This app will work out of the box so you just need to return to your store admin right after the installation ends and test the features that you want.
Or DOWNLOAD here: SEO Booster – the best Shopify SEO app
Step 2: Activating "Ping the sitemap to Google"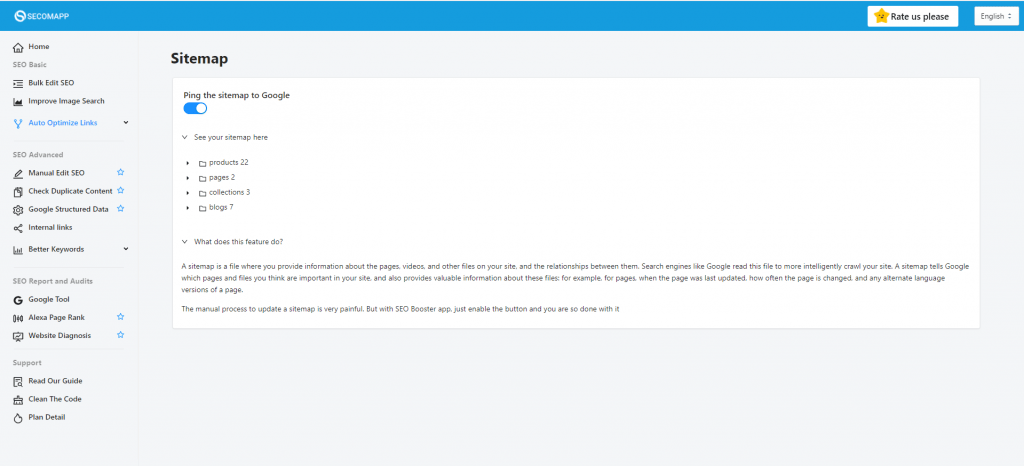 SEO Booster makes it even easier for users to create XML sitemaps as compared to Google XML and SEO Yoast. All it takes is one click on "Ping the sitemap to Google". Right after turning on this option, you will receive a notification telling you that your sitemap has been successfully recognized by Google.
The best part is that this app goes beyond just a single sitemap generation function. As the name suggests, SEO Booster is the ultimate solution for search engine optimization. Apart from sitemaps, you can get bonus features that all aim at improving your site's rankings in search results while taking you the least manual efforts, namely:
Keywords optimization: you can edit the title and description of your pages as well as your products to ensure they have your targeted keywords
Auto-updates on image ALT texts: ALT texts will be updated automatically for unlimited products based on the template you choose
Duplicate content detection: the feature helps you detect identical contents existing on various pages of your website
Auto optimized links: broken links will be auto-detected when the "Auto scan broken links" option is turned on
Integrating Google structure data: the app supports you adding JSON-LD in case of its absence from your site
Keyword suggestions: the feature helps you track trending contents around the world so that you can generate ideas about lucrative keywords, and provides key research results on how effective your keywords are
SEO reports and audits: the feature checks whether your website has been integrated with Google Search Console and Google Analytics, displays your site ranking's position in different scopes, and allows a comprehensive study at SEO of any websites
Check out SEO Boost to thoroughly utilize these features. There are two plan options including a free plan with the most necessary features. If you have been satisfied and want to enjoy more advanced functions, don't hesitate to upgrade to the pro version which charges you $24.99 per month.
Final Thoughts
Sitemap plays a crucial role in driving SEO performance as it helps Google-bot to source content on websites quickly and conveniently. No matter who you are and where you're from, whether you are an e-commerce website administrator on WordPress, a Shopify store owner, or simply a person interested in technical stuff, we hope that you can learn valuable things from this article. Make knowledge your strongest companion and best of luck for your career!
>>> READ MORE: 8 crucial points slowing down your rankings you should be aware of