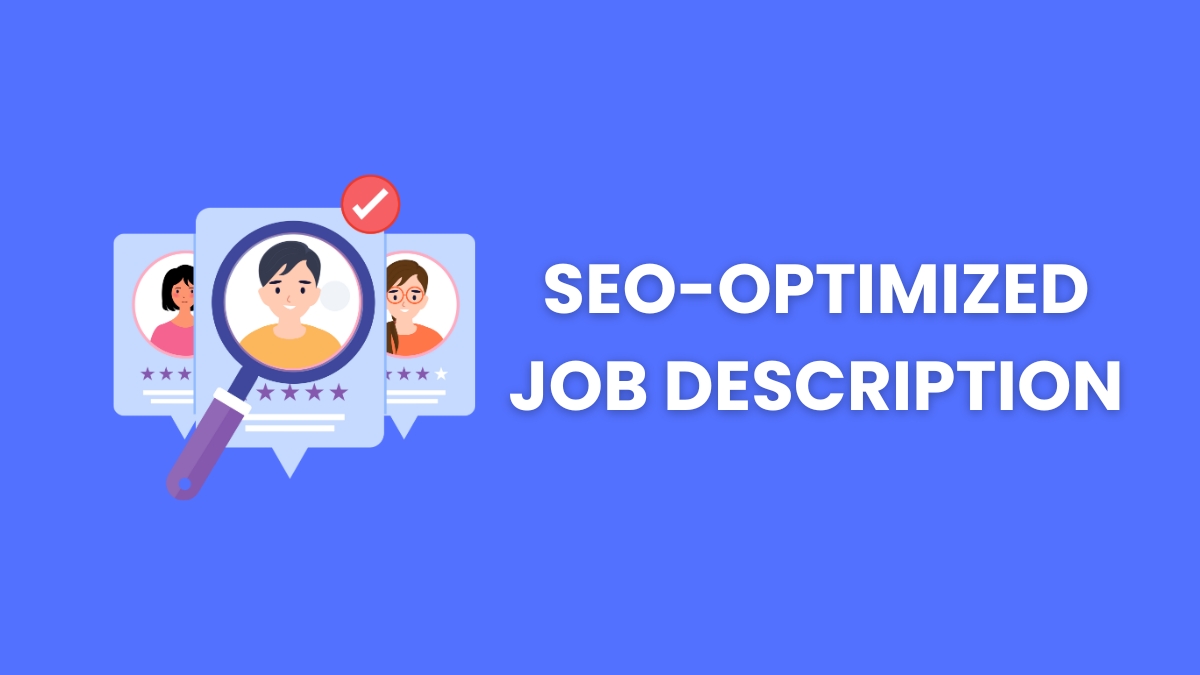 23 October, 2023
No Comment
In today's highly competitive job market, the battle for top talent is fiercer than ever. As HR professionals and content writers, we must equip ourselves with advanced techniques to create job descriptions that not only resonate with our target audience but also rank prominently in search engine results. In this guide, we'll delve into the intricacies of crafting SEO-optimized job descriptions, step by step.
The Strategic Role of SEO in Hiring
Before we dive into the nitty-gritty details, let's reinforce why SEO is indispensable in the realm of job descriptions for the advanced audience.
Elevating Visibility
In a world where Google is the go-to resource for job seekers, optimizing your job descriptions for search engines significantly boosts visibility. "High visibility leads to more qualified applicants knocking on your virtual door," says SEO content writer at SolidEssay and ConfidentWriters.
Precision in Targeting
SEO allows you to precisely target keywords and phrases that resonate with your ideal candidates. This means that those who discover your job posting through search engines are more likely to be the perfect fit for the position.
Cost-Effective Talent Acquisition
By mastering the art of SEO-optimized job descriptions, you can reduce your dependence on costly job boards and recruitment agencies. Attracting organic traffic saves both time and money while ensuring you find the top talent your organization deserves.
Now, let's move on to the advanced techniques to create compelling SEO-optimized job descriptions.
Step 1: Advanced Keyword Research
Keyword research is the cornerstone of SEO success. For an advanced audience, this means going beyond basic tools and considering:
Long-Tail Keywords:

These are longer and more specific keyword phrases that capture the essence of the job. Think of terms like "machine learning engineer with natural language processing expertise."
Competitor Analysis:

Study your competitors' job postings. Identify keywords they're targeting, and explore ways to outperform them.
Semantic Keywords:

Think beyond exact matches. Consider synonyms, related terms, and phrases that candidates might use. Tools like LSIGraph can help identify semantic keywords.
Step 2: Craft Distinctive Job Titles
For advanced SEO, job titles need to be both captivating and optimized. Consider these advanced strategies:
Incorporate Unique Selling Points (USPs):

Highlight what sets your position apart. For example, "Senior Data Scientist – Pioneering AI in Healthcare."
Utilize Schema Markup:

Implement structured data markup (schema.org) to provide search engines with structured information about your job posting, such as job title, location, and salary range.
Step 3: Engaging and Structured Content
According to Brian Coleman, Senior SEO Analyst at MLA Format Outline and Paper-Research, "Crafting advanced job descriptions involves more than just listing responsibilities and qualifications." Structure your content effectively:
Employ Schema Markup:

In addition to job details, use schema markup to outline important information like salary, application deadlines, and work hours. This enhances your job posting's visibility in rich snippets on search results.
Leverage Rich Media:

Incorporate videos, infographics, and images to make your job descriptions more engaging. Interactive content can significantly enhance user experience.
Step 4: Optimize for Local and Remote Opportunities
For a sophisticated audience, location details matter:
Local Optimization:

If the job is location-specific, emphasize the city, region, and any relevant landmarks. Utilize geo-targeted keywords to attract local talent effectively.
Remote Opportunities:

Given the rise in remote work, explicitly mention if the job allows for remote work. Remote job seekers often search using phrases like "remote software developer jobs."
Step 5: Emphasize Company Culture and Values
In the advanced world of talent acquisition, showcasing your company's culture and values is vital:
Employ Storytelling:

Share real anecdotes and stories that exemplify your company culture. Authenticity matters.
Highlight CSR Initiatives:

If your organization is involved in corporate social responsibility (CSR) initiatives, include them. Candidates often seek companies with a purpose.
Step 6: Persuasive Call to Action (CTA)
An advanced job description should culminate in a compelling CTA:
Use Psychological Triggers:

Craft CTAs that trigger emotions and urgency. Phrases like "Join our innovative team today" or "Apply now to shape the future" resonate with candidates.
A/B Testing:

Experiment with different CTAs and analyze their impact on conversion rates. Advanced A/B testing tools can help fine-tune your approach.
Step 7: Mobile Optimization for the Discerning Job Seeker
Advanced job seekers often browse job listings on mobile devices. Ensure your job descriptions are mobile-friendly:
Responsive Design:

Implement responsive web design to ensure a seamless mobile experience.
Accelerated Mobile Pages (AMP):

Consider creating AMP versions of your job postings for lightning-fast load times.
Step 8: Ongoing Optimization
SEO is an ever-evolving field. For an advanced audience, ongoing optimization is key:
Monitor Metrics:

Track metrics like CTR, conversion rates, and time spent on the job posting. Advanced analytics tools provide deeper insights.
Regularly Update:

Revise and update job descriptions to reflect changes in the job market and company needs.
Step 9: Leverage User-Generated Content
In the advanced world of SEO, user-generated content can be a powerful tool for job descriptions:
Employee Testimonials:

Encourage current employees to share their experiences through written testimonials or video interviews. This authentic content can provide valuable insights into your company culture.
Reviews and Ratings:

If applicable, include employee reviews and ratings from platforms like Glassdoor or Indeed. These external sources of information can lend credibility to your job descriptions.
Step 10: Implement Schema Markup for Job Posting Actions
To enhance the interactivity of your job descriptions, consider incorporating schema markup for job posting actions. This can enable candidates to take actions directly from the search results page, such as applying for the job or saving it for later. It also improves the visibility of your job postings in Google's Job Search feature.
Step 11: A/B Test and Refine Your Content
In the advanced realm of SEO, continuous testing and refinement are crucial:
A/B Testing Content:

Experiment with different content elements, such as job descriptions, titles, images, and CTAs, to determine which combinations perform best in terms of user engagement and conversions.
Heatmaps and User Behavior Analysis:

Utilize heatmaps and user behavior analysis tools to gain insights into how job seekers interact with your job descriptions. Identify areas where users drop off or lose interest and make improvements accordingly.
Step 12: Implement Advanced Structured Data
Consider going beyond basic schema markup and implement advanced structured data to provide search engines with even more context about your job postings. This can include details like the application process, benefits package, company reviews, and more. Advanced schema markup can improve the richness of your search results.
Crafting advanced SEO-optimized job descriptions is both an art and a science. By following these advanced steps, you'll not only attract top talent but also position your organization as a sought-after employer. Remember that SEO is a dynamic process, and continuous refinement is essential to staying ahead in the competitive world of talent acquisition. Master these advanced techniques, and you'll be well on your way to building a dream team for your organization.