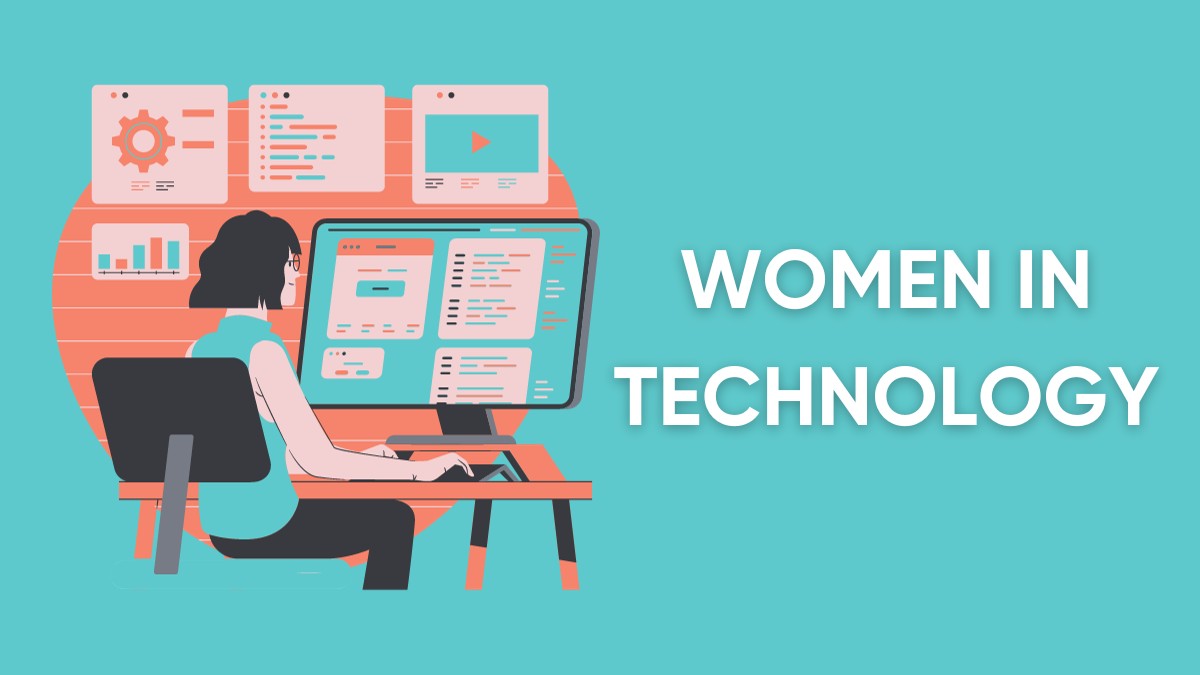 26 September, 2023
No Comment
The tech business has always been dominated by men, but that is changing. Women are making substantial contributions to the field, paving the path for innovation, creativity, and problem-solving. Women in technology are breaking down boundaries and pushing change, from software developers to C-level executives. They are motivating the next generation of female technologists and demonstrating that there are no boundaries to what we may do. We can build a brighter future for everybody by embracing diversity and inclusion and encouraging more women to enter the sector. Let us recognize and encourage women in technology as they continue to influence the digital world.
A New Era of Leadership
Male voices have traditionally dominated the tech business, but times are changing. Women in technology are ushering in a new age of leadership, rewriting the story and demonstrating that creativity knows no gender. Women are breaking down boundaries and demonstrating that diversity is a driving factor behind technical growth, from CEOs to engineers.
Reshma Saujani, the creator of Girls Who Code, and Anna Radulovski, the founder of Coding Girls, are shining examples of this. Their groups teach young girls how to code and provide a community that encourages them to pursue their technological interests. Saujani and Radulovski's efforts emphasize the necessity of not just entering but also leading the digital field.

WomanTech Network is an organization that promotes women in technology via a variety of projects and programs. They offer mentoring programs, guidance, support, and tools to assist women advance in their professions in technology.
WomenTech Network provides networking possibilities as well, encouraging cooperation, learning, and growth. They host an annual women in tech conference that features keynote speakers, panel discussions, and networking opportunities. WomenTech Network supports an atmosphere in which women's contributions to technology are recognized and valued by giving these possibilities.
Forging New Paths in Artificial Intelligence
Artificial intelligence (AI) is transforming industry and society, and women are at the front of this change. Their contributions to AI research, ethics, and application are accelerating innovation and ensuring that the advantages of AI are available to everyone.
Dr. Fei-Fei Li, a top AI researcher, has made significant contributions to the advancement of computer vision and machine learning. Her work not only pushes the bounds of technology, but it also underlines the ethical implications of AI. Women like Dr. Li are steering AI research in a way that represents our shared values while also addressing the difficulties that come with such strong technology.
Transforming Education and Empowering Communities
Women in technology aren't simply interested in technology; they're also utilizing their knowledge to improve education and empower communities. They recognize the power of technology to bridge gaps, break down barriers, and offer access to information and possibilities.
Dr. Ruchi Sanghvi, one of Facebook's first female engineers, exemplifies this objective. Following her success in the technology business, she shifted her focus to education, establishing South Park Commons, an experimental school in Silicon Valley that emphasizes curiosity-driven learning. Dr. Sanghvi is setting the groundwork for future generations of women in technology by fostering young brains.
Inspiring the Next Generation
Inspiring the next generation of leaders is one of the most powerful ways women in technology are impacting the future. They produce a ripple impact well beyond their own successes by sharing their stories, mentoring, and pushing for diversity.
Kimberly Bryant, the founder of Black Girls Code, is a role model in this field. Her organization's mission is to inspire young black females to become STEM innovators. Black Girls Code is cultivating a network of young women who are daring to dream big and pursue their passions via seminars, mentorship programs, and events.
Diversity Drives Innovation
The technology sector thrives on innovation, and diversity is an important driver of innovative problem-solving and new viewpoints. Women in technology contribute distinct perspectives that lead to discoveries and solutions that might otherwise go unnoticed.
Tracy Chou, a software engineer and diversity advocate, believes that diverse teams are essential in the digital sector. Chou co-founded Project Include, a non-profit organization that provides tools and support to businesses pursuing diversity and inclusion. Her work reminds us that genuine creativity occurs when various voices combine.
Resilience in the Face of Challenges
Women in technology have faced many hurdles along the way, but their perseverance demonstrates their steadfast dedication. Despite prejudices, biases, and impostor syndrome, women continue to push forward, demonstrating that their talents and knowledge are essential contributions to the digital sector.
Angela Duckworth, a psychologist and author of "Grit: The Power of Passion and Perseverance," is an encouraging example of resilience. Her study looks at grit—the mix of enthusiasm and perseverance—as a significant component in attaining long-term objectives. Women in technology exhibit this resilience as they overcome barriers and forge their own paths.
Wrap Up
To summarize, women are not just paving the way in technology; they are molding the entire nature of our digital age. Their tales of creativity, mentoring, and tenacity serve as a light of hope for ambitious women in technology, reminding us that those who refuse to be limited by constraints make progress. Let us honor the women who are coding the future—a future that is diverse, inclusive, and full of untapped promise.
---